Who doesn't love running around outside and playing in the sun? Dogs are certainly no exception to this love of the outdoors.
However for a dog, there is nothing like a flea infestation to ruin the parade and pester him or her until they're left frustrated and annoyed not wanting to play with you and your family and be the lovable family member you know and care about.
If this sounds somewhat familiar then you have to worry about your pup spreading the fleas to the rest of the family member and onto furniture and just about everywhere else they come in contact with.  However this doesn't have to be the case at all, in fact flea collars are an excellent way to combat this dilemma, for both cats and dogs.
In fact we want to help as much as we can and as result have put this guide together in order to help you find the best flea collar for your dog. To do so we first look at how exactly these product work, how safe exactly they are before diving into five in depth product reviews.
How Do Flea and Tick Collars Work?
There are many ways your dog can get fleas and this is why flea collars are such a good investment for your pup because flea collars work. They protect your pet from an infuriating infestation that could potential even lead to a health risk.
This is because the fleas clasp onto a dog and feed on the skin and blood. They do this because they need a host to stay alive.
Your dog will try to scary off the fleas by gnawing at them and scratching. This can leaves open wounds on the dog from excessive scratching and biting. This could get infected and that is the scariest problem that fleas pose. Yes, there are other alternatives such as flea ointments and shampoos that can be topical or oral, but most these are reactive for when your poor pooch already has an infestation.
The preventative measure creams and oral treatment must be applied regularly and can be easy to forget. Flea collars are a longer solution to the pesky problem fleas pose for your lively canine.
It is important to note that the flea collars do not need to be worn at all hours of the day every day of the year. They only need to be worn when you think that the area your dog is playing in may have fleas or ticks. Have your dog wear it only for that day and remove it at the end of the day.
There is no need to overmedicate your dog. Also, if your pooch is on another type of medication for fleas and ticks make sure not to add a flea collar to it. This can result in a poising of your dog.
Do not be scared though, this is like any medication that we as humans take too. If you take to many blood thinners there will be some issues. It is the same for dogs and flea medication – too many and there will be issues.
There are generally two types of flea collars available and they work in different ways. One releases a gas that is toxic to fleas. But often the gas field does not cover the whole surface area of the dog and fleas at the base of the tail are left unaffected and free to keep irritating your pooch. The other type of flea collar releases a medication that is absorbed into the fat layer of the skin. So when the flea goes to bite your dog, the medication is poisonous to the flea and kills it preventing an infestation entirely.  This is the most effective flea collar against fleas.
Some important side notes are to be careful when handling the flea collar to make sure that the chemicals in the flea collar do not get on your skin. This is also true for other pets in the house. What is good for dogs is not good for cats. They are different creatures with different tolerance levels to the chemicals. These are just things to be mindful of.
A good flea collar should be a slightly loose fit around your dog's neck. This way your dog cannot gnaw on the flea collar. If your dog were to ingest the chemicals in the flea collar, it could poison him or her. If the flea collar is too tight though, it can bother the skin as the tight collar prevents the fur layer from doing its job of protecting your dog's skin from the toxins.
Are They Safe?
Put in the most simple terms the poison used to kill the fleas and ticks is located all over the flea collar, meaning it can if, if not applied properly rub off on anything the collar comes in contact with. Including items, whoever puts the collar on and other humans your dog comes into contact with while wearing the collar.
When using a dog flea collar it is always important to wash your hands when touching your pet while they are wearing one. It is also important as a responsible pet owner to read the active ingredients in any flea collar to find the safest chemical toxin out there for your pooch.
Each toxin, or insecticide, has different precautions associated with their use and all of them have pretty much the same effectiveness rating at preventing and killing fleas and ticks. The safest insecticide is deltamenthrin is considered the safest insecticide on the market. It poses the least safety concerns for all animals in question, humans, canines, and other furry family members.
Always avoid Tetrachlorvinphos or TCVP. It kills fleas but also hurt humans and other animals too. TCVP is not safe around children. Companies will boast the best results are found with TCVP. But when all the results are about the same and there a multiple safer option out there, why hurt the pets and people around you?
Best Flea Treatment Collars for Dogs
We hope the above sections of this guide have begun to lay out what is needed in order to choose the best flea collar for your dog. You should by now have a greater understanding of how this these types of collars work and the impact they can have in combating unwanted fleas and ticks.
In this section we will now review and compare the five best dog flea collar products on the market, helping you to make an informed decision in order to make the right choice for your pet.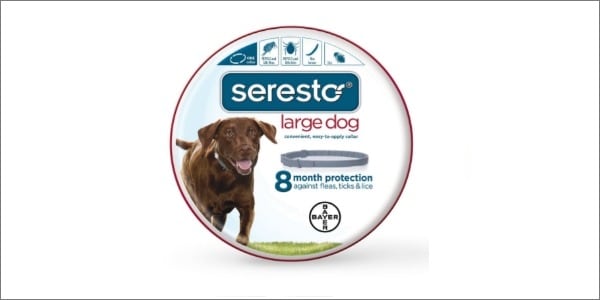 Grade: A+
The Bayer Seresto collar lasts up for 8 months and is the longest lasting flea and tick collar on the market. While most collars only last for a few months, the Seresto collar last a whopping 8 months. The collar is designed to repel and kill fleas and ticks. Odorless and easy to use, make sure to still read the instructions on this self-explanatory collar before use just for handling sake to protect yourself.
The results seen by the Bayer Seresto Flea and Tick Collar are considered the best on the market. It may take up to a week to start working effectively and for drastic results to be seen, but once that week comes you will notice the change. The Bayer Seresto Flea and Tick Collar is the best on the market for the scope of insects that it is intended to repel and kill.
The draw back to this effective flea collar is that despite the name it only repels certain types of ticks. It is very good at repelling fleas and some tick, just not all ticks. It is also known to make some dogs sick. It is designed for dogs less than 18 pounds and can be used in puppies seven weeks and older.
---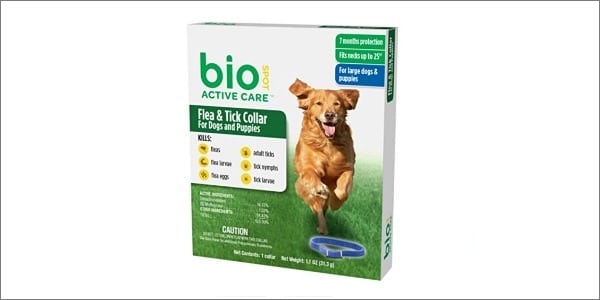 Grade: A-
Another inexpensive collar that holds up with the best collars on the market is the BioSpot Active Care Flea and Tick Collar. Providing 5 months of protection the collar can fit any dog's neck up to 25 inches. One of the best ways to have preventive care for your furry dog friend, be sure to read the instruction just as a precaution when handling the collar to prevent against any accidental poisoning from the active ingredient.
The collar is for dogs and puppies over 6 weeks old. The best part of the Bio Spot Active Care Flea and Tick Collar is the range of irritating insects that it kills and repels. The BioSpot collar kills fleas, flea eggs, flea larvae, ticks, tick nymphs, and tick larvae as well as lice and mites.
This collar attempts to kill the annoying bugs at all stages of their life for rapid results for your dog. The draw backs on this collar are that it has an unpleasant odor. But for the price you give up the nice smell for a higher quality of results.
---
Grade: B+
The Hartz Ultraguard Flea and Tick Large Dog Collar features a neck length of 26 inches to protect all sizes of dogs. Follow the instructions on how to properly size and protect yourself while sizing the collar. The Hartz Ultraguard is the probably the most inexpensive flea and tick collar on the market but do not let this sway you. It is still a highly reliable collar that can last up to 5 months and is waterproof too.
The Hartz collar is designed to have a fresh scent which is even better than other odorless brands on the market. The largest draw back to The Hartz Ultraguard Flea and Tick Collar is the active insecticide in the collar. It works off of TCVP, the harshest insecticide for dogs and animals. So if you plan on using this collar make sure again to read the instructions and understand how to safely put it on your dog without poisoning yourself.
Some negative side effects of use of this collar are known to be hair loss and rash around the collar on your dog's neck. Despite the dangers, this is still a highly effective collar with results noticed to be seen within only a few hours after application onto your canine's neck.
---
Sentry Fiproguard Plus for Dogs
Grade: A+
Sentry Fiproguard Plus for Dogs works on dogs that range from 45 pounds to 88 pounds. It is also a topical solution that comes with six applicators for a total of 3 months of protection. It is also another cheap method of reactive protection for your pooch to kill any fleas and ticks. The formula is waterproof for all three months when applied right (consult the instructions) and is very effective at killing, repelling, and stopping the spread of ticks, fleas, lice, and mites.
The formula contains the number 1 veterinary recommended active insecticide, Fipronil. Hence where the topical formula earns its name. This is the same active ingredient found in Frontline Plus.
The product also kills the fleas, their larvae, and their eggs to produce a fast response to the infestation on a dog. It is important to note that like any topical solution there are special procedure that should be followed and can be found in the instruction on how to keep you, your family, and your dog safe from any toxins that are found in the formula to prevent accidental poisonings.
---
PetArmor Squeeze on Dog Flea and Tick Repellent
Grade: A-
The PetArmor Squeeze on Dog Flea and Tick Repellent is water proof easy to use formula to rid your dog of ticks and fleas. The package comes with three individual applicators that last for roughly one month. The PetArmor Squeeze On is a topical treatment for dogs. It works well on all sized dogs, the instructions will tell you how much formula to apply on your dog and where to apply the formula for the best result on the size of your dog.
Though it is not a flea collar its relative price compared to its highly effective results allowed it to make the list. It also treats more than just ticks and fleas. The coverage extends even further to lice and mice. It is because of the price that this affordable option to treating your dog's ticks and flea problem works so well. It is the best deal for your money. Meaning that for the $15 dollars you pay you see good results for the $15 dollar purchase.
This largest active insecticide in Pet Armor is Permethrin which is a safer option to use for your dogs and in the family house than other insecticides. Be sure to read the instructions for application to prevent the formula from being washed off.