There's nothing better than cuddling with your dog after it has been freshly bathed, or at least when you know which dog shampoo to use. Not every dog shampoo removes the bad odor from your dog's fur and every dog owner is fully aware of that. Many smelling shampoos give us the impression that our dog will have that irresistible scent, but unfortunately, the outcome is rather disappointing.
The market, on the other hand, abounds with hundreds of dog shampoos. However, finding the best shampoo is often a time-consuming and annoying task to do. A lot of us have very busy schedules and lives, which can limit the amount of time to explore the market to find the shampoo that will provide your dog a lasting scent.
Bad odor is not the only issue when it comes to dealing with your dog's hygiene and the attempt to make them clean and irresistible to cuddle. Skin irritation is another common problem that frequently occurs due to artificial formulas that most smelling shampoos contain. This requires the need to look for dog shampoos that will not only cleanse their fur and deliver a fresh smell, but to also soothe the dog's skin and prevent irritation.  Artificial fragrances and parabens are the first to blame as they are proven to be highly irritable for the gentle dog's skin. 
In case your dog is sensitive to artificial substances, pet owners recommend turning to organic dog shampoos. As the name implies, organic shampoos contain only organic products that are certified and free from any chemicals and additives whatsoever.
Mainly, you can get a solid shampoo that in addition to guaranteeing fresh scent and soft fur, is also formulated to tackle specific conditions and ailments. There are also antiseptic shampoo types that help dog owners handle hot spots, and hypoallergenic or medicated shampoos specifically made for dogs with sensitive skin or deal with severe fungal problems.
Where does that smell come from?
Think about the last time you took your dog for a walk. It must have been not later than two to three hours ago. Now, think about the path you walked, or better, think where your dog passed, how many bushes he went through and how much dirty stuff it sniffed or rubbed from?
Was your dog rolling over the wet and muddy grass? Or the dusty land? There are thousands of places, usually these are dirty places that dogs find particularly attractive as this is in their nature. Bad odors appeal to their senses as well, so they need to sniff "the smelly thing", and lots of it gets transferred to their fur. Most of it is dirty, smelly and the reason for getting this peculiar dog smell.
Similar to us humans, dogs sweat as well. Depending on the amount of sweat they produce and the type of activity they are engaged in, their odor will change accordingly. By the way, it is not the sweat itself that causes the odor, but the odor-causing bacteria that live near the sweat glands and which get activated by the sweat.
There's also a condition called "wet dog smell" that is off-putting and sometimes dog owners choose even not to bathe their dogs because of it. It comes from the oil that is released by the dog's skin in order to keep it hydrated, so when combined with water and shampoo, it releases an odd smell. This also means that you will need to search for a shampoo that doesn't produce that weird smell but has the capacity to maintain its original scent.
Therefore, if you set up regular bath time and choose the best dog shampoo for your pet, then you will be able to put the odor under control. Now, let's proceed with the perks of good pet shampoo.
The Benefit of the Best Smelling Dog Shampoo
Even though we are driven by our senses, a scented dog shampoo has more benefits than just tackling bad odor. Below we've singled out the advantages of using a scented dog shampoo:
It keeps your dog clean – The first and utmost reason for choosing a scented shampoo is to keep your dog clean. As we have explained above, during one single day your dog is exposed to different types of bacteria, dirt, and particles that do not only make it dirty, but they can be a potential threat to its well-being.
Helps remove fleas, ticks, and germs – The ingredients used in scented shampoos are specifically formulated so that it makes the dog's coat more resistant to these parasites and helps easily tackle the problem in case they do appear.
A good shampoo can maintain the pH level of your dog's skin -The pH level of dogs is somewhere from 6.5 to 7.5 which means it is more neutral compared to human skin. This is very important to understand, and in other words, this is the reason why you shouldn't by any means wash your dog with human shampoo. In case you do, you can easily strip off the protective skin layer and this can lead to redness, itchy skin, dryness, and rashes.
It can help keep the pleasant scent longer – A good dog shampoo is not only the one that removes the resilient dirt and helps prevent parasites, but it also has the ability to retain the nice smelling aroma for a longer time. This means more cuddling time with your doggy and less irritable odor, germs, and bacteria.
The selections and the purposes vary, so in choosing the best five smelling dog shampoos we took into account the ingredients they have been made from, multifunctionality, customer reviews, and the price range.
The soothing formula of this shampoo helps dry, and itchy skin stay protected and keeps the dog's coat healthy and full. The natural ingredients such as shea butter, oatmeal, and aloe vera, accompanied by honey, chamomile, and rosemary heal damaged and irritated skin and hair, enhance skin moisture, and make the hair thicker and fuller. This all-natural pet shampoo represents a perfect alternative to shampoos made with harsh chemical substances.
What Skin Type Is It For?
This oatmeal shampoo is for dogs that have itchy, dry skin, but also those that suffer from various skin conditions such as hives, skin flaking, dandruff or dryness and it is so mild so that it can be used in young puppies too. It treats dry and damaged hair and skin, and regular use will make the coat of your furry friend luxurious and shiny. However, your four-leg buddy doesn't have to have any issues to use this oatmeal shampoo as its natural formula is perfect for any fur type.
Benefits
The natural ingredients comprised in a balanced formula is what makes this oatmeal dog shampoo an excellent alternative for the chemically based ones.
The aloe vera is known to be a highly moisturizing agent, while chamomile improves the texture of the skin and its elasticity. The oatmeal is considered a highly effective rejuvenator and natural skin oil retainer, while shea butter is superior in treating irritations and skin damages.
Particular Paws Oatmeal Dog Shampoo is often recommended by pet groomers as they are aware of the benefits it delivers. It might be pricier than many other regular shampoos, however who can argue with the natural ingredients used in this shampoo.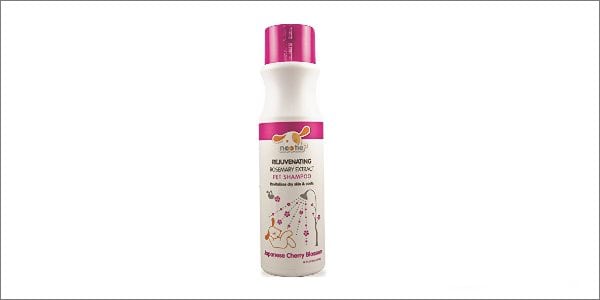 Your dog might not recognize it, but you will definitely enjoy the exotic scent of one of the most impressive trees, the Japanese Cherry Blossom tree. The formula combines it with rosemary to soften the coat and boost its health with the help of rosemary which has been proven to stimulate hair follicles. The formula is soap and paraben-free and it doesn't contain harsh chemicals or sulfates.
What skin type is for?
The mild formula is very safe to use on any dog's skin type thanks to the absence of soap and parabens that irritate the pet's skin.
Benefits
As we have previously mentioned, the formula contains rosemary that enhances hair follicles which make the dog's coat strong and healthy. In addition to rosemary, Nootie uses natural grapefruit seed extract to prevent bacteria, germs, and parasites. When it comes to its price, it is also on the pricier side but it is a highly praised product for its efficiency, so mainly you get what you've paid for.
    4.  Earthbath Oatmeal & Aloe Shampoo
Here we've got one more all-natural dog shampoo that offers irresistible scented aroma and a perfect blend of natural ingredients. These ingredients provide relief to sensitive skin, they are biodegradable and the shampoo has never been tested on animals which means it is cruelty-free. The moisturizing benefits of the aloe vera and the oatmeal are complemented with the light almond and vanilla scent makes each bathing session a real enjoyment for your furry pet.
What skin type is it for?
This natural oatmeal dog shampoo is formulated for dogs that have sensitive, irritated, and itchy skin because the soothing effect of the ingredients helps calm down irritated skin, while at the same time boosting skin renewal.
Benefit
This luxurious, soap-free, and pH balanced oatmeal shampoo will clean thoroughly and deodorize safely your dog's coat leaving it soft, plush, and smelling better than ever. The deodorizing effect is not due to artificial fragrances but essential oils, so you can rest assured that your pet's skin is safe and protected.
Another perk of Earthbath all-natural pet shampoo is the fact that it won't wash away any topical flea applications, and its effect lasts for more than 6 weeks. The shampoo is cruelty-free and doesn't contain any animal ingredients or byproducts.
      5. Fresh N Clean Pet Shampoo
This is one of the most budget-friendly shampoos, but not on account of its efficiency. This is a soap-free, plant-based product with a special pet's coat conditioner that is formulated with vitamin E, and aloe vera juice. It is pH balanced, with a classic fresh scent that stays for up to two weeks.
What skin type is for?
The pH-balanced formula of this shampoo makes it suitable for any skin type. As it is soap-free and all-natural, it cleanses your pet's coat thoroughly, leaving no gems and grime behind. It moisturizes the skin and keeps it hydrated and soothed.
Benefit
There's no better way to hydrate your furry pet's skin than to use cleansers that are mild, natural, and do not irritate the gentle pet's skin. Using this shampoo guarantees not only moisture control but locks in moisture and makes the coat tangle-free and easy to manage. On top of it, it efficiently prevents the occurrence of bad odor and keeps the fresh scent for weeks.
Things to Consider When Buying the Best Smelling Dog Shampoo
We all want the best for our pets, and we try hard to meet their needs in any possible way. One of the seemingly easiest things to do like buying a shampoo, can cause unexpected complications. Therefore, make sure you avoid certain substances that haven't been approved or are deemed potentially harmful.
Artificial Fragrances and Parabens. Even though approved in the strictly prescribed dosage, their use is considered potentially harmful as they are mostly comprised of petrochemicals, alcohol, and natural gases. These are linked with serious skin conditions and often advised to avoid them, particularly if your pet has some skin issues.  Watch out for parabens, DEO or DEA cocamide, and sodium sulfates. They are also linked to skin conditions and some are even considered cancerogenic.

One of the best alternatives for these chemicals is found in the use of essential oils that provide long-lasting scent without causing skin damages or irritations.
Natural is good. More and more people turn to natural and organic products, so why not pets too? Natural moisturizes such as oatmeal, aloe vera, vitamin E, honey are just a few of the ingredients that naturally calm the skin down and have a soothing effect.
Bottom Line
After going through this extensive article, we hope that you have already got a clear understanding of how to better take care of the hygiene of your pet. The selection of these five shampoos is not conclusive, however it provides you with a clear insight of what is recommended and good for your furry pal.