Last Updated: January 21st, 2020
As any dog owner will know, keeping your pet clean for any period of time can be challenge. It may feel like you only washed your pup yesterday and they are now already dirty again, we aren't here to preach to you about how you should be grooming your pet more regularly! We will leave that to all the other blogs doing exactly that, instead we will examine not only how you can keep your dog clean and healthy, but how you can do so with completely natural products.
Now, we have a number of options when it comes to keeping our dogs clean, firstly we can we can always take our pet to the groomers, but that option is not always feasible for most people and can be costly if done regularly. Another solution is for you to bathe and groom your dog yourself, not only is this a great way to keep your dog clean while cutting costs but it is great bonding time as well.
The next hurdle to overcome if you decide to groom your dog at home is what products to use. As with the products we use ourselves and more commonly the food we eat it seems that more and more people are becoming aware of what they use on and put in their bodies and we think this is a great thing! We should be aware of how we look after ourselves and that applies to our pets as well. We wouldn't use a product on our hair if we felt it would put us at risk or harm us long term so why would we do the same for our dogs?
Luckily, now if a great time to start using all natural dog products. Not only are people becoming more conscious of the fact that some products (and the chemicals in them) are actually not great but there are some great alternatives on the market to use instead. This guide will take a look at some of the best natural dog shampoos available, but before we review those in detail we will look at exactly why you should make the switch for your dog in the first place.

We recommend – Earthbath All Natural Pet Shampoo
Why Use a Natural Dog Shampoo?
Now we hope that this questions answers itself. As already mentioned above, we wouldn't use a product on ourselves that we feel would cause us harm so we definitely shouldn't do so with our dogs. The really worrying issues is that there really isn't much regulation on pet grooming products. This really is a worry as it means brands can formulate shampoos, conditioners or other products that may cause reactions or worse in some dogs.
As the FDA page lays here out here,  dog shampoos are actually not covered extensively, instead only referred to as 'Animal Grooming Aids' and even then the definition is rather vague. This really doesn't fill myself or any other dog owners I have spoken to about it with confidence and is yet another reason to switch to all natural dog shampoo products.
Benefits of Organic Dog Shampoos
All Natural Ingredients
All natural dog shampoos are organic. It means that the ingredients used in them come from naturally grown plant extracts. You have an assurance that the products don't contain any synthetic chemicals that may harm your pet.
You Help the Environment
Organic shampoo ingredients are obtained without harming the environment and other living things. Since these ingredients are sourced naturally, they are all biodegradable and will not add up towards environmental pollution.
They Work as Well as Medicated Shampoos
Medicated shampoos are harsh towards dog's skin and fur. That is why you need to choose a natural dog shampoo, which is gentler and more effective. The best natural dog shampoo is one, which simultaneously treats your dog's itches or rashes and gives off a nice after-bath smell as well as any medicated dog shampoos.
By now we really do hope we have sold the cause of natural dog products to you. It really does make sense to use natural products on our dog's skin as that is what they're used to in the wild and would have looked to use before the intervention of manmade products.
Not only it is a less harmful but organic dog shampoos really will leave your dog's skin and coat feeling and looking more hydrated and healthier. WildWash are a brand that you should look at if you're thinking of making the switch to an all-natural dog shampoo and they do an excellent job of walking you through the natural ingredients in their products to have replaced less to friendly ingredients used by other brands.
It makes for a very interesting read about the type of natural ingredients that are used in organic dog products. It also guides you through a number of ingredients used in dog shampoo's that you may have used in the past and lays out in simple terms how they can effect certain types of dogs and why they are not so friendly on canine skin or coats.
Top 5 Best All Natural Dog Shampoo Products
Now that you not only have a better idea of why you should make the switch to natural pet products but also the type of ingredients in them that can benefit your dog it is time to look in detail at the best natural shampoos available for your pet. We have took a number of factors in to consideration and I hope our comprehensive reviews will help you to find the best all natural dog shampoo for your best friend.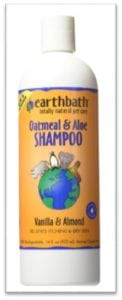 Grade: A+
The Earthbath All Natural Pet Shampoo is a bestseller in the dog grooming shampoo category in Amazon. And rightly so! Earthbath is 100% soap-free, 100% biodegradable, and manufactured 100% cruelty-free.
Not only that, Earthbath Pet Shampoo is well-known for relieving dry skin and itching in dogs. It has all-natural ingredients that target different pet skin issue. You can choose from Oatmeal & Aloe, Oatmeal & Aloe Fragrance Free, Eucalyptus & Peppermint, Mango Tango, Mediterranean Magic Rosemary, Orange Peel Oil, Tea Tree & Aloe, Tearless Extra Gentle, and Green Tea & Awapuhi. Truly, there is an Earthbath product for any of your dog's skin (or fur) needs. Each 427 ml (16 fl. Oz.) bottle retails for about $9.49.
2. Lola and Max Organic, All Natural Pet Shampoo
Grade: A+
Even if your dog hates baths, you will love the Lola and Max Pet Shampoo for it gives him a long-lasting citrusy smell after each bathing session. This pet shampoo is 100% organic and has a lemongrass and coconut smell.
Just like other all-natural pet shampoos, this does not contain sulfates, parabens, synthetic dyes and artificial fragrances. Its main ingredients are natural essential oils that fend off fleas and ticks and deodorize and moisturize your dog's skin. Your pet will definitely feel great after each bath.
Another great thing about the Lola and Max Pet Shampoo is that it's made in the USA. One bottle contains up to 437 ml (or 16 fl. Oz) of product and retails at about $24.95 at amazon.com.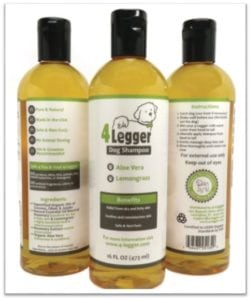 Grade: A+
If you are looking for the best organic dog shampoo, the 4-Legger Certified Organic Dog Shampoo should be one of your choices. Hundreds of verified customer reviews have been posted in Amazon to attest to the product's efficacy. The 4-Legger dog shampoo is made from sustainable ingredients like aloe vera, lemongrass, coconut, and other essential oils.
It is mostly recommended to stop dogs from itching too much, prevent fleas and ticks, and give them a nice overall smell after every bath. A 16 fl. Oz bottle of Lola & Max organic dog shampoo retails for about $24.85 at amazon.com.
4. Vermont Soap Organic Pet Shampoo
Grade: B+
The Vermont Soap Organics shampoo is another USDA-approved organic dog shampoo. It contains pure Castile soap, but stays non-toxic and safe to any dog breeds, since it is a natural liquid soap product. The ingredients are also hypoallergenic so you are assured that your dog will not develop any negative reaction to it.
Other ingredients that make up the Vermont Soap Organic Pet Shampoo are: olive oil, aloe vera, organic essential oils, coconut oil, and rosemary extract. This brand is relatively new in the field of dog grooming. However, it has already amassed loyal pet owners who have attested to its effectiveness on their own pets as shown by positive customer reviews on Amazon. A bottle of Vermont Soap Pet Shampoo costs about $12.05.
5. Particular Paws Hypoallergenic Dog Shampoo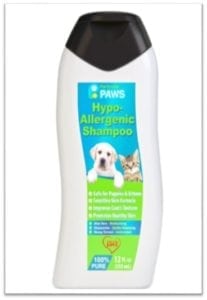 Grade: B
An exciting addition to the world of dog grooming shampoos is the Particular Paws Hypoallergenic Dog (and Cat) Shampoo. Yes, it works for dogs and cats too!
The Particular Paws Hypoallergenic shampoo also works great as an organic puppy shampoo. It is made of hypoallergenic and all-natural ingredients that make it safe for grown dogs, puppies and even cats. Just like most all-natural dog shampoos, they address specific pet issues like itchy, dry skin, dirty fur, skin allergies, and smelly coat. Particular Paws Hypoallergenic Dog Shampoo typically costs $49.99 per bottle but as a newly released item in Amazon, it only costs $14.95 per bottle.
And that's it! The five best all natural dog shampoos available for any dog and why you need to go organic for your pet's shampoo! Get a bottle and don't delay bathing your best pal.