Last Updated: January 21st, 2020
For any new dog owner, it is essential that you care for your puppy in the right way.
Firstly, learning when you can bathe your puppy is extremely important as it is not always safe to wash your dog if they are too young. Once this is established it's then vital you choose the right products to groom your puppy with and choosing the best puppy shampoo for your pet can make a huge difference.
The Professional's Choice for Grooming (Recommended Puppy Shampoo)
Earthbath Puppy Shampoo – An all round excellent shampoo product, Earthbath have managed to create a grooming product that is kind on your pup's coat and skin while still leaving it sparkling clean.
A great all-round product, Nature's Miracle Puppy Shampoo gives off a fabulous scent, cleans your puppy's coat and leaves their skin fresh.
It's also important to bear in mind that for the first three months of a puppies life, the job of cleaning them will be handled by the mother. At this age, she can look after her pups hygiene by licking them clean whenever they need. When your puppy reaches three months old, it more than Ok for you to offer a helping hand by bathing them with a specialist shampoo.
When the time is finally right, it is vital to ease your puppy into bath time gently, and a great way to do this is with a shampoo that is gentle on their skin and leaves them smelling great and that is exactly why we created this guide

Finding the Right Shampoo for Your Puppy
Puppy Shampoo Features & Benefits
Best Puppy Shampoo Product Reviews
How you wash your dog at this age will have a significant impact on how well they react to being groomed when they are older so making sure the experience is pleasurable for both you and your dog is hugely important.
---
Best Puppy Shampoo Comparison
Professional's Choice
ProductEarthbath Ultra-Mild Puppy ShampooCrazy Dog Shampoo for PuppiesBurts Bees Puppy ShampooPrime DeliveryRatingWhy BuyAll ingredients 100% biodegradable.Adds softness and shineMade in the USANatural Ingredients2 in 1 ConditionerTearlessScentedSoap Free
Once everything is in place, it is now vital that you choose the right products to wash your dog with. Some dog owners may think shampoo's that are designed for fully grown dogs will work just as well on their puppy but this isn't always the case and to help you choose the right product we have put together this guide to find the best puppy shampoo for your dog.
Every dog is different, and just like humans, your pet will change throughout their lifetime. Because of this, it is important that you choose a shampoo that is designed specifically for your puppy and is manufactured to help promote healthy, lively young dogs, and leave their coat feeling perfect and their skin itch free.
---
Finding the Right Shampoo for Your Puppy
When it comes to choosing the ideal puppy shampoo, there are a few things you need to remember.
The most critical difference between puppies and fully grown dogs is that a puppy's skin is far softer now then it will be in two years.
Because of this, their skin is a lot more sensitive, and this should be factored into the shampoo you choose for them.
Another vital point to remember is that because of your puppies sensitive skin; natural products are far more advantageous.
This is something we like to stick to when choosing shampoo for all ages of dog, but it is particularly important when considering grooming products for puppies.
Here are some important considerations when it comes to choosing shampoo for your puppy:
If possible stick to natural ingredients – unless your young dog is suffering from skin irritations or other issues that your vet has recommended a medicated shampoo for then if possible try to stay organic.
Introduce your puppy to the product slowly – Us humans are creatures of habit, and your puppy is no different. Introduce them to any new products gradually and allow them to become used to the smell and feel of whatever new shampoo you choose.
Don't reach for the human shampoo – the shampoo you use to wash your hair will contain additives and other ingredients that may not react well with your puppy's skin. Avoid the use of human shampoo and instead choose a specialist puppy product.
---
Do You Need to Buy a Puppy Shampoo?
Although many pet shampoo manufacturers now design products that can be used for both fully grown dogs and puppies we still recommend a specialist puppy shampoo if you're a new pet owner.
There are many reasons for this, but the primary factor is that a product designed for puppies is likely to be far gentler on your young dog's skin and coat.
As a new dog owner, it can be confusing choosing the right kind of product for your puppy purely because of the sheer amount of choice available.
The different types of dog shampoos out there include Hypoallergenic, Antifungal, Whitening, Medicated, Flea & Tick, Organic just to name a few.
But in this case the fact there are products designed specifically for your young pet can make things easier.
---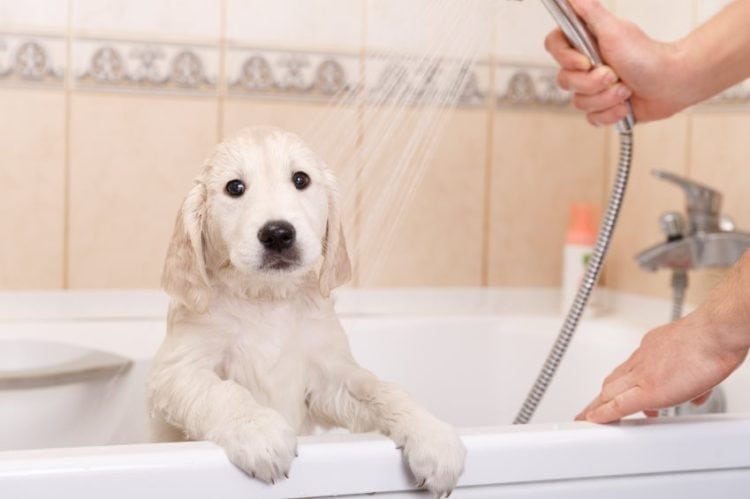 ---
Puppy Shampoo Features & Benefits
The one most significant piece of advice we often give to owners of puppies is just to be extra cautious about the products you buy.
Marketing can often paint particular products in a light that isn't usually true to form and reading the label of every product you buy at first may be a labor-some task but will ensure you keep your puppy in tip-top health.
Medicated & Non-Medicated Puppy Shampoos – This is also the main reason why it is recommended avoiding medicated shampoos and sticking to strictly organic products.
Strong chemicals, dyes, and fragrances added to some products may be suitable for fully grown dogs but are not always ideal for puppies who's skin is likely to be far more sensitive.
If your young puppy has unfortunately contracted an infection then it best to speak to your veterinarian for the best steps to take. If however, you have seen an early outbreak of fleas reaching for the medicated shampoo might not always be the best option.
There are now a number of natural ways to treat fleas on your dog including coconut oil and neem oil and it is worth checking out these alternatives if you're worried about the ingredients some medicated products will contain.
Tearless Ingredients – Another bonus is that puppy shampoos are more often than not always tearless.
Just like any parents who have tried bathing their children without tearless shampoos you know the results are not always pleasant.
The same goes for puppies, and even if you do your best to avoid making contact with their face during bath time, there is always a stray splash of water that goes and ruins the fun.
A tearless shampoo will make a huge difference when it comes to easing your puppy into a grooming routine.
Moisturizing & Soothing Remedies – Another key reason to choose a puppy shampoo is because just like older pets, puppies too can be affected by skin related and microbial infections.
If you notice your puppy itching more than usual, or in one particular spot then it may be that they have reacted negatively to their surroundings.
Antifungal Puppy  Products – The same goes for infections caused by bacteria or yeast, in which case frequently bathing your puppy can help fight off any unwanted ailments.
Just remember to be gentle with your puppy, and if you treat these infections promptly all should be fine however do consult your veterinary if you become worried.
Scented but not Overbearing – All pet owners want their dog to smell the best they possibly can, and the same goes for puppies. When bathing your young dog, you want them to come out smelling just how you remember them as a newborn.
However when choosing a scented product for your puppy, it is important to not pick a product that is too overbearing for your young dog.
A puppies sense of smell is still developing and it is important that their natural scent and oils are not overpowered by the shampoo.
---
So Are Puppy Shampoo's Safe?
The simple answer is Yes.
When purchasing a product from known pet grooming brands such as Earthbath you can be confident that the product you're getting is safe for your pet.
We understand as a new pet owner the health and safety of your puppy is paramount, but you can be sure that by choosing a puppy shampoo you are getting a product that is exceptionally mild and kind to your young dog's skin.
---
Best Puppy Shampoo Reviews
We hope by now you have a better understanding of why it is you should invest in a puppy shampoo product for your pet and the benefits attached to doing so.
With all this in mind we have picked out the ten best puppy shampoo products currently available and provided a run through of each below:
If you are a regular visitor to Pet Search, you will know how much we love the Earthbath brand of dog shampoo.
The variety of their products and the quality they offer is unrivaled, and the same goes for when you are choosing a shampoo for your puppy as well.
Being extra gentle makes this product perfect for your puppy's skin, and the all-natural shampoo is not only safe to use on your young pup but can also be used on older dogs as well.
We loved the cherry scent, and it will leave your pet smelling as fresh as any young dog should.
We have recommended this product literally hundreds of times and never had a complaint which is testament to the quality of the shampoo.
This puppy shampoo was by far the best we trialed and highly effective for giving young pets a thorough clean.
---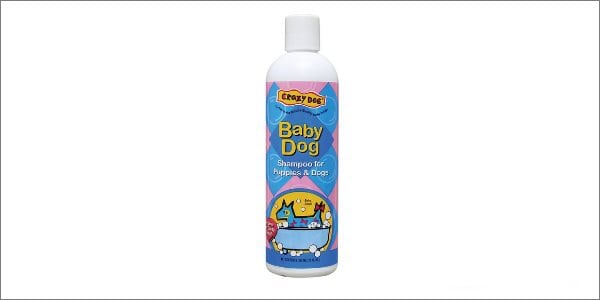 The second product to make our list is the Crazy Dog Baby Dog Shampoo which we found to be another excellent grooming product for puppies.
This shampoo leaves coats feeling extra soft and brings out the shine from a puppies coat.
We found it extremely easy to rinse off meaning you aren't spraying your dog unnecessarily trying to make sure you don't miss any last bits of lotion.
The product has a pleasant smell but isn't overpowering, perfect for your puppy and their sensitive nose.
The bottle also gives some fun instructions for new dog owners which can help to make bath time more enjoyable.
Overall this shampoo is a seriously good purchase if you are looking to keep your pet clean and healthy. It offers everything you would expect in a shampoo perfect for a puppy, being easy to lather, great smelling and highly effective and for that, we gave it 2nd on the list here, and we hope you agree!
---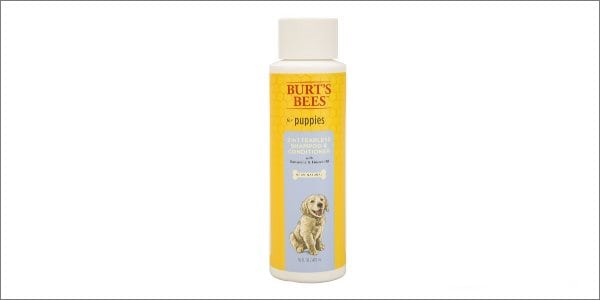 The first puppy shampoo we reviewed explicitly designed to be 'tearless' this product lived up to the hype.
As well as a shampoo this product also conditions your pet's coat leaving it with extra shine and noticeably smooth.
Manufactured in the USA you can rely on quality and Burt's Bees won't let you down with this shampoo.
You really will notice the difference in both your puppy's skin and coat after a bath and a little bit of this product goes a long way meaning you won't have to worry about purchasing numerous bottles as this shampoo should comfortable last your dog until they are fully grown.
There is no overpowering scent with this shampoo which isn't necessarily a bad thing when it comes to washing your puppy, but even without a distinctive smell the thorough wash, your puppy receives means they come away from bath time completely fresh.
---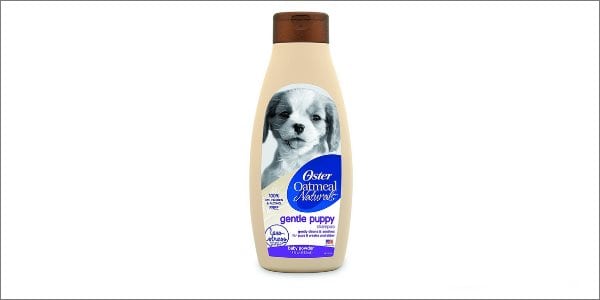 Oster's Oatmeal Shampoo for Puppies is brilliantly formulated to promote healthy skin and coat and the changes we saw when using the shampoo only back this up.
The natural oatmeal makes an excellent ingredient for dog shampoos, promoting healthy shine and with no artificial colors, this product is an excellent natural choice.
We trialed this product on a puppy with slightly itchy skin and noticed an improvement, with a reduction in redness as a result of our pet not wanting to scratch as much.
This is particularly useful,  as treating your puppies skin conditions should be taken with more care than a fully grown dog and this product does the job.
Another shampoo easy on the nose, the soft sweet smell reminds you that your pet has had a thorough wash but won't linger for days as some chemical-filled products will.
On the whole, if you want to reduce itchiness for your puppy with a solid and effective shampoo then look no further as this product will do the trick perfectly.
---
The fifth product to make our list is packed full of interesting ingredients that combine to make a great shampoo for your puppy.
The Perfect Coat Puppy Shampoo contains Keratin and Jojoba natural oils that cleanse your dog's coat in a way that will cause no harm or aggravation. This means you can thoroughly bathe your puppy without having to worry about causing your dog any further irritation or your pet finding the experience too much to handle.
The natural ingredients mean the shampoo is extremely easy to rinse, and we found the baby powder scent to be long lasting but not strong enough to trouble you or your puppies sense of smell.
The shampoo is also unusually thick compared other products meaning a bottle can go a long way, and the quality ingredients do make a difference compared to other shampoos available.
If Perfect Coat's product hasn't ticked all the boxes already, it's also tearless!
---
Groovy Bottle Alert! Per Head Puppy Fun Shampoo comes in at number six on our best puppy shampoo roundup but the bottle is by far the best.
Free of any harsh chemicals, this is another tearless shampoo, and the key ingredient here is Shea Butter which will leave your dog looking thoroughly restored, smooth and moisturized.
This shampoo comes with an orange scent which makes a nice change from many other dog shampoos we have trialed and worth a go if you are also fed up with 'lavender hints' or other overdone scents that don't seem to smell anything like they say they do.
This is another reasonably priced product and well worth a go if you are yet to settle on a puppy shampoo of your choice and especially if you want a cool looking bottle to add to your pet grooming kit.
---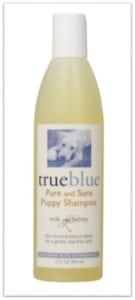 True Blue's natural balance puppy shampoo is a great organic choice, containing an unusual blend of milk and honey, we found the shampoo to work excellently on the puppies we trialed it with.
We found the puppy shampoo to be a great all-round product, being affordable, containing natural ingredients, and being tear-free.
This makes it perfect for your pocket, the environment, and your dog's health.
We also found the shampoo to be easy to rinse, saving time and meaning you don't have to apply too much pressure to scrub your dog's skin clean.
The milk formula is specifically designed to clean a puppy's skin delicately, and we found a notable difference in our young pets when using this product over a number of washes.
---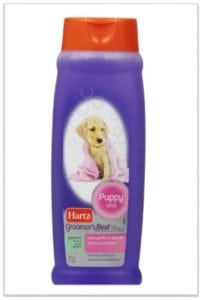 By far the most affordable item on this list is Hartz Puppy Shampoo which we found to be extremely gentle when used on our puppy poodle. The tearless formula means you can use it all over your dog without having to worry about harming their eyes or sight.
The shampoo gives off a slight jasmine fragrance but is not overbearing for your puppy's senses and shouldn't harm your pet in any way. If you are worried about splashing out on a puppy shampoo you are only going to use in the early stages of your dog's life then this may well be the product for you.
The price means you do not have to worry if you don't use the full bottle before moving on to a slightly more heavy duty product and if your young pup does grow quickly you can still use this product when they are fully grown as well.
---
Another great all-round product, Nature's Miracle Puppy Shampoo gives off a fabulous scent, cleans your puppy's coat and leaves their skin fresh.
We found this shampoo fights off odor particularly well, and the shampoo is also Made in the USA for those of us out there who look for local products first before buying elsewhere.
This product has a soap-free formula which meant it caused no problems to skin or coat but still washed up to the standard we have come to expect from the best puppy shampoo's available.
The bottle is of a good size so you feel as if you are getting your money's worth and you really will notice a difference in how smooth your puppy's coat feels after bath time.
The scent is Spring Waters so is a good alternative if you are not a fan of lavender or cherry scents which are more commonly found in dog shampoo's and this product does leave your dog smelling like a fresh young pup again!
---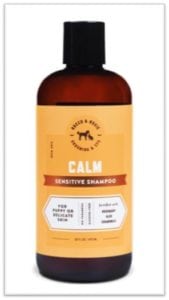 After finally trying this product for ourselves we knew we had to add it to our Top 10 list and it is slightly unlucky to rank below the rest.
However that should take nothing away from this product and perhaps the one reason why it ranks so low is its slightly cost price, which although isn't extortionate particularly for the quality you get, is still somewhat more expensive than other alternatives on this roundup.
What we particularly loved about this product is the focus that has gone into devoting a shampoo that cleanses and thoroughly cleans while being extremely gentle on a puppy's skin.
As we have already mentioned elsewhere on Cleaner Pets, looking after your puppy is essential and the shampoo you decide to use is a big factor in this so a product and brand that shares this view is always pleasing to find.
The puppy shampoo contains no parabens and all natural ingredients, including aloe vera extra so not only soothes your puppy's skin but leaves it feeling and smelling a million dollars.
Final Word
So there you have our Top 10 round-up of the best puppy shampoo products currently available in 2020.
When it comes to bathing your puppy, it is essential that you take extra care and attention with the shampoo you choose and the love you give when washing your new pet.
We are sure you will find at least one product that will fit the criteria you are looking for but if you have any questions at all or any suggestions for shampoos you would like us to try to update this list please just get in touch and let us know.