Trying to control and handle pets, especially dogs who are trained escape artists, can prove to be a challenge even for the most experience of owners.
There are also various places that restrict the entrance of pets. Furthermore, there is a lot of hazards that await when stepping into the urban city, including other aggressive animals, insects, and parasites.
However, the discovery of pet strollers, wagons, and other types of transportation on wheels has made it easier for pet owners to provide comfort and protection to their dogs.
Pet strollers are similar to baby strollers. Both are usually three- or four-wheeled and made of fabric. The two are utterly similar that at first glance, people will not notice many differences at all. After all, just like babies, dogs require utmost care and maintenance.
10 Benefits of Dog Strollers
Some people might think that dog strollers should be the least priority when it comes to buying items for their beloved canines. Here is the top 10 list of how pet strollers will benefit you and your dog.
1. Pet strollers make it easier to transport dogs from one place to another – Whether it is during veterinary visits, family trips, or work, pet owners will find themselves at ease when it comes to carrying their pets. This is especially handy when going to a new environment, where the dogs might lose their way in case they unintentionally get separated from their owners.
2. If the dogs are injured, disabled, or even too old for walks – dog strollers provide a way for them to have a taste of sunshine and clean, fresh air. Whether they are recovering from surgery or they are too old to run speedily or even walk, dogs will still enjoy the sun, see a new environment, and discover new scents. Their presence outside of the house and tucked in the dog stroller comfortably will surely make them happy.
3. Another benefit that many old pet owners attest to is that some of the best pet strollers can actually serve as a walking support – If they want to enjoy walking their dogs, yet their mobility issues refrain them from doing so, purchasing a dog stroller will definitely help them get back on the roads and sidewalks.
4. Dog strollers also protect dogs from unwanted and potentially aggressive animals that are not on leash – This is especially convenient during vet visits because dogs are likely to become active when there are other pets around.
5. Paw protection is one of the main reasons numerous pet owners subscribe to buying strollers – In summer, roads and pavements absorb too much heat from the sun, making it feel like the paths are burning coals to the paws of the dog. In winter, roads and sidewalks can be filled with snow, salt, or frozen slush; thus it would be too cold for the paws to handle. Being safely and comfortably seated in a dog stroller will save dogs from the agony of excessive heat or cold.
6. Dog strollers also provide shade to several breeds that cannot withstand certain temperatures – For example, a high temperature can put bulldogs and pugs in danger of heat stroke. Additionally, as dogs get older, their ability to handle heat wears out. Putting them in a pet stroller helps in cooling off and relaxing their bodies until they are able to walk on their own again.
7. Many stroller users also claim that dog strollers can be used as high chairs and even beds for their canines – In cases when floors, stairs, or other ground obstacles pose safety concerns, putting them in a high chair in the form of a stroller will be of great help. Additionally, strollers can also serve as portable beds so wherever they are, they can take a nap without bugging the pet parent.
8. Running errands with pets will be easier, all thanks to pet strollers – While it is truly enticing to bring dogs alongside for daily errands or quick outings, figuring out where to leave them can actually be stressful. Leaving them tied outside the building is definitely not an option, and leaving them inside cars might pose security concerns (like stroke from too much heat). Therefore, buying a dog stroller will make running errands more fun and less stressful.
9. Pet owners can still have a fair amount of exercise without tiring their dogs. -This is especially convenient for those who have small dogs that cannot keep up with their owners' speed or stamina. By putting them in the best pet strollers that are designed for jogging, the dogs will not wear out from too much running or walking, while the owners can opt to remain active. If you do decide on excerising with your pet then it is highly recommended you invest in a specialized harness.
10. Since the key feature of dog strollers is the easy transport of pets, owners will have the opportunity to bring them in more places – Gone are the days when dogs are continually dragged by their owners (and vice versa) – purchasing a dog stroller may simply mean obtaining more quality time to spend with your furry best friend.
Why should you invest in a pet stroller?
Pet strollers may some unimportant. Some people might even think that it will be just a waste of money. Nonetheless, knowing the various benefits it can give you and your dog may be just as important as getting the right dog food or type of lead, with retractable leashes growing in popularity. Of course, you would want to lengthen the life span of your dog, as much as you want it to become happier. Therefore, investing in the right equipment and accessories, including durable and long-lasting dog strollers, will help you achieve your goal.
Which pet stroller should you invest in?
It is important to note that not all pet strollers can provide the aforementioned benefits. This is why it is important to choose only the best pet strollers to make the most out of the money that you will spend. Be a smart investor by identifying the lifestyle that you and your dog would like to have, assessing his habits and needs, and scrutinizing the available options you have according to your budget.
Best Pet Strollers – Product Reviews
To help you get started, here are some of the best pet strollers that have gained reputation among dog owners.
VIVO Three Wheel PetStroller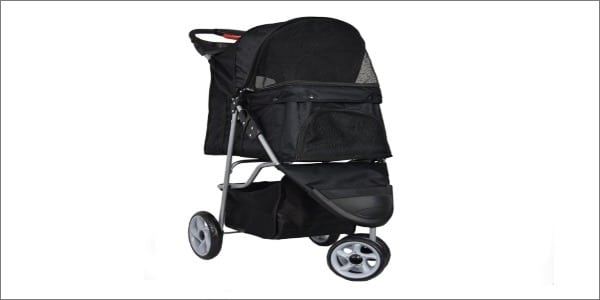 The Three Wheel PetStroller from Vivo weighs about 12.8 pounds and it comes in multiple colors, including black, green, pink, purple, red, and camouflage.
It has a holding capacity of 30 lbs., which means that it can accommodate only small breeds, with one dog at a time. However, if you have multiple dogs having a combined weight of at most 30 lbs., then it is alright to put them all in the stroller.
Despite having a budget-friendly price, many customers attest that this pet stroller boasts of high quality materials. It is also multi-functional because convenience features such as a big storage basket underneath, a compartment for phone and keys, and a cup holder come with the stroller.
Additionally, the stroller folds easily and its compactness makes it easier to fit inside a vehicle. If you like an affordable yet multi-functional stroller for your small dog, then this might be the right one for your canine.
---
OxGord Pet Stroller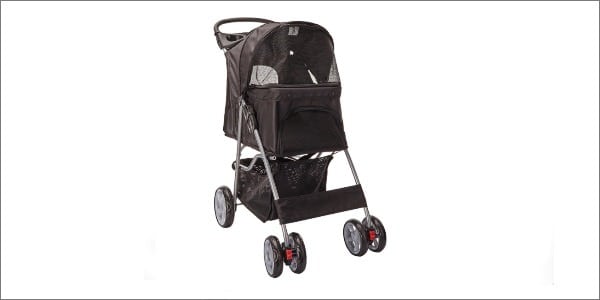 Considered as one of the best pet strollers around, the OxGord Pet Stroller is another affordable option. It weighs about 11 lbs. and comes in either three or four wheels. However, despite being lightweight, it is made of sturdy materials. Apart from its price, many customers love that it is easy enough to assemble even without the use of tools, sturdy enough to carry a medium-sized dog, and spacious enough for two small dogs to fit in.
Additionally, it has a seatbelt leash, rear security brakes, and waterproof hood to ensure that the dog will not escape and will be entirely safe while inside its compartment. It is also noiseless and its wheels run smoothly. The motion of carrying the stroller is fluid-like, regardless of whether there is a pet inside or not.
Moreover, the stroller can hold two cups and it has a spacious storage space underneath the dog compartment. If you are looking for a lightweight yet durable stroller, consider purchasing OxGord Pet Stroller.
---
Pet Gear NoZip Happy Trails Lite Pet Stroller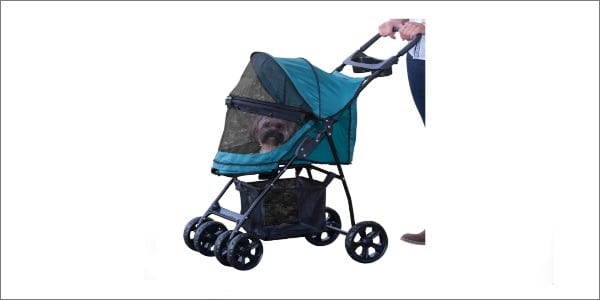 The Pet Gear NoZip Happy Trails Lite PetStroller is not far behind the best pet strollers on the market today. It is a lightweight dog stroller, weighing only 12.5 lbs. It can carry at most 25 lbs. of weight, which is suitable for pet owners with small dogs. It comes in three colors – Boysenberry, Jaguar, and Pine Green.
Dogs will definitely have a panoramic view because of the three position canopy that the stroller has. Additionally, pet owners will find strolling convenient because of its 6-inch wheels. It also has cup holders and a large basket underneath, making it suitable for those carrying their dogs while running errands.
What sets it apart from its competitors is its No-Zip feature. Instead of the usual zippered closure, the No-Zip Happy Trails Lite Pet Stroller has the easy-locking latch to prevent the hassle of fumbling with the zippers.
If you are having a hard time with zippers, then choosing this stroller for your small dog is the best option.
---
Pet Gear Ultra Lite Travel Stroller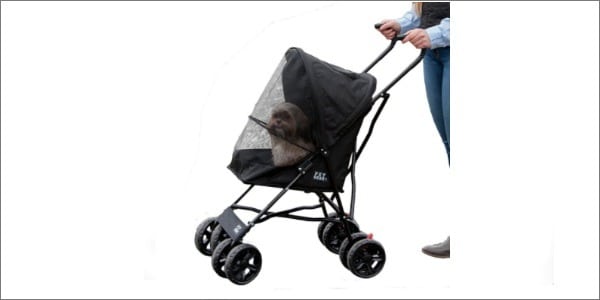 The Ultra Lite Travel Stroller from Pet Gear is definitely true to its name. It is ultra-light because it weighs only 9 pounds and it can carry at most 15 lbs. of weight. The small breeds will definitely fit perfectly in this portable stroller, which is best for park walks and mall strolling.
Just like other Pet Gear products, the Ultra Lite Travel Stroller has the No-Zip feature to avoid zipper problems, like fumbling or breaking at the most unwanted times.
From the name itself, the Travel Stroller is perfect when traveling because it folds into an ultra-compact size that will take minimum space in vehicles. It is also most suitable for casual walks. However, in exchange for the super lightweight feature, the cup holders and basket features are omitted in this product.
If you are looking for an ultra-lightweight stroller and you do not mind not having storage space for your things, then this very budget-friendly stroller might be for your dog.
---
Pet Gear No-Zip Special Edition Pet Stroller
The No-Zip Special Edition Pet Stroller from Pet Gear is one of the most multi-functional dog strollers on the market. This is because apart from holding at most 45 lbs. of weight (which means multiple dogs can be carried inside it), the wheels can swivel on smooth roads and surfaces, and they can also be locked to withstand rough terrain.
The stroller is on the pricey side, but its quality and durability make up for the amount it costs. It is made of high-quality water-proof fabric that is almost similar to that of a baby stroller. Furthermore, the see-through panels are abundant enough to give the best view that dogs will definitely appreciate.
As Pet Gear products go, the innovative No-Zip design guarantees the easy transport of pets in and out of the compartment. Apart from this, the product is also equipped with rear safety brakes and shock absorbers.
If you do not mind sparing some cash for one of the best pet strollers, then consider getting the No-Zip Special Edition Pet Stroller.
---
Promenade Pet Stroller
The Promenade Pet Stroller from Gen7Pets has a weight of 16 lbs. and it can carry a medium-sized canine or multiple small ones with its holding capacity of 50 lbs.
Promenade Pet Stroller boasts of its Smart line, starting off with the Smart-Canopy mesh that folds all the way down to the handles to give more space to the dogs. Its Smart-Reach handle ensures that there is more kick space, meaning the owners' feet will not accidentally kick the stroller's back, so owners will comfortably walk at their desired pace. Furthermore, its Smart-Basket is equipped with a zipper, so personal belongings are secured yet easy to access anytime. Lastly, its Smart-Zippers do not need any treading and are similar to suitcase zippers.
Additional features include a cup and phone holder, as well as an extra compartment underneath to provide room for grocery items or other personal belongings. The wheels can also be locked for safety.
If you want a stroller that opens all the way down and has numerous functions for a decent price, consider the Promenade Pet Stroller.
---
BestPet Pet Stroller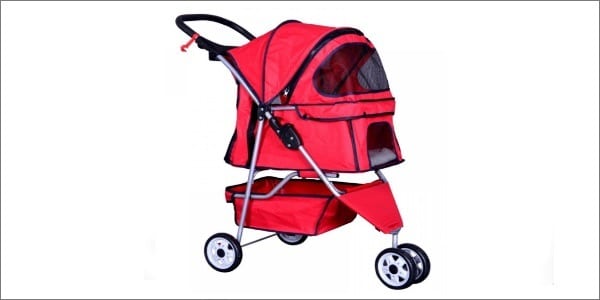 BestPet Pet Stroller is one of the best pet strollers because of its portability and affordability. It can carry at most 30 lbs. of weight and it can be easily assembled in a matter of minutes. This stroller also has numerous little windows that enable dogs and pups to see the environment, even if the zippers are fully shut.
BestPet Pet Stroller's biggest feature is its ability to be opened and closed within just 5 seconds. This shows how convenient the stroller is. Furthermore, the 6-inch wheels glide smoothly over grass, carpet, and sand, and glide decently over rough terrain. The handle also provides a tough grip and the #8 fiber zipper is installed in the stroller, instead of the usual #5 plastic zipper.
If you are on a tight budget yet you want to provide a water-proof and compact stroller for your pet, then BestPet Pet Stroller is one of the best options.
---
OxGord Pet Twin Double Stroller
The OxGord Pet Twin Double Stroller is a four-wheeled twin carriage that is specially-designed to carry two dogs. It weighs about 21 lbs. and has a holding capacity of 55 lbs. With just a click on the wheels, it unfolds easily. Moreover, it has multiple windows for breathability.
This stroller also has a large undercarriage, which would be helpful in storing toys, treats, water, and other items. Additionally, the fabric used is water-proof and easy to clean.
However, note that this stroller might not fit all doors because it is relatively wider to give room to multiple pets. This stroller also lacks a cup holder, but handlebar consoles for dual stroller can be bought in other stores to make up for it. If you do not mind these, you are getting a lot for a cheaper price, since buying this double stroller is definitely cost-effective, compared to buying two single strollers.
---
AllTerrain ExtraWide 3 Wheels Cat & Dog Stroller
Another product listed among the best pet strollers is the AllTerrain ExtraWide 3 Wheels Pet DogCat Stroller from BestPet. It weighs around 13 lbs. and it can carry at most 30 lbs. The stroller comes in numerous stylish colors, including leopard print.
This all-terrain stroller is designed to maximize the space that small canines can occupy. It has a front and rear entry, as well as multiple mesh doors to keep the bugs out. BestPet also included a rain cover to protect the canines from unexpected rainfall.
The stroller can be maneuvered easily even in tight places, and the overall build of the stroller is impressive. Furthermore, there is a large undercarriage, and phone, cup, and key holders. The stroller is also easy to fold, and can fit the trunk of a small car.
As BestPet products go, the AllTerrain Pet Dog Cat Stroller is an affordable yet high-quality stroller that you may want to consider.
---
Pet Gear NoZip Jogger Pet Stroller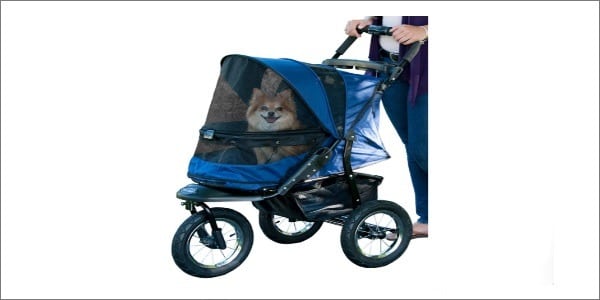 The NoZip Jogger Pet Stroller from Pet Gear is an ideal stroller for those who love to jog. It weighs 27 lbs. and it can carry at most 70 lbs. Despite that, it can be easily maneuvered and pushed since its front wheel is fixed.
Since this is a Pet Gear product, it has the No-Zip feature that enables pet owners to easily open and close the compartment with just one hand. Furthermore, it has mesh windows that provide good ventilation while keeping the compartment bug-free. What makes it further outstanding is that it has a weather guard to ensure full protection from snow or rain.
Additional features include heavy duty terrain tires that ensure smooth gliding on pavements and rough terrains, rear and front entry, and a free tire pump that can be tucked inside the spacious basket underneath the dog compartment.
Overall, this stroller deserves one of the top spots among the best pet strollers on the market. If you prefer performance over price, then the No-Zip Jogger Pet Stroller might be the perfect stroller for your dog.