Pet Search is a mother-daughter run blog. Together we have over 40+ years of professional pet grooming experience and we hope to pass some of that on to our readers throughout our in-depth and non-bias reviews and buyers guides.
We do not accept sponsored posts however we do include affiliate links throughout our posts and we receive a share of the revenue generated from your purchase which contributes to the running of CleanerPaws.com.
This review guide was updated in February 2019.
---
When training your dog for proper public behavior, you are probably better off using a regular leash. Apart from that purpose, a retractable leash might be the better option.
We're going to assume you already have a regular leash and are just trying to find a good retractable leash so that you have the appropriate type to use in any given situation.
Given that, this article is going to be valuable for you. We are featuring five models. What you can do to complement our effort is to ask yourself questions that concern your particular needs.
Retractable leashes are not perfect as they have certain weaknesses that we will point out here.  By knowing the disadvantages and the advantages in these models, you will have a better picture of what will really be the most suitable one to purchase.
What is a retractable dog leash?
Retractable leashes have longer cords and allow a higher degree of mobility. One thing to know carefully is the make-up of these devices. Each of them has a spring-loaded mechanism. It's the spring that allows cord elongation. The spring is located either near the handle or directly under it.
The long lengths of cords are primarily the reasons why these leashes are useful for security and safety purposes in homes and business establishments. If you come across a large parking space and there's a big dog in it, it's likely that it is a retractable-leash-wearing dog. You may apply the same strategy for security fortifications in your own establishment.
Benefits
We use leashes for the prime purpose of keeping our pets within a safe distance. To avoid inflicting harm on others is another.
But due to the major differences between the two types, there are significant dissimilarities in their benefits as well. For the retractable models, here's what we can mention:
Security and safety reinforcement – We are mindful about this aspect, so we give it a little more space. If your dog's size is large, reminding you about this point is particularly important.
Enjoy more freedom – Many of us think that dogs deserve a large space for them to move about. If you are with the same frame of mind, a regular leash can't be but a pain to you. You'd rather have your dog roaming around at its own pace without getting too far from you. Some retractable leashes have over 25 feet of cord length, though.
Exercise – Health-wise, a retractable leash is far more superior to its counterpart. With a normal leash, the constant pulls and the restricted movement are counterproductive to healthy living. More space for playing and running is one of the healthy treats you can bestow your pet.
Adjustable cord length – Some people are complaining about the high risk of running into accidents while on the go. For us, it is just a matter of applying the right length based on the environment the dog and its owner are in.
What we see is exactly the opposite. We see the adjust-the-leash-size feature as actually having the benefits of a regular leash anyway. Press the button as needed.
Walk training – Some people experience difficulty in training their pets to walk off leash. If it is a big park where you will train your pet and this kind of experience is also happening to you, a great solution will be to make him/her wear a retractable leash.
Energy conservation – We're not talking about the mighty effort put for minimizing the use of fossil fuel and saving the environment. Plainly put, it is just about you being prevented from exerting a lot of effort to control your dog, especially outdoors. For this reason, the option is great for owners with disability issues and those owning really huge dogs.
Several length options – for normal leashes, the length is from 4 to 6 inches. With retractable leashes, length offerings vary widely. There's a good chance that you can get one with just the right length or several with different lengths.
Button-operated – Just push the button for whatever you want to accomplish with your dog right at the time you want it accomplished.
No annoying nature-call times – The length of the cord should be sufficient to allow him to go out of the door during those times. There's no need to drop what you're doing and wait for him to finish.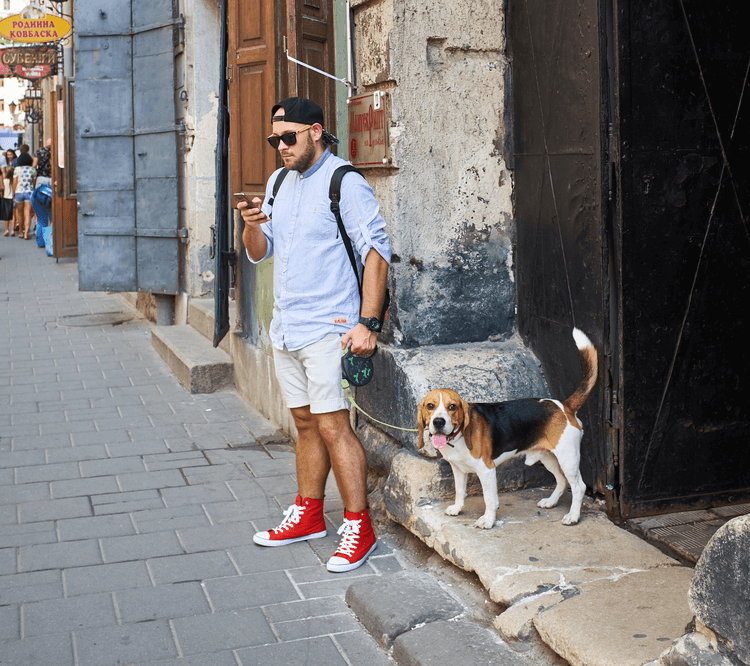 Drawbacks
We're hearing stories and some of them are really grim. So our advice for customers to be picky when buying should not fall on deaf ears.
Plus, owners must exercise caution and wisdom in managing their dogs and their retractable leashes. Also, read warnings and directions for use that are usually included in manuals.
Ponder on these:
Cord length – The same freedom that you want your beloved dog to enjoy can be the reason for him and/or you to get injured. Reports of accidents abound. For this reason, it's important that you know what's within the distance allowed. When it comes to walks on the sidewalks, you know what's within the allowable distance. Yes, CARS that can easily smash your dog's head off its body.
Neighbor fights – As much as a dog with a retractable leash can keep strangers off your property, it can also encourage him to get close to and play with other dogs (sometimes, bully smaller ones). Not all pet owners think that's always a nice idea – meaning close contact among dogs.
Weak construction – If you are careful with a leather leash, it can last a long time. Some users report about their leashes lasting for 20 years and more. That same feat can't be possible for the retractable type. The thin cords and the metal spring inside are susceptible to force, more specifically to the dog's weight and temperament. Reliability, strength and durability are vital factors to consider.
Size – You may not welcome the idea that these products are made bulky. If you're not an I-will-do-anything-for-my-dog type of owner, the last thing you want is carrying a giant box every time you take the device off.
The good part is, with all types of dog leashes, you are in control, not only in choosing the best unit for your dog but also in using it properly. There are all sorts of guides featured in YouTube videos, shared in forums, and offered free in sellers' websites.
What to Look Out for When Buying
We've already mentioned some of the things you need to check before purchasing. This section is offered to provide a comprehensive guide.
When shopping, make sure everything below is considered:
There are special leashes designed for owners with multiple dogs. The leash has several cords and allows one hand to be free. The same option is available for non-retractable leashes. If you go for this type, get one with an anti-tangle feature.
The dog's weight – Retractable leashes come with thin cords, meaning their cords are easy to snap. You need to take the the power of the dog and the maximum tension that the cord can take without snapping in to consideration. For example if you had an extremely strong pitbull then a no pull harness may be a better option.
Lock Mechanism
It's great for better control and management. Consider also that your leash has a non-slip button. It is a way to control your dog without worrying if the button will break or slip.
Long cords easily get entangled with other cords, your hands or with themselves. That's one of the most annoying things about retractable leashes. All you need to have is this feature to make sure you're free of such problems. Retractable leashes can hold at the very least 40 lbs. and at the most 100 lbs.
This is associated with durability and longevity. For materials, options are rubber, leather and nylon. You might want to check on the latest offerings that might have been made with much stronger materials. For width, it goes with tension-carrying capacity as well. Know the weight of your dog and its maximum power and then compare those with the cord with you are considering. Again, most of these devices are heavy and have bulky boxes.
Generally, the longer the cord is, the more unsafe and less reliable it is. You may not after all need one with 24 feet or more of cord. An additional 10-ft diameter space can be enough for your dog to exercise and have less restricted movements.
There's something about reflective lights on a leash that people enjoy. For us, the need is just a matter of whether or not your schedule demands having it. If you walk your dog at night, that can be considered. For us, there is nothing else for this feature apart from that.
A harness collar allow you to increase the level of safety and security when out walking your dog, especally if they always try to wiggle free of their leash. The purpose is to avoid injury on the dog's neck in particular. Every single pull-backward force compromises the neck. The collar will serve as cushion.
Product Reviews – Five Best Retractable Leashes
We're down to short reviews of what we have in our list. We consider them the best that we can find on the market. In the event that you prefer a model that's outside this list, consider the way we evaluated these products and apply it in your own search.
LATITOP Heavy Duty Retractable Dog Leash
This is one great leash that's designed for medium to large dogs. Maximum poundage capacity is 110 (according to description) and the cord's length extends up to 16 feet (about 5 meters.)
What we love with it is its nice solid feel, ease of holding, and the long length that's just enough for good control. Also impressive is its one button system, because the two-button system is known to confuse users.
The bright-green color of the grip reflects light, which is very useful when walking in the dark. You'll also find the retracting capability so easy. All you need is one hand for retracting.
The locking mechanism for this unit gets acclaim as well. Just push the button to brake and slide it up if you need it locked. That's how easy it is.
Everything is good, save for one common issue reported and that's about this leash's inability to handle huge dogs. Some users with 100-lb dogs are scared walking with it. Others feel that it is not really heavy duty. Manufacturer should specify clearly the safe weight range for this product.
Flexi New Classic Cord Leash
This German-made 16-ft leash boasts of its visibility feature and the company thinks that it is with this advantage that they are beating others. True enough, the handle for this device reflects light from a distance of 100 yards. Add to that the additional visibility offered by the brake button and the reflective elements from the belt.
The model comes in three sizes. There is a version for dogs up to 26 lbs, another for up to 44 lbs and still another for up to 100 lbs. Different versions are offered at the same price, which is good for anyone trying to go lower with the budget but need a device able to handle a weighty dog.
Who is this unit good for? We recommend it to those who love strong light reflections and to those with smaller dogs. Small dog owners are pretty happy with it. Durability complaints are common with large dog owners.
TaoTronics Retractable Dog Leash
Another one using a one-button system is this leash that we consider comparable to the LATTITOP and the Flexi units above. Apart from the one-button similarity, this unit is also designed to handle up to 100 lbs of weight and has a 16-ft cord. The claim for this product is that it can handle weights over 100 lbs.
We see a little difference in prices between the LATTITOP and this unit with the TaoTronics being $4 higher. We think that the free plastic bags and carry case in the TaoTronics account for the disparity. The plastic bags are there for you to use when your dog makes a mess outdoors.
Nonetheless, we have another great unit with one-hand recoil, brake and release system. The grip is ergonomic, and the handle is anti-slip.
And just like the other 100-lb models, concerns about durability have been raised for this leash as well. In particular, owners with dogs that pull heavily say that the handle wears out easily. The grip easily peels and shreds away.
COLJOY Retractable Dog Leashes
We have another 16-ft 110-lb leash here, and we're getting the feeling that the best models out there have these capacities. Consider that observation in this search.
Now for this model, we see that they have put much emphasis on material durability, safety and comfort. We have here a unit that uses eco-friendly nylon and comes with an ABS green plastic housing that is also friendly to the environment. These materials are non-toxic, odorless and durable.
In this unit, we also have a better protection for our money. The manufacturer is ready to receive it back with no questions asked. They promise to be courteous during money refund demands. That counts a lot when you think about the high-breakability of these devices and that there are not many who offer the same leverage for their customers.
We heard one customer complaining about developing rashes using this leash. But there's only one that we know with this issue. Get allergic reactions? Go to your doctor and get examined. It might not be due to the leash after all.
Flexi Neon Leash 16-ft Small-Large
Another excellent unit from Flexi, this model is designed for small dogs only. It holds only up to 26 lbs of weight. Surely, this is a good deal for someone with a small dog and is looking for a very comfortable price in exchange for a highly-reliable leash.
Surprisingly, the leash comes with great features as well, and it even comes with features that are not carried by others. Consider the 16-ft cord having the ability to be accessorized. For that, we have the model's LED lighting system and the multi-box feature.
The handle is made intuitive as it offers a convenient brake button. The system has a fast and reliable response on a one-handed approach. And there is also the reflective bite belt feature that's also used in the more expensive Flexi unit featured above.
Well, there's one disadvantage. The company made the handle small as well and that does not bode well with owners with big hands. But it can be considered for people with small hands – like children. And children love walking dogs, don't they?