Last Updated: January 21st, 2020
It is a fact that at certain times you need to keep your pet close, safe and secure.
When out and you may always try to do this, but sometimes the equipment you have at your disposal may not work so perfectly to ensure the wellbeing of your pet and others.
If your dog is a particularly efficient wiggler and manages to slip out of just about any harness you've tried so far you may find this post useful.
If the above description of an energetic dog eager to get away sounds familiar than the time might be right to choose an escape proof harness for your boisterous pet.



---
Why Do You Need an Escape Proof Harness For Your Dog?
Most new pet parents believe that the best way to handle a dog, especially during walks or outdoor adventures is by using a leash. Well, there are a number of reasons why you should consider a harness over a retractable dog leash and we list the most important below.
Safety – it is very easy for a dog to get both you and it tied up in a leash. Once it gets excited about going out, a dog tends to start running around and in the process, it can get you tangled which may cause injury either to you or your dog.
A harness, on the other hand, is attached to the dog's back so no matter how many laps around you the dog makes, both you and your lovable pooch will remain safe as the harness simply remains fastly secured to their back.
Safety regulations in some countries also require that a dog is belted when driving. It is easier to put a seatbelt on a harness than it is directly to your dog's leash or collar. A harness will also hold your dog steady in the car reducing any chance of it being injured in case of an accident.
Control – the size of the dog really matters when it comes to just how much control you have over your pet when walking them.
Some really strong breeds can easily give you the slip with a leash as it is attached to its neck. With a harness, you gain control of its entire back, making it easier to control even the strongest of dogs.
Small dogs are also better off with a harness since leashes exert too much pressure on their delicate necks making them prone to injury. A harness balances the pressure on the back, making the dog more comfortable.
It is also harder for a small dog to slip out of a harness than it is for it to slip off a leash.
Training –  a harness, as mentioned above, gains control of your dog's full back. This makes it easy for you to direct the dog as you need.
It is also much easier to attach a harness to an untrained dog than it is to attach a leash. Much as the dog may fight it, you can gain control of its back faster than you can of its neck.
---
What to Look For In an Escape Proof Dog Harness
Now we have covered some of the benefits of an escape proof dog harness let's find out what other factors to consider when choosing the right harness for your dog.
Size: the size of your dog greatly determines which harness is best for it.
There are brands that come in sizes specified for larger dogs while others work best for the smaller breeds.
For instance, a large dog harness will have more padding and have a larger allowance for movement. The smaller dog harness will be made smaller, and include stronger netting or fabric as opposed to added padding to create room for movement for the little dogs.
Dog breed and purpose: some dog breeds require more rigorous exercise than other breeds. It, therefore, means that you need to find a harness that supports the level of activity that the dog is likely to be involved in.
For instance, a puller dog will need a harness that is more padded around the chest and has high adjustability to enable the dog to move comfortably without losing control of it, in this instance a no pull dog harness is recommended.
A dog that loves to run, on the other hand, will require a lighter weight harness that enables it to move comfortably without, again, you losing control of the dog, in this scenario we suggest checking out some of the best dog harnesses for runners.
Comfort: no matter the size or purpose of your dog, under all circumstances, consider your dog's comfort as key when choosing the perfect harness for your pet.
Pick out a harness that is padded, durable and made of a fabric that does not cause irritation to the dog and one that does not chafe easily.
Just as importantly, ensure that the brand you choose means you can be confident your dog will not escape.
---
Escape Proof Dog Harness Brand Comparison
It is important that you know what brands to be on the lookout for when shopping for the perfect harness for your dog.
One of our personal favorite brands is Cody Meadow. This brand has an escape proof dog harness that is exactly that.
Our overall favorite feature of this brand is the soft padded fabric.
It is so comfortable for the dog that I am almost certain my dog sighs when I take it off. It is also pretty durable for such light padding, and surprisingly strong.
The harness makes it so difficult for your dog to escape even with a lot fewer straps than many other variations of escape proof harnesses. It comes in a variety of colors so you can have a number of them to match your mood or activity for the day.
You should also consider the Ruffwear Web Master. This has been rated as one of the best dog harnesses year in year out, especially when considering escape resistance and we have reviewed it in a number of our buyer's guides.
Those with more than one breed of dogs love this brand also because the harness comes with an adjustment option that allows up to five sizes difference.
However, you should note that you need to pick a size bigger than your dog when choosing a fitted harness.
The favorite feature for most users in the Ruffwear Web Master is the back strap handle. This handle enables you to lift your dog around high obstacles or around edges.
It also enables you to walk your old, injured or recovering dog without hurting it as you can easily lift it.
Other brands to consider would be Expawlorer Escape-Proof dog harness and the Harness Lead Escape restraint harness among others.
There is no arguing to the importance of having an escape proof harness for your dog. As the above points prove, your dog is far better off with it than without one.
---
Best Escape Proof Harness & Vest Product Reviews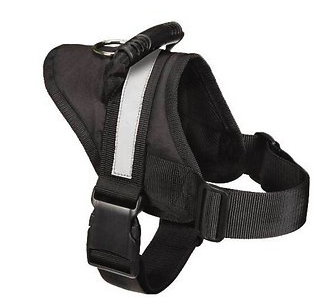 The HDP bid dog All-Day Adventure Harness is excellent for dogs that tend to pull a lot. It is a simple to use, hassle-free harness, designed to slip over the dog's head.
It is an attractive and well-designed harness, made of heavy-duty hardware and strong double-stitched nylon materials.
The chest and belly panels are padded, thus making the harness comfortable and suitable for extended walks, runs, and hikes.
The Harness features two leash attachment points.
The first leash attachment point is located on the front and is more convenient for training because it gives the walker more control. The second leash attachment point is located on the back and designed for relaxed walks.
The attachment rings are made of aluminum and additionally reinforced with webbing. The harness also features built-in pockets, practical for storing the ID tags. Designed for all-day usage, the harness has fluorescent reflective trims.
The side-release buckles keep the harness secure. The harness comes in 6 different colors.
Pros:
Simple to use
Comfortable
Additional features – ID pockets and reflective trims
Available in 5 sizes and 6 colors
Cons:
The front ring is relatively small and may be vulnerable to failing especially if the dog is a strong puller
The chest panel is too wide
---
2. Rabbitgoo Front Range Dog Harness
The Rabbitgoo Front Range Dog Harness is an adjustable vest-type dog harness made of reflective Oxford material.
The harness is specially designed to evenly distribute the pulling pressure and it is easy to put on and off.
The Rabitgoo Front Range Dog Harness is made of soft and breathable, but sturdy and durable materials. It features heavy paddings on the chest and belly thus offering comfortable usage. It is suitable for occasions like daily walking, training, running, and hiking. The chest panel is well-sized and does not dig in when the dog pulls.
The harness features two leash attachment points. The front attachment is used for no-pull use and for dog training, while the back attachment is more applicable to casual outdoor activities. The leash attachments are made of sturdy metal. Additionally, the harness has a strong and practical handle on the back.
The Rabitgoo Front Range Dog Harness is available in 5 sizes – extra small, small, medium, large and extra-large. The adjustable slide straps allow an even more custom fit for your dog. The harness comes in 3 different colors – Black, Green, and Orange.
Pros:
Hassle-free model
Ultra comfortable design
Easy to adjust
Heavy padding
Reflective straps
Affordable price
Cons:
The leash clipping on the back gives the dog a stronger pull
Does not fit well small dogs
Bulky overall appearance
---
3.Ecobark Max Comfort Dog Harness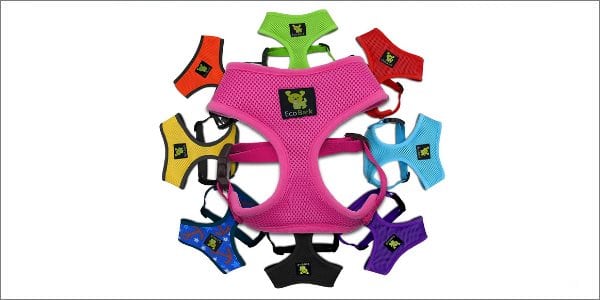 The Ecobark Max Comfort Dog Harness features an innovative no-choke design that protects your dog's fragile throat and trachea. It is suitable for all outdoor activities from casual walking to walking and running to hiking and training. The harness is both comfortable and lightweight, while durable and safe at the same time.
The Ecobark Max Comfort Dog Harness is made of ultra soft, certified, non-toxic and double layered polyester and padded mash specifically combined for optimum ventilation and breathability.
The mesh webbing is lightweight and flexible enough to ensure full range of motions. The straps are made of recycled water bottles. The harness is double stitched and reinforced with anchor hook. It also features non-breakaway emergency release clasps for extra protection.
On the flip side, the Ecobark Max Comfort Dog Harness is relatively tricky to put on and take it off, so it cannot be classified as hassle-free design.
The Ecobark Max Comfort Dog Harness is available in 6 different sizes – extra small, small, medium, large, extra large and double extra large. It additionally features an adjustable belt. The harness comes in 10 different colors and designs – Black, Blue Nautical, Camo, Green, Orange, Pink, Purple, Red, Sky Blue, and Yellow.
Pros:
Environmentally friendly product
Comfortable design
Emergency release clasps
Adjustable belt
Available in 6 different sizes and 10 different colors
Affordable price
Cons:
Tricky to put it on and take it off