Dogs make perfect running partners. They can run any distance, at any time and anyplace.
They never complain about the weather, always let you choose the route and even set the running pace. So, a human – canine running partnership definitely benefits you… but what about your dog?
This guide intends to lay out how running with your dog can not only benefit your pet but also help you choose the best harness to do so in order for you to be confident your dog enjoys your long runs together as much as you do.
In fact, we can kick off with two major benefits to start with, their competitive nature will inspire you and make you workout harder. Not to mention how much safer you feel with your bodyguard running beside you.
However, do dogs actually like running in a structured way such as a routine jog? Or are they just pleasing you? And what other benefits does your dog get from this activity?
Dogs are naturally and genetically inclined to running. In the past, in pursuit of food, our canine ancestors were required to run distances of over 100 kilometers per day.
Our now domesticated and spoiled furry friends are fed from dog bowls which do not run away from them.
This change definitely made a genetic drift and reduced our dog's physical ability to run. However, their running instinct is still obvious, particular when they undertake structured training regimes, such as with the use of weighted vests.

Benefits of Running With Your Dog
Dogs not only love and enjoy this activity but also excel in it.
Running is a constant source of passion and enthusiasm for dogs. However, keep in mind that running with your dog can be quite addictive. Dogs love to run and their joy that comes from running can often be infectious.
Dogs not only motivate you to run harder but make you feel guilty if you skip a running session and deprive them of their favorite activity.
Regular running exercises are beneficial for your dog's physical health. Running helps maintain an ideal weight, improves muscle tone, nurtures healthy cardiovascular system and enhances endurance.
Unfortunately, dogs are susceptible to the same health implications that we are due to lack of exercise.
Those health issues include obesity, diabetes, arthritis, heart disease and certain types of cancer. Running is a good way of preventing these health conditions.
By keeping your dog mentally stimulated, running benefits its psychological health too. While running, the dog is exposed to many environmental stimuli and running allows your dog to express its explorative nature.
---
---
By nature, dogs explore through their sight, sound, and smell. Running, as an activity, triggers all of those senses and improves your dog's mental sharpness.
Additionally, running burns down negative energy, thus reducing anxiety, stress, and depression.
In a nutshell, running keeps your dog happy. If you are already a runner, you must be familiar with the feeling of elation after a killer workout or popularly known as runner's high.
In fact, runner's high is not just a feeling, it is a real thing. The runners' high feeling is induced by certain chemical compounds in your brain that elevate during workouts. A recent study showed that dogs have similar chemical compounds and that they can experience runner's high too.
Why You Should Keep Your Dog Active
A physically and mentally stimulated dog is a happy dog.
On the flip side, bored dogs tend to develop destructive and anxious behaviors, such as excessive barking, chewing, extensive backyard digging, restless roaming and compulsive tail chasing.
Running keeps your dog enough stimulated to prevent such destructive behaviors.
Part of being a responsible dog owner is having your dog regularly checked by a veterinarian.
This is of paramount importance for dogs that exercise regularly.
It is advisable to have your dog checked for possible underlying conditions before taking him on a running adventure.
Another important factor that needs to be taken into consideration is your dog's breed.
Certain breeds prefer laying on the sofa all day if that is the case than starting off slowly on shorter walks may be the way to go.
Your veterinarian will also determine whether your dog is old enough to participate in rigorous activities and that depends on whether or not his bone growth plates are closed or not.
Since this happens at a different age in different breeds, it is best to consult with a professional.
After every running session, examine your dog for foxtails, burrs, ticks, and glass.

Should You Invest in a Dog Harness for Running?
Today there are many different types of harnesses available on the market.
Based on the activity they are designed for, there are walking, pulling and running harnesses.
Some harnesses wrap around your waist, leaving your hands free. Choosing which type of harness you want and need narrows down your choices.
When buying the perfect harness for your dog, you need to consider several features. To help you successfully navigate through the minefield of choices, we have listed the key features of harness that are perfect for use when running with your pet.
Features to Consider
Quality – balancing your budget is important, but in the long run, purchasing a high-quality harness is a smart investment, especially if you are planning on regular running.
Low-quality harnesses can cause pain and chafing, especially if you go on long or regular runs with your dog.
Comfort and security – these are perhaps the most important features for any dog harness, particular for one chosen to be used when running with your pet.
A good harness must be extremely cozy and comfortable and should not slide too much when attached to the leash because this can lead to rubbing.
To increase the comfort levels, some harnesses have friction-reducing padding around the neck and chest.
Material – harnesses are usually made of leather or nylon.
Both materials have their pros and cons. Leather has higher quality and is better for dogs with sensitive skin, but it is also more expensive and harder to maintain.
On the other hand, nylon is cheaper, easy to clean and maintain and it comes in colorful patterns but can be less durable and potentially irritating.
High-quality harnesses may feature a breathable mesh, which we highly recommend for exercise.
Adjustable straps – this feature offers a snug fit without over-tightening the harness.
Even if you bought the right harness size, adjustable straps ensure adjusting the harness to your dog's body shape and exact size.
Most high-quality harnesses have multiple adjustable straps with several adjustment points.
Front or back leash attachments – depending on the leash clip position there are harnesses with front leash clips and back leash clips.
Front leash harnesses have the leash attachment on the front, at the center of the dog's sternum.
They are also known as no pull harnesses because when the dog pulls, he feels a gentle pressure under his armpits and the pressure discourages him from pulling.
Back leash harnesses, also known as standard harnesses, have a clip that attaches to the leash at the back of your dog's neck. They are more comfortable, but do not discourage jumping and pulling.
Reflecting strips – high-quality dog running harnesses feature reflective strips.
The reflective strips make your dog easily visible in low-light conditions, thus preventing accidents and injuries. Dog harnesses with reflecting strips are recommended if you enjoy night running.
Waterproof – if you are a determined runner, regardless the weather conditions, it is advisable to get a waterproof harness.
Using a waterproof harness secures that your dog will stay dry even in the wettest conditions.
Additionally, nonwaterproof harnesses take too much time to dry, during which period they cannot be used.
Durability – dog harnesses designed for running are supposed to handle more strain than those for regular walks.
The durability of the harness depends on the materials it is made of.
The leash attachments should be made from strong metal, while the buckles and straps should be rugged and strong. Double stitched seams also increase the durability of the harness.
Sizing – choosing the right size is of paramount importance.
To make this easier, most manufacturers provide a sizing chart.
Your dog's chest and neck girth are the two measurements that matter to make the right choice. If your dog is between two sizes, choose the larger size, but adjust it properly, in order to prevent slipping out.
---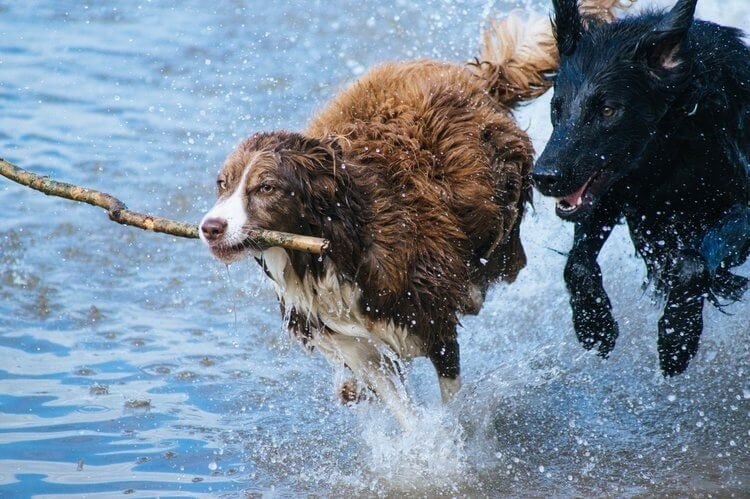 ---
Advantages of Dog Harnesses Made for Running
Another part of being a responsible dog owner is having your dog on a leash.
It is true that letting your dog roam off leash is a fun and liberating experience that challenges its explorative nature and go-all-day stamina, but unless this roaming off leash is in a remote location, far from any motor vehicles, the consequences can be disastrous.
Even remote locations offer an extensive deal of risks.
No matter how well trained your dog is, it only takes one squirrel, bird or rabbit to steal their attention and trigger their natural prey chasing instincts.
Having your dog run by your side on a leash is safe for you, for your dog and for other runners or pedestrians.
Running with your dog is a fun activity and an excellent exercise – as long as everyone is safe.
Since your dog cannot take care of themselves, their safety is your priority.
Technically speaking you can have your dog wear a standard harness or collar while out with you on a running session. However, this is not the wisest option.
Therefore it is of imperative importance to replace your dog's regular collar with a running harness that is not only durable and comfortable but also adjustable.
Investing in a dog harness specifically designed and manufactured for running is a wiser choice for many reasons.
First of all, keeping control of your dog, especially when running, requires more than just a leash and regular collar.
This is because, during runs, dogs tend to jump and pull a lot more.
Replacing your collar with a harness makes managing your dog easier, especially if you get a no-pull harness that discourages your dog from unnecessary jumping and pulling.
A no-pull harness teaches your dog that pulling does not give him an advantage.
Secondly, using a harness reduces the risk of having your dog's legs tangled in the leash.
Getting tangled is especially dangerous when running.
Additionally harnesses promote better breathing and prevent potential tracheal injuries.
During intense exercises, the dog's breathing rate increases. Regular leash and collar add unnecessary pressure to the neck and throat thus disabling uninterrupted ventilation.
Certain harnesses designed for running take the strain off of your dog's neck and depending on the design of the product and distribute it evenly, either across his chest or back.
What is more, harnesses are more comfortable, especially during long running sessions.
There are even a number of harnesses, which as the name suggest are worn like vests, thus providing a good thermal barrier for cooler temperatures.
Another advantage of harnesses is that they are extremely unlikely to come off accidentally.
If the dog pulls too hard, standard collars can come undone while harnesses embrace the entire body and pulling does not affect their hold on your dog.
Last but not least, coming with cute, colorful and decorative embellishments, harnesses make extraordinary fashion accessories, for those dogs that aren't happy just working out but want to look good while doing it!
Drawbacks of Buying a Dog Harness to Run With Your Pet
The good news about dog harnesses that are designed for running is that there are not many cons to using them and the potentially existing drawbacks can be easily prevented or fixed.
The first potential drawback is that some dogs dislike the feeling of wearing a harness and require some time to adjust.
If you are planning on using a harness, your best option is to start training your dog to wear a harness starting from an early age.
Young puppies are more adaptable and easily get used to new stuff. If your puppy gets used to the harness when young, it will not notice it once he grows up.
Another reason why your dog may dislike the feeling of wearing a harness is if the harness does not fit properly.
Fortunately, harnesses come in all shapes and size and there is a perfect match for every dog. The feeling of dislike may be due to the fact that if the harness is not padded it cause rubbing and chafing, especially in short-haired dogs.
Harnesses are a little less practical in terms of ease of use and practicality. Simply stated, harnesses are a little more complicated and time-consuming to put on and off, especially if the dog refuses to cooperate.
Additionally, harnesses are not suitable for holding your dog's identification, license and rabies tags, but seeing as this is an item that is likely to be used only when running that shouldn't be too much of an issue at all.
In comparison to some leashes, harnesses, especially the ones with back leash clips, offer less control over dogs with behavioral issues like aggression. In certain breeds, like sled dogs, they actually encourage pulling due to the fact that dogs have an opposition reflex, however, this is rarely the case.
Last on the list of potential drawbacks is that harnesses can sometimes be slightly more expensive.
However as outlined in the features section, you are paying for the quality you receive and when choosing a product to use while running with your dog it is important you choose one that provides comfort for your pet that you're also confident will keep them safe and secure during any type of exercise.

Best Harness for Running With Your Dog – Product Reviews
Finding the best dog harness for runners contributes to the whole running experience with your pet.
We hope this guide has offered some insight into the topic but to summarise- try avoiding retractable leashes because they offer little control, especially at high running speeds.
Also, avoid leashes that clip around your waist. Leaving your hands free, they may seem practical, but unless your dog is well-behaved and has a certain amount of running experience, they can be dangerous.
To save you some time, we have reviewed the 3 best running harnesses for dogs.
Ruffwear All Day Adventure Dog Harness
Ruffwear is well known for designing active and outdoor dog gear and delivering other innovative products for dogs.
Labeled as an all-day adventure harness, this Front Range harness is designed to be easy to fit and put on, as well as to be comfortable for your dog to wear. It allows smooth movement, without tiring or choking your dog.
This high-quality, everyday harness, offers enhanced control over your dog, without the risk of throat straining. The padded chest and belly panels maximize the comfort. The padded panels also offer better weight distribution.
Ruffwear All Day Adventure Dog Harness is made of sturdy, but lightweight, high-quality nylon material and has robust woven straps for a stronger hold. Being made of nylon, the harness is easy to clean and maintain. It can be hand-washed with a mild detergent and then left to air dry.
The harness features customizable fit with four points of adjustment. This feature enables a full range of free motions. It sports two attachment points – an aluminum V-ring on the center of the dog's back and reinforced loop with extra webbing on the chest area. Additionally, the Ruffwear All Day Adventure Dog Harness has a high-visibility reflective trim and an ID pocket for dog tags.
The harness comes in four different colors (orange, pink, blue and gray) and five different sizes starting from XXS to L.
Pros:
Customizable fit
Comfortable design
Two leash attachment points
Features reflective trim and pockets
Available in different colors and sizes
Cons:
Too expensive
Lacks strengthening stitches
Some users complained about the material being too stiff
Some users were disappointed with the efficacy of the front leash attachment
Ruffwear Multi-Use Dog Harness
The Ruffwear Multi-use Harness is a high-quality, supportive harness, built for easy maneuvering and assisting dogs through obstacles. It is made of hand-washable and air-dryable, sturdy but light nylon.
Ruffwear Multi-Use Dog Harness is ergonomically designed and the padded chest and belly panels make the design comfortable for everyday wear. Featuring five different types of adjustment, the design ensures a secure fit. The thin, but durable foam provides support without hindering the range of motions.
The harness has two different points for leash attaching – an aluminum-made, V-ring on the back and a webbing loop at the front. It also has a sturdy handle on the back, convenient for easy lifting. Because of the handle, this is the perfect harness for dogs with limited mobility.
This harness is ideal for night runs because it has high-visibility reflective trim and a loop for attaching The BeaconTM safety light.
The Ruffwear Multi-Use Dog Harness comes in three colors (red currant, blue dusk, and twilight grey) and five different sizes, starting from XXS to L/XL.
Pros:
One of the best-reviewed harnesses on the market
Made of sturdy but lightweight nylon
Two leash attachment points
Sturdy handle on the back
Features reflective trim and loop for safety light attachment,
Available in three colors and five sizes
Cons:
URPOWER Dog Leash
URPOWER Dog Leash Harness is the ideal choice if you are looking for a no-pull, step-in harness that already comes with its own 4'' long leash. It is a more traditional design. It is simple to slip on and off and does not require complex adjustments. Because the overall design of the harness is less bulky than other harnesses from this category, the URPOWER Dog Harness is good for dogs that are not used to wearing harnesses.
The URPOWER Dog Harness is made of two thick layers of denim fabric. The denim fabric's strength and durability are fortified with heavy-duty, red nylon layer and orange nylon stitches. The soft texture of the material and the lack of hard edges make the harness comfortable for everyday wear. It does not wrap around the armpit area and does not cause chafing.
The hardware, on both leash and harness, is made of corrosion resistant material. The harness features two adjustable points and
The URPOWER Dog Harness comes in one color (blue denim with red edges and orange stitches) and 3 different sizes, starting from S to L.
Pros:
Soft yet durable and sturdy denim-nylon mix
Comfortable and chafing free design
Stylish appearance
Stainless steel hardware
Comes with a leash
Easy to slip on and off
Affordable price
Available in three sizes
Cons:
Does not feature extra padding
The leash is relatively short
Not chew proof
No pocket for ID
Some users complained about the durability of the nylon