Pet Search is a mother-daughter run blog. Together we have over 40+ years of professional pet grooming experience and we hope to pass some of that on to our readers throughout our in-depth and non-bias reviews and buyers guides. 
We do not accept sponsored posts however we do include affiliate links throughout our posts and we receive a share of the revenue generated from your purchase which contributes to the running of CleanerPaws.com.
This review guide was updated in February 2019.
---
All new dog owners will at one time or another ask the question – Is there a point in getting a chew proof dog bed? Some pet owners may even think that giving any bed to a dog is pointless. However there are plenty of reasons why you should invest in a bed for your dog – but not just any bed. We'll cover some important reasons why below.
Why Dogs Need a Bed
Dogs sleep pretty much everywhere, right? They can even sleep comfortably under your car without a care in the world, or just as happily on the porch. However, just like everybody else, dogs need a special place to lie their head at night too.
Here are some of the main reasons why your dog needs a comfy bed of their own:
A bed gives a nice cushion to protect your dog's bones – Keeping the overall condition of your dog's joints healthy will be a big help as they grow older. Think of a bed as an investment in your dog's health.
Believe it or not, giving your dog their own bed will help preserve the rest of your furniture – Guess where you can find most of the slobber, doggie hair, and bite marks if they don't have their own spot to sleep?
A dog bed will make your dog feel at home – It is their own private space where they can relax and stretch out.
Having a space for your dog also gives your pet a certain sense of security where they can feel safe and secure –  even during the loudest of thunderstorms!
Why Do Dogs Chew?
It's no secret that dogs love to chew. They will chew on almost anything they can find – including the bed they sleep on by the way. That's why you should always get a chew-proof dog bed (more on that below).
The following are some of the known reasons why dogs, especially puppies, love to chew on stuff:
2 month old pups, and sometimes older, will chew on things because they are teething. They will then get another chewy phase when they reach 4 to 6 months when their adult teeth replace the old milk teeth. Chewing at this point helps to relieve their sore gums and teeth.
Dogs chew on item to investigate. It's their way of knowing more about their environment and the objects they come in to contact with. They sniff and lick on new items as a way to do this, and yes they will chew on it just to be sure as well.
Dogs get anxious and just like people, they chew and gnaw at things when anxiety attacks.
Just like kids, dogs do things to get your attention – and that's another reason why they chew stuff. They want your attention, even the negative kind if it means having to chew on your furniture.
Dogs don't really brush their teeth, right? Chewing is their way of cleaning their chompers. That's a good reason to get chew toys too.
Chewing is also their way of exercising their jaw muscles.
Pups love to practice chewing – so they look for things to practice on.
Sometimes dogs chew out of pure boredom.
Some dogs form an obsession out of chewing – this also means that your dog is unhappy and downright frustrated.
Dogs chew things because those things are delicious – enough said.
What Makes a Good Dog Bed?
We have pointed out the reasons why your dog needs to have his own bed. Of course, not all doggie beds are built the same and here are some of the features you should be looking for in a good bed:
A Good Fit – Dogs sleep in every position possible but they especially love to curl up. Who doesn't when it's cold at night? Notice that dogs also like to sleep stretched out during hot days.
The best size for your dog's bed should be big enough to fit your pet when they're stretched out. Measure how long your dog is and then add about six inches to a foot to the actual measurement. That should be big enough for your dog to stretch and roll around.
Good Padding – Just like you, your dog likes to have a nice comfy surface to sleep on. The dog bed should provide a nice cushion and support for your furry friend. The bed should also provide enough support for your dog's body – an important feature for older dogs or dogs who have joint pain or arthritis.
Insulation – Your dog's bed should provide good insulation from both heat and cold. This is very important for dogs who prefer to sleep outside the house, where the ground can get pretty hot or cold depending on the time of the year.
You should also make sure that the filling used for the doggie bed stays in place. That ensures that the entire bed is insulated and not just on one or a few sides. Quilted beds are pretty good because the stitching holds the filling in place making the entire surface nice and even.
Washable – A dog bed that is easy to wash will be a of huge convenience in the future. Over time you can expect your dog to spread all sorts of mess on their bed, bringing in sticks, rocks, mud, bones, and your kid's homework. This can mean it may eventually smell and the dirt and hair will stick. Needless to say it will be one of the most frustrating things to clean when this is the case.
The good news is that there are easy to clean dog beds on sale today (we'll mention a few in a later section below). An outdoor bed is your best bet if you're looking for something with a more robust material like shade cloth, ballistic style fabric, rip stop fabric, and heavy woven fabric for instance.
To clean your dog's bed, all you need is water from a hose, a brush, and detergent. If you are adding a topper to make the bed more comfy then make sure to get a sturdy cover. Covers that are washing machine friendly are also a big bonus.
Chew Proof vs. Indestructible Dog Beds
Some people ask if indestructible beds are the preferred choice to chew proof beds. Well, it actually depends on how tenacious a chewer your pet really is.
Indestructible beds are supposed to be "indestructible," right? But nothing is really "indestructible" per se. In fact, some dogs make indestructible beds look like they're just chew proof – other dogs make them look like any other piece of furniture.
A really determined (or agitated) dog can chew anything. It can be Kevlar, metal, brick, wood, or any material, dogs have been known to chew through them.
Best practice is to determine just how much chewing your dog does and choose from indestructible and chew proof beds as needed.
Weak Spots of Regular Dog Beds
Dog beds have a few notable weak spots. These are also the same areas that you should inspect when you purchase a chew proof dog bed.
Tags, ribbons, fabric, or anything that's dangling is usually a target for dogs. Expect your furry pet to bite and tug at them when given the chance.
Zippers are also another common weak spot, so don't settle for anything cheap because they won't last for long. The fabric cover will also receive a lot of abuse especially from dogs who love to dig first where they sleep. The edges of the fabric, bed corners, and seams are also weak spots to check.
Benefits of Chew Proof Dog Beds
A chew proof dog bed has a number of advantages over a regular dog bed. First off they are made with reinforced material. Simply put, they can take more punishment – but they are not damage-proof.
They last longer since they can take all the biting and scratching your dog can give. Other than giving your dog a nice comfy place to sleep, these beds also spare the rest of your property from bites and tears since your dog will focus on this bed instead. That should be enough reason to get a chew proof dog bed.
Best Chew Proof Dog Beds
In this section we review some of the best dog beds that can withstand a lot of chewing, scratching, tears, and other kinds of punishment. You can compare each product and see which one suits your needs.
1. Big Barker Dog Bed
Grade: A+
Big Barker Dog Bed is especially designed for larger sized dogs. It comes in large (48 X 30 X 7 inches), extra-large (52 X 36 X 7 inches), and giant size beds (60 X 48 X 7 inches).
If you have a big dog breed then this could be a good option for you. These beds are tough and they come with a 10 year guarantee. Even if your dog isn't really that big but its chewing instincts are insatiable then this bed may be able to match that.
It also comes with a microfiber cover (pure 100%). The cover is machine washable, which makes it rather easy to clean. It feels soft and comfy that your furry friend will love.
Big Barker Dog Bed is also a great option for pet owners with older dogs. If your dog is suffering from hip dysplasia, arthritis, or other conditions, then this bed can offer a lot of cushion and support for old aching joints and bones.
Downsides: Big Barker Dog Bed is actually a highly rated product. The huge majority of pet owners who bought this doggy bed love it. However, it is on the higher budget range. Nevertheless, you can think of it as an investment in your dog's welfare.
---
2. FrontPet Dog Bed
Grade: A+

FrontPet Dog Bed is manufactured using rip resistant material. It is rated as a chew proof dog bed not as an indestructible doggie bed. It is a circular shaped bed with a diameter of 36 inches and a thickness of 5 inches.
It is filled with shredded memory foam, which takes on the contour of the bed occupant. Some pet owners even say that this doggie bed is much better than their own bed. Well, that's basically thanks to the space age foam they used as stuffing.
The cover is made from polyester, which can feel very comfortable for a lot of dogs. The cover is a slipcover, which makes it easy to remove and put back on. Just make sure to follow washing instructions.
This doggie bed is marketed as a large size dog bed. Of course you have to take that with a grain of salt. Someone's "large" dog bed is someone else's medium. Always follow best practice: measure your dog's length and then compare it with the actual dimensions of this bed.
Now, going back to the memory foam, you can use this bed as an orthopedic bed for your furry friends. It's a great option for aging dogs since it provides a lot of support. The slip cover is lovely too, which can match a lot of decors.
Downsides: FrontPet Dog Bed may take some time to break in. It is going to be a bit firm at first but give it time to soften up a bit.
---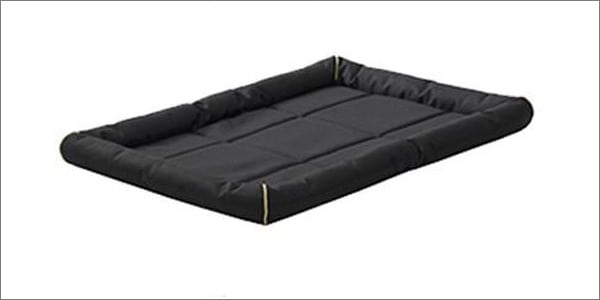 3. MidWest Maxx Ultra-Rugged Dog Bed
Grade: A
MidWest Ultra-Rugged Dog Bed is marketed in various sizes from small 24 inch beds to really huge 48 incher doggie beds. You can set it up as a stand-alone single or separate doggie bed or you can set it up in conjunction with a doggie crate.
Note that this dog bed is rated as a chew proof bed. Yes, it is durable and it can withstand a lot of chewing, scratching, and such but it is not designed to deal with excessive chewers.
MidWest Ultra-Rugged Dog Bed is best suited for pet dogs that weigh anywhere from 71 to 90 pounds. However, it is also a good option for smaller dogs as well.
This chew proof doggie bed is recommended for dogs that stay or sleep outside the house. It is outfitted with a water resistant surface, which means it won't get soggy even if you forget to bring it indoors during a rainy day.
It is also stain resistant, which is great for dogs who love to bring in a lot of debris from play time. This doggie bed is easy to maintain. It is machine washable and on top of that it is also dryer friendly.
It can also be used as an indoor bed. Its bottom features a no slip grip, which clings fast on tile floors and even on hardwood. The entire bed is made from polyester and it comes with poly-fiber filings that serve as a comfortable base.
Downsides: MidWest Ultra-Rugged Dog Bed is not an indestructible bed. It isn't completely chew proof – that means some dogs who are persistent enough can gnaw their way with it.
---
4. Kuranda Chewproof Dog Bed
Grade: A+
If you're looking for a really tough bed then you will like Kuranda Chewproof Dog Bed. It comes with a PVC frame, which can take a lot of chewing. The frame is strong enough to carry dogs of around 125 pounds.
The frame raises the sleeping surface of your beloved canine. It works as an orthopedic bed giving enough support where it is needed. Since the sleeping surface is raised above the floor, your dog will remain dry and cool even during really hot days.
The cordura fabric is just as tough as canvass. On top of that, it is also abrasion resistant. It gives your dog a lot of traction, which means your beloved pet won't slip on the fabric as he or she tries to get off or on the doggie bed.
The entire doggie bed is pretty easy to clean. You can spray water on it, scrub it with detergent and brush, and rinse it easily. It dries easily too.
Downsides: Kuranda Chewproof Dog Bed is generally highly rated by the majority of pet owners who bought it. It is really easy to assemble but it is a pain to tear down in case you want to be thorough with your cleaning.
---
5. Slumber Pet Red Heavy Duty Dog Bed
Grade: C
Slumber Pet Red Heavy Duty Dog Bed is generally suited for mid-size to small size dogs. Yes, the manufacturers market this dog bed for large dogs too but you should check the measurements.
Note that this doggie bed is generally designed for use with a dog crate. Check its dimensions and compare it with the size of your crate. You don't want to through the hassle of fitting an oversized mattress inside a crate with limited space. Besides, your furry pet won't like the crowded stuffed feel inside a crate.
The bed features a Teflon and nylon construction. It is designed to be durable and comfortable at the same time. It's great for both indoor and outdoor use.
Note that this dog bed is rated as chew resistant and not "indestructible." Don't expect it to survive the onslaught of a dog that chews non-stop. This bed is better suited for pups who are still teething.
Final Word
Note that PVC, cordura, and canvass are the material of choice when manufacturers construct chew proof dog beds. These are also known as abrasion proof materials. That means that the material should be able to stand up to a lot of scratching and biting.
Dogs shouldn't be able to make holes on the chew proof material. On top of that, you should also check the bed design (make sure it fits your intended purpose). However, do take note that dog beds that have the sleeping area off the ground tend to be more chew resistant. The downside is that it will be hard to fit that inside a kennel, in case you intend to put the bed inside one.