Pet Search is a mother-daughter run blog. Together we have over 40+ years of professional pet grooming experience and we hope to pass some of that on to our readers throughout our in-depth and non-bias reviews and buyers guides.
We do not accept sponsored posts however we do include affiliate links throughout our posts and we receive a share of the revenue generated from your purchase which contributes to the running of CleanerPaws.com.
This review guide was updated in February 2019.
---
A good dog toy can be hard to find. A fun pairing of durability and desirability makes each one special and different from the next. Because every dog is different and has their own taste in preference, so must dog toys be able to match the wide variety of pup personalities possible. Just like how we as humans have different tastes and preferences in the things that we like so do dogs have their own tastes and preferences in the toys they play with.
Some dogs like to gnaw on bones, others like to sink their teeth into a fabric animal, while others enjoy teething on a tennis ball or really any ball it can get their paws on. Maybe it's their bed that they love to chew or the carpet you just had put in, either way, it does not matter. When it comes to aggressive chewers as pets who try to tackle everything in their path it is not fun or exciting to have your possessions turned into a play toy for your pet.
Every dog owner knows that feeling and has been there before. You open the door and there is fluff and stuffing all over the floor. Your dog has ripped open another one of its toys leaving you off to the local store to go buy the lovable pooch another one because you know if you do not, tomorrow it will be the coach pillows or the sofa cushions.
No one wants to be buying a new dog toy every week however. Not only that but it can also be tough to find a toy that consistently remains intact despite the aggressive nature your pup may have. Every owner knows it. For dogs that like to play a little rougher, a more indestructible dog toy is needed.
The fact you're here obviously means you may have an aggressive chewer of a pet and a slightly tougher pet toy is needed! Fortunately if that is the case you're in the right place. This guide will first look at what exactly goes it making a making a dog toy that you can be sure is built to last, we than review five of the best indestructible dog toys available so you can find the perfect solution for your pet.
What Makes a Durable Dog Toy?
To get an idea of what is not durable, stay away from plush or fleece toys with squeakers in them. The speaker only makes the aggressive chewers more excited to rip into the toy to get the squeaker out.
We know it can be hard to avoid these types as they are cute and adorable for that special pup, plus they are only a few bucks. Why not, right? Well, no the quality will never hold up to those unforgiving jaws. However if you're looking for indestructible dog toy that squeaks we have managed to sneak one in to our list of products reviewed below but it is definitely the exception and not the rule of squeaky dog toys.
A little better than plush and fleece toys are vinyl and latex toys. As these toys are a bit stiffer they may last a week as compared to a day for the fleece or plush toys. A bonus for all of you squeaker toy lovers is that these toys come can come with squeakers too. Sadly though, at the end of the day, the vinyl and latex toys are not tough enough for even the most aggressive chewers. Eventually your dog toy's nightmare pup will get into that vinyl toy to find the squeaker, and once this happens its game over. After there is a rip or hole, the dog toy is no better than fleece or plush.
Cotton balls are the next step up in the durability progression. These toys are made with tons of fabric and are super strong. One of the downsides of the cotton balls though are the tendencies for the toy to get really gross, really quickly. Just imagine a dog slobbering all over a cotton ball for endless hours of the day, day after day. It's bound to be nasty. So these toys need to be cleaned semi-regularly to regularly. If not, they could pose an oral hygiene threat to your dog and lead to bad breathe and infection. These toys are very durable and a definitely worth the money if your dog likes it. Not all dogs are fans of fabrics though.
---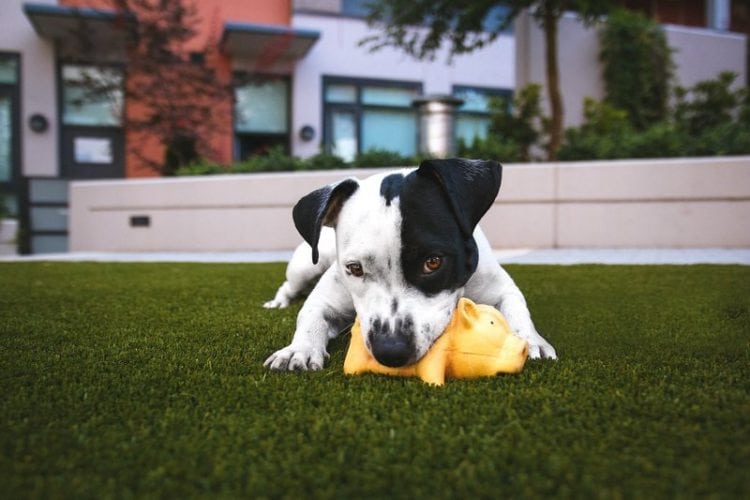 ---
The most durable dog toy is tough rubber. It is practically indestructible and can last for years on end. Plus, most of these toys are dishwasher safe. So when it comes time to wash them, it is as simple as tossing it into the dishwasher.
These toys are excellent for any dog but are a must for anyone with an aggressive chewer. There are many options and shapes of hard rubber toys so you can find one that matches your dog's tastes and preferences. These toys may be a bit more expensive, but over the years of use they will definitely earn their keep. In fact nearly all of the best indestructible dog toys we reviewed below are made of rubber.
Best Indestructible Dog Toy Reviews
For a dog that likes to destroy anything in its sight, it is definitely worth the time and money to invest in one of these indestructible dog toys. They can take many different shapes and sizes. Some are made of hard rubber that does not bend, break, or rip under pressure. Others are made of super tough fabric, such as tough cotton balls, that do not fray even after time and time again of being abused by a dog.
To help you make the right decision and choose the best indestructible dog toy for your pet we have reviewed and compared the top 5 best options below. If you've come across a toy for your pet that seems even more durable than those reviewed than please get in touch as we are always updating and upgrading our product reviews!
Kong Extreme Dog Toy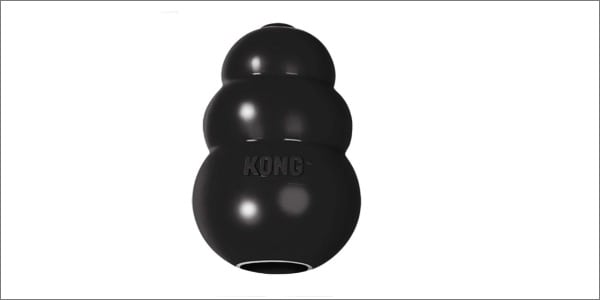 Grade: A+
Kong the company is known for their long lasting, durable toys that come in a variety of shapes and sizes. There most popular product though is the Kong Extreme Dog Toy. It is used by police, drug enforcement, and military dog teams when training their dogs. It's a pup favorite and for an added bonus put peanut butter or other food inside of the Kong and it will keep your dog busy for hours as it tries to teeth out the food.
However, even with play it is stimulating as it awkward tri-ball shape has an unpredictable bounce that will entertain a dog for hours on end. The toy is good for older and younger dog alike. The size is roughly 3 inches by 4 inches by 3 inches. By giving a dog a Kong filled with peanut butter, they will not be bored and will have less separation anxiety from the stimulation of the Kong. The toy comes in a variety of sizes so that it can be perfect for any size dog. Sizes range from small, medium, large, XL, and XXL. The Kong is also highly affordable so there really isn't a good reason not to invest in one.
---
West Paw Design Zogoflex Hurley Dog Toy
Grade: A+
Made in the US by "West Paw Design", the Zogoflex is the perfect tough bone shaped dog toy. This toy will last forever and keep the bone chewers occupied for days on end. The Zogoflex is nontoxic, BPA-free, dishwasher safe, 100 percent recyclable, and has a onetime guarantee against dog damage. However, if your dog does happen to break the Zogoflex Hurley bone, the manufacture guarantees that it was because of a product malfunction and because this product is super durable.
The Zogoflex also floats on water so feel free to bring it with you to the beach or the lake. There are multiple colors offered and all of them are highly visible which makes it good for a game of fetch too. The bones are available in small, medium, and large sizes to best suit any dog size. The super durable rubber toy will last for years and with regularly cleaning will seem like you bought it yesterday. Some versions of this toy come with a squeaker. The Squeaker is not the highest quality and may break rather quickly but it should not be the reason to buy this toy. This toy is indestructible and its durability is the main reason to buy this toy.
---
Outward Hound Squeak N' Fetch Dog Toy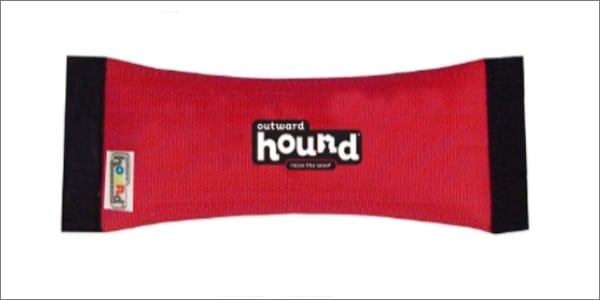 Grade: A-
The name says it all. Imagine a burning house engulfed in flames. The firemen run to the house caring their hose. They connect it to the fire hydrant and it fills immediately with water. The material is under intense pressure and in most case has to endure extreme heat. Now image a dog toy made of that same material. This is the Outward Hound Kyjen 30004 FireHose Squeak N' Fetch Dog Toy and it is composed of the tough fabric designed for firefighters. Not even the toughest and most aggressive chewers could make it through the FireHose Squeak N' Fetch.
It also floats in water and has a squeaker too which makes it's a fun take-along to the beach or lake. The squeaker is moderately durable but will eventually break over time. The ends are double-stitched and have no exposed seams which make it just that much sturdier. The price is also fairly cheap. It will not break the bank to buy a few of them to keep the pups busy. The FireHose dog toy comes in two sizes: small, medium, and large. Feel free to play fetch or a good game tug of war with you pooch. The appearance is similar to a sand bag.
---
Jolly Pets Romp-n-Roll Ball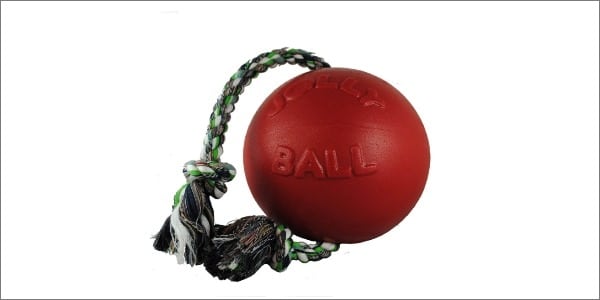 Grade: A+
The Jolly Pets Romp-n-Roll Ball is a sturdy ball that will not deflate when punctured with a tough cotton rope that runs through each end of the ball. Designed to be kicked tugged thrown, carried, launched this extreme toy does it all. Made in the USA, the company claims that the Romp-n-Roll is suitable for dogs 60 pounds and up. The reason the ball does not deflate when punctured is because it is not a pressure filled ball but an extremely tough rubber that's rigidity keeps its shape even under intense chewing.
Do not think that the tough rubber makes the dog toy heavy though. The ball averages a weight of about 1 pound. The Romp-n-Roll comes in three sizes and three sizes. The colors offered are red, blue, and purple and the sizes are 4.5 inches, 6 inches, and 8 inches. The ball also floats for the water-loving people and dogs alike so feel free to let it get wet (if you don't mind the smell of a wet dog)
---
Outward Hound Matz 16-Squeaker Plush Toy
Grade: B
Designed to be durable for destructive dogs. Just be careful. This is a stuffingless toy that has 16 squeakers inside its checkerboard body. The stuffingless body allows for less mess more give when being bit. The Hound Matz comes in two styles: a squirrel and pig to excite your dog for whatever he likes to sink his teeth into. The size of the Hound Matz is about 20 inches by 4 inches by 14 inches.
Customer opinion about this toy goes back and forth. Some say that the toy can be destroyed in a day and other cannot believe that a dog got through it. Overall, it still has 4 out of 5 stars on Amazon.com which attests to it as a good dog toy. Either way the 16 different squeakers are bound to keep your dog busy for days.
More Dog Related Product Guides: