Pet Search is a mother-daughter run blog. Together we have over 40+ years of professional pet grooming experience and we hope to pass some of that on to our readers throughout our in-depth and non-bias reviews and buyers guides. 
We do not accept sponsored posts however we do include affiliate links throughout our posts and we receive a share of the revenue generated from your purchase which contributes to the running of CleanerPaws.com.
This review guide was updated in February 2019.
---
Contents
Why Should You be Using Dog Grooming Clippers?
Benefits of clipping and grooming your dog
Different Types of Dog Grooming Clippers
Dog Grooming Clippers – Buyers Guide
Best Dog Grooming Clippers – Product Reviews
How to Cut Your Dog's Hair
When it comes to a home dog grooming kit, one of the most important pieces of equipment you will purchase are grooming clippers.
To help make sure you make the right choice for your dog this guide will examine the different types of grooming clippers available and the questions you need to answer beforehand.
If you want to groom your dog in the comfort of your own home, you'll be glad to know there are now a number of products available that allow you to do this.
However, this choice can almost be debilitating. There is so much choice when it comes to dog grooming clippers that it can be confusing to choose the right product.
To help you out, we have reviewed our five favorite dog grooming clippers, using over 30+ years of professional dog grooming experience to help you determine the best clippers for your pet.
What features will work best for my young puppy? How can I trim long fur? These are just two questions we get regularly asked as professional dog groomers, and we hope this guide will answer these questions in detail along with many many more.
Whatever the reason for your interest in home grooming, whether to save money or because your particular pooch just prefers being pampered at home, grooming clippers are a necessity.
There are also many benefits to grooming your pet regularly.
It is also important to remember, dog grooming isn't just about styling your pet in the way you want them to look.  It is also about making sure that they are healthy and happy.
To put it simply, to make sure they aren't riddled with fleas, their skin is free of ticks, and other parts of their body are inspected for problems like dry patches.
When grooming your dog, you should always check their ears, nails, and teeth as these are key areas where most problems related to your dog's health can arise.
These issues, when caught early, can be remedied before they get any worse and allow you to put a stop to any long-lasting issues which could lead to costly vets fee's further down the line.
---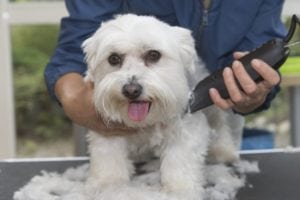 ---
Why You Should be Using Dog Grooming Clippers at Home
The first rule when grooming your dog at home is accepting the fact that you need an appropriate tool – dog grooming clippers.
With an emphasis put on the word 'dog' because dog clippers and human clippers are not the same.
Although at first glance they may appear similar, dog grooming clippers have specially designed variable-speed motors and interchangeable blades powerful enough to cut through a variety of fur types.
Additionally, dog grooming clippers are more expensive than human clippers for this very reason.
"The clip is only as good as the quality of clipper and blade" is another vital clipper related rule.
The market offers a vast variety of grooming clippers in terms of types, models, features, and prices.
With so much choice available, choosing the most cost-effective product can seem like an impossible task. Usually, cheaper products are either inefficient or prone to defects, thus resulting in being more expensive in the long run.
If you're still in two minds about whether to invest in dog grooming clippers, it is important to remember there are many positives related to grooming your dog on a regular basis.
Brushing your dog's hair, for example, helps remove dead hair, dandruff, and dirt from your pet's fur.
This excess fur can make your dog feel uncomfortable, itchy, and irritable. Brushing also helps bring out the natural oils in your dog's fur which helps to keep their coat shiny and healthy.
On a more personal level, grooming your dog is a good way for you to relax and bond with them.
When you groom your pet, you get to know your dog physically and mentally as you find out which grooming rituals they like and what makes them skittish.
Some dogs may become agitated when they are being groomed so to help them get used to the process; it helps to start grooming them while they are still puppies.
Some dog experts say that you can start grooming them as early as three months so that they get used to the idea of standing still for some time.
Starting them young trains them to endure the time it takes for them to be groomed as clipping a dog's coat can sometimes take a while, especially for long-haired dogs.
---
Benefits of clipping and grooming your dog
Contrary to popular belief, dog grooming is not a canine luxury, and if you do it yourself, at home, it won't put too much of a dent in your bank account either.
Dog grooming goes beyond pampering and keeping our furry friends clean and smelling great. In fact, dog grooming has specific health benefits:
Prevents and manages skin issues
Dogs, especially those with medium and long-haired coats are incredibly prone to matting and tangling.
The mats and tangles pull the skin thus causing discomfort and pain. With time, the pulling may lead to irritation and inflammation.
Help remove and manage external parasites
Grooming makes it easier to detect the presence of external skin parasites like ticks, lice, and fleas. Once identified, they can be individually removed with tweezers or killed by using proprietary anti-parasitic chemicals.
Fights heat stress
Dogs with well developed double coats are highly sensitive to heat stress.
Because of their thick undercoat, the air cannot circulate from the skin to the outside and gets trapped underneath the coat.
Clipping your dog's coat eliminates this issue.
Improves blood flow
By pulling the skin, matting and tangling, constricts the tissue impairing efficient blood flow.
If the blood flow is impaired, the tissues are deprived of both oxygen and nutrients, which influences their normal functioning.
Helps you understand your dog's anatomy 
Grooming your dog can help you understand its anatomy and visualize certain problems and abnormalities before they arise.
Are Dog Clippers the same as Human Hair Clippers?
Although at a quick glance, dog grooming clippers and human hair clippers may appear to be very similar there are in fact a number of differences. These differences make human clippers unsuitable for use on your dog's fur.
Although it would be nice to save on the cost of having to purchase specialist dog clippers, human hair and dog fur is very different and take two different types of clippers.
Humans only have one type of hair on their heads, while your dog will have several types of hair across their body.
Dog grooming clippers have blades and motors designed to trim this different type of fur and work at a much high speed to cut it effectively.
Even if your dog has a thin coat, chances are it will still be fair thicker than that of human hair and the clippers you use for your hair just won't be able to cut it properly.
Dog grooming clippers are also designed to be used for much more extended periods than clippers you see used at a barber.
If you think of how your hair is trimmed, clippers are switched on and off relatively quickly, only being used for a couple of minutes at a time.
When clipping your dog's fur, this will be a much longer process and will mean the clippers have to be used for far longer.
Dog grooming clippers also have far more teeth to be able to cut through dogs fur efficiency. If you use human hair clippers, you may find them tugging on your dog's coat, causing pain and distress.
---
Different Types of Dog Grooming Clippers
Dog grooming clippers come in many different shapes, sizes and styles and are price accordingly depending on these features.
There are battery operated dog clippers, those with interchangeable blades, as well as advanced professional dog grooming clippers that can withstand do heavy duty grooming for different types of dogs.
Battery operated clippers for dogs are convenient and easy to use as you won't be bothered by the power cord.
The only problem is, they sometimes lose power as you are grooming your dog. This is especially common with larger breeds of dog and those with longer coats.
We recommend finding clippers with a long battery life or stick to dog clippers with cords.
Understanding the different types of dog grooming clippers available will make it easier to find the right design for your needs.
Battery operated or cordless vs. electricity operated or corded
When it comes to the power source, there are two types of dog grooming clippers – battery operated (cordless) and electricity operated (corded). Both have their advantages and disadvantages.
Most battery operated clippers are available with rechargeable batteries. Therefore it is not necessary to buy expensive new batteries every time they run out.
These batteries can be recharged thousands of times without any noticeable decrease in the battery's capacity.
Rechargeable cordless clippers usually come with a rechargeable stand.
Additionally, battery operated, cordless clippers offer complete mobility, while corded clippers only go as far as their cord allows.
On the flip side, since cordless clippers are powered by large, rechargeable batteries, they can be quite heavy, while corded models are lighter and easier to handle.
To decide which type of dog grooming clipper suits your needs best, you should consider two factors: how often will you clip your dog and where you will clip him?
If your dog is large and needs clipping once a year, you probably need a battery operated clipper. On the other hand, if your dog is small and fluffy and needs clipping every few months, you need an electric clipper that does not have to be recharged on a regular basis.
What type of dog clipper you need also depends on the access and location of the power outlets in your grooming area.
One speed clippers vs. two (or three) speed clippers
Another important feature worth considering is the clipper's speed.
Dog grooming clippers come in different speeds. When referring to the speed, we mean the speed of the motor that operates the blade.
How many speeds your dog clippers will need, once again, depends on the type of coat you will be clipping and how often you will use the clippers.
If you dog has a simple, single coat, without a thick undercoat, only requires only a light trim you probably need a single speed clipper.
If your dog has a double coat with a thick undercoat or has matted fur, you will probably need a two-speed clipper.
Nowadays there are also three-speed clippers available. Three-speed clippers are usually only used by professional groomers but can still be purchased to be used for home grooming.
Keep in mind that single speed clippers do not heat up as fast as variable speed ones do.
Clipper vs. clipper set
Dog grooming clippers can be purchased individually or with a set of equipment.
Different sets include different tools. Some may come with instructional CDs, several types of blades, different combs, lubricating oils, cleaning fluids etc.
Clipper sets are more practical for beginners who are just starting out and not sure exactly what they need to purchase.
Clipper sets are also more practical for owners of breeds that require different lengths of coat in different body areas.
Keep in mind that if you buy an individual clipper, you will also need to purchase at least one additional blade and some cleaning and lubricating products like oils and cooling sprays.
Taking everything into consideration, it can be concluded that purchasing a basic clipper set is a better and more cost-effective option, especially in the long run.
In our product reviews below we only compare individual clippers, all of which can still be found in sets if that is how you would prefer to purchase them.
Clipper maintenance
No matter which type of dog grooming clipper you choose, it is essential to take good care of it.
If properly maintained, high-quality clippers tend to last a lifetime.
You can take good care of your grooming clippers be following these steps:
Use a small brush to brush off the dog hair that gets caught up in the blade area after each use.
Have your clipper checked and serviced regularly.How regularly depends on how often you use the clipper with professional groomers usually having their clippers serviced once a year.Owners that groom their dogs few times a year should service their clippers once every 3-4 years.Sharpening the blades and maintaining the clippers is something a qualified and certified servicer is able to do.
Oil the inside of the clipper once in a while, because more often than not, dog hair can get underneath the cover.
Keep the clipper stored in a grooming box or bag with the other grooming supply, when not in use, to prevent accidental damage and dust getting in.
Dog Grooming Clippers Buyers Guide
Which clipper you will buy will depend on what you intend to use it for.
If you just intend to use the clipper a quick trim every couple of weeks then we don't recommend purchasing extremely expesneives clipper designed for professionals.
This wouldn't be the best use of your money and you wouldn't get the full benefit of all their features like a professional groomer would.
Another consideration when buying dog clippers is that they should ideally be lightweight and easy to grip.
Buy clippers that are too big or too heavy for your hands and you might end up having a hard time holding on to the clipper steadily and end up trimming too much or trimming too little of your dog's hair.
The noise that the dog clipper emits is another consideration as some dogs can get nervous and agitated by it. Finding clippers that make as little noise as possible to ease your dog into grooming can be extremely important.
When choosing the best dog grooming clipper you need to pay attention to several important features:
Motor's power and speed
When cutting through a dog's coat, especially if it is tangle or matted, it is important that the clipper cuts smoothly.
The clipper's power is usually expressed in rotations per minute. This measurement indicates how many times a minute the motor fully rotates.
Professional grooming clippers offer a lot of power and rotation per minute.
When it comes to the motor's speed, generally speaking, single-speed dog clippers are the best option for novice groomers, while variable-speed dog clippers are better suited for advanced users who prefer versatility.
Heat, noise, and vibrations
Powerful clippers cut through the coat smoothly and are easier to use.
However their power comes with a price – their blades heat up quickly, they vibrate more intensely and produce a noise that may unsettle nervous dogs.
The ideal clipper should offer the right balance between power and speed vs. heat, noise and vibrations.
Size, weight and ergonomic design
Size and weight are essential features when choosing dog grooming clippers. Modern, high-quality clippers are ergonomically designed.
Lighter and more compact dog clippers are easier to move around the dog's body and do not cause wrist fatigue.
However, the lighter the clipper, the more vibrations you and your dog will feel when cutting your dog's coat.
Power source
Cordless clippers are more convenient and easier to use, especially for hard-to-reach spots.
But they can also be slower, heavier and need frequent battery recharging.
Corded clippers are lighter, faster and more powerful. However, corded clippers depend on the presence of power outlets.
Clipper's blades
Due to recent technological innovation, dog clipper blades have dramatically improved. Some clippers use interchangeable blades while others use specifically-designed blades. The best dog clipper comes with their own proprietary blades.
Recently innovated, ceramic blades are highly recommended. They do not conduct heat and are ideal for long grooming sessions.
Choose grooming clippers based on your dog's breed
Even the best dog grooming clipper will be useless if they are not suited to cut through your dog's coat type.
Regardless of brand and prise, always go for clippers specifically designed for your dog's breed or the breed closest to it. This is particularly true for dogs whose coats are a little tricky to groom, for example, Goldendoodle's may require specifically designed clippers for their type of fur.
What brand of dog grooming clippers should you buy?
In the section below we review five of the dog grooming clippers available from four leading brands. We tried to put together a list that included severak different brands purely because we wanted to offer several different types of dog grooming clippers at various price points.
The brands reviewed are: Wahl, Andis, oneisall, Oster.
You may recognize several of these brands if you are a pet owner experienced in purchasing home grooming equipment already.
Oster, for example, produces a number of leading products related to dog grooming.
Best Dog Grooming Clippers – Product Reviews
1. Wahl Professional Animal Deluxe U-Clip Trimmer
Grade: A+
This mighty but quiet pet grooming kit from Wahl is ideal for fine to medium coated dogs.
It uses 7200 strokes per minute which can make grooming your dog at home fast and easy.
It also comes with a bonus instructional DVD that teaches you how to effectively use the clippers to groom your dog.
This instructional DVD can also be very helpful for first-time dog owners opting to groom their dogs themselves.
Overall Wahl's deluxe grooming clipper are stylish in their appearance, easy to handle, and extremely effective at cut through dog's coats.
Not only that but this clipper comes with a two-year limited warranty and is perfect for touch-ups and trimming.
2. Andis AGC 2-Speed Pet Clipper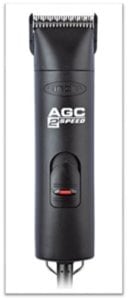 Grade: A+
This dog clipper may not look like muchwith its simple black design and no-nonsense on and off switch, but having trialed it ourselves for this review we can confirm just how effective it is for grooming all types of coats.
If you have different a number of breeds of dog in your family, the versilitiy of this clipper make it the best choice to groom them all.
It has a two-speed setting at 2700 and 3400 strokes per minute, making it powerful but at the same time quiet enough not to agitate your dog as you groom them.
It is easy to clean and has a 14" cord so you can easily maneuver around your pet.
3. Wahl Bravura Professional Cord/Cordless Pet Clipper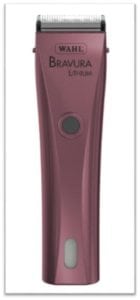 Grade: A+
This cordless dog grooming clipper from Wahl comes in 5 different colors to match you and your dog's character and style.
It is very powerful at 5000 strokes per minute, and is very easy to hold in one ahnd.
This clipper is easy to store away and its compact size makes it extremely easy to reach those tucked away spots on your dog's coat.
It weighs only 8.8 ounces and can operate for more than 1 hour or up to 90 minutes so you won't have to cut your dog grooming session short.
It is quiet and has a low vibration so you can handle it easily.
4. Oneisall Rechargeable Dog Clipper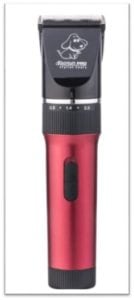 Grade: A-
This kit is a steal and very affordably priced for what you get with it.
It comes with a rechargeable 2000mA battery that can be used for hours of dog grooming.bes
It can be used to groom dogs with long or short hair, so it is perfect if you have different breeds at home.
It also comes with four different comb guides 3mm, 6mm, 9mm and 12mm which can cater to different lengths of dog hair.
It is easy to handle, has very low noise levels at 60db and has detachable blades for easy cleaning.
It is very powerful, but it won't spook your dog; meaning you can be confident they will be at ease while they are being groomed.
5. Oster A5 Turbo 2-Speed Professional Clipper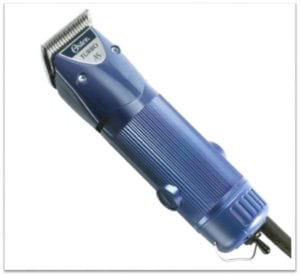 Grade: B+
The A5 Turbo 2-Speed Professional Clipper from Oster is good for dogs with thick and coarse hairs.
At 3000 strokes per minute on low speed and 4000 strokes per minute on high speed, its powerful blades can effortlessly glide through the dog's thick hair in wider sweeps and on faster blade speeds.
With a tool as powerful as this, you might expect to have a very noisy clipper in your hands. You won't find it with the A5 Turbo. The ergonomic design of this product makes it easy to handle and easy to use. The excellent grip will enable you to groom your dog without fuss.
---
How to use dog grooming clippers to cut your dogs hair
When it comes to grooming your dog, every activity requires careful planning.
When deciding to cut your dog's hair at home and use dog grooming clipper for that purpose, you need to:
Do a little research and find about your dog's breed standards.

Even if your dog is not competing in dog shows it is important to follow at least the basic breed's standards.These breed's standards are not randomly set and indicate the appropriate grooming for your dog's health, comfort, and lifestyle.
Consult or if possible observe a professional. Veterinarians, groomers, breeders, and trainers are more experienced when it comes to cutting a dogs hair.If you have any doubts, feel free to consult with them.If they happen to share some 'tricks of the trade' that's a bonus.Sometimes it can be useful to observe how a professional groomer works with your dog. That way you will know what to expect and how to overcome potential issues.
Get yourself and your dog familiar with the device.Before using the dog grooming clippers on your dog it is essential to read the operating and safety instructions provided with the clipper and find your most comfortable grip of the clippers by holding them in both off and on position.Your dog also needs to get used and desensitized to the clippers.The best way to acclimatize your dog to the clippers is by turning the clipper on in its presence, but without actually using the clipper.
Once you know how to clip your dog and are familiar with the clipping device, you can start the grooming procedure. It is important to do things by following a certain order.
Prepare the grooming environment – The ideal grooming environment should be safe and free from distractions. When preparing the environment it is also essential to keep all needed tools within your reach.
Wash, brush and dry your dog –  Bathing and brushing your dog's hair prior to cutting helps get rid of tangles and matted hair that not only make the clipping harder, but also more painful.Additionally before using the clippers, make sure your dog is completely dry.
Clip your dog – When you start the actual clipping part of the grooming, it is of imperative importance to:
Establish a pattern so your dog will get used to the whole clipping process. For example, if you start with the head, continue with the legs and end up with the belly, make sure you follow that order every time.
Use only sharp blades, since dull blades tend to pull and tangle.
Use coolant to prevent the blades from overheating, but wipe the excess coolant before the blade touches the coat.
Frequently check the blades for overheating and if too hot, replace them. To quickly cool off the blades, you can place them on a metal surface or baking rack. Remember to never use water for cooling the blades.
Do not press the clipper too hard on thin and sensitive parts of your dog's skin, as it may cause damage. Another factor that may lead to skin cuts, and damages is pulling and holding your dog's extremities, tail and ears in unnatural positions.
Use different blades for different parts of the body.
Give your dog a treat for being a good boy/girl during the grooming session.