Pet Search is a mother-daughter run blog. Together we have over 40+ years of professional pet grooming experience and we hope to pass some of that on to our readers throughout our in-depth and non-bias reviews and buyers guides. 
We do not accept sponsored posts however we do include affiliate links throughout our posts and we receive a share of the revenue generated from your purchase which contributes to the running of CleanerPaws.com.
---
If you've arrived here at Pet Search I can make a good guess and say you are a dog owner and proud of it!
Not only that but having made it to our complete guide to waterless dog shampoo I can also make another good guess that you are looking to make a change to your dog's grooming routine, and wanting something different for their bath time.
---
Contents
What is a Waterless Dog Shampoo?/a>
How do I Use a Dry Shampoo?
Benefits
Drawbacks & Prcaustions
Product Reviews
---
This guide will explore the different waterless shampoos that can be used for dogs, explaining the benefits of using a dry dog shampoo and finishing with five in depth reviews of the best waterless dog shampoos available today.
What is a Waterless Dog Shampoo?
A dry or waterless shampoo is a grooming product that requires no water at all to reduce greasiness and to combat any dirt particulars or other types of intruders on your dogs coat and fur.
It is typically comes in the form of powder or fast-drying spray and works by absorbing the excess oils from produced from your dogs skin and freshening up their coat.
Waterless dog shampoos differ from traditional dog grooming products as there is no need for a bath or shower and the shampoo can be easily brushed from your dogs coat after use without having to rinse them off.
There a number of reasons why a pet owner may decide to use a dry shampoo and we will explore these in detail in the benefits section below, they mainly include dogs who are scared of water or bath time in general and the necessity to save time.
Dry dog shampoos can sometimes be homemade with salt, baby powder/cornstarch and baking soda but with many cost effective products now available, the best of which are reviewed below you shouldn't have too much trouble finding the perfect waterless shampoo for your dog.
In summary waterless dog shampoos aim to wash away a greasy coat and to dislodge small bits of dirt that can get caught up in the fur.
Waterless dog shampoos usually have an abrasive ingredient that works better at cleaning grease and small particles of dirt from fur than normal dog shampoos that require water. This is one of the main reasons they have grown in popularity in recent years.
How Do I Use Waterless Shampoo on my Dog?
Dry dog shampoo comes in three variations, usually as a powder, mousse or spray.
To apply dry shampoo to your coats coat and skin all you simply do is massage the product into your pets fur and leave it for a short period.
The time scale will depend on the brand you buy and instructions will be given on the bottle.
Once the waterless dog shampoo has cleansed your dogs coat you can easily brush it out and complete the grooming process. No long rinsing required.
Benefits of Waterless Dog Shampoos
Because of its abrasiveness, certain waterless dog shampoos can actually do a better job at getting your dog clean than traditional alternatives.
Traditional dog shampoos will not always work as well with a greasy fur coat. Many of the dry dog shampoos available are more cost effective than regular shampoos that can  dry out your dog's fur meaning they can get the job done for less.
As all dog owners know all too well, dog hair can get dirty in an instant and it doesn't take much for your pet to contract lice.
Dogs can also get itchy skin and rashes due to skin dryness.
Regular shampoos are often too harsh for a dog's skin and fur in this scenario and it is worthwhile looking for an alternative in this is the case for your pet.
Dry shampoo products for dogs are made with more naturally organic ingredients like tea tree oils and Aloe Vera that will not dry out the dog's fur or skin.
These ingredients also work well on dogs that are prone to allergic reactions or to catching diseases quickly.  This means a waterless dog shampoo does not have the harsh chemicals that can directly have adverse effects on your dog's skin and overall health.
Advantages of choosing a waterless shampoo for your dog:
Can do even better job at cleaning your dogs coat than traditional shampoo
Not harsh on your dogs coat
Natural and organic ingredients
Saves you time by not having to go through a lenghty grooming process of bathing and then drying off
Quick and easy for dogs who are particularly prone to getting dirty quickly
Disadvantages & Precautions
Although this guide has so far laid out the many benefits of waterless dog shampoos it is also worth pointing out potential drawbacks and precautions to take before purchasing this type of product.
Although many waterless dog shampoos are excellent at giving your pets coat and fur that freshly bathed look, some dry shampoos can leave a greasy layer behind them even when brushed out.
This left behind grease does a great job at helping more dust and dirt to settle quickly afterwards so you might find yourself washing your dogs fur twice as much with a waterless dog shampoo.
This is why we recommend using waterless products alongside and to complement your current grooming routine.
Waterless dog shampoos shouldn't be seen as a replacement for bath time completely however should be used when your pup is particularly dirty and you need a quick fix.
Best Waterless Dog Shampoo Product Reviews
As with anything, before you buy you should do your homework.
It is great to visit a range of online stores as well as other comparison sites that not only show you pricing, but also those items that have been rated consistently by consumers who love the product.
A higher rating/review often means that this is a product that will serve your needs well.
Pay attention to the number of reviews as well. If there is just 1 review then it is much more difficult to know if they product is worth purchasing.
The waterless dog shampoo products listed below all have great reviews and ratings from a large number of consumers who were pleased with the product overall.
If you are looking for a waterless dry dog shampoo for whatever the reason, then these should be on your short list.
There are many consumers who are not aware that there are products on the market like these, for pets who do not like bathing in water, or for owners who want a shorter, less frustrating bathing process for their dogs.
Make sure that you aware of the pros and cons outlined above before purchasing your dry dog shampoo.
In the end, as long as you remember this tips and tricks, then your buying experience should end up being pleasurable for both you and your dog.
We hope this guide has shown some of the main ways waterless dog shampoos with their natural ingredients are great for dogs who are prone to allergic reactions and diseases.
The key reason for this is the fact that these great shampoo products help to eliminate grease and lice, leaving fresh smelling scents in their place.
This makes waterless dog shampoos great for combating odors, as well as being cost effective, easy to use spray bottles that leave no need for water which can be frustrating for both you and your dog during bathing.
All of these benefits and more is why you should go out, before your next bathing time with Fido and get a dry dog shampoo.
After your first bath using the dry dog shampoo, you will see a noticeably positive difference in the way your dog looks and feels and we hope our reviews of the top 5 best waterless dog shampoos here can help you make that decision.
Waterless Foaming Mousse – Mango and Pomegranite
 Grade: A+
Created by Particular Paws, this 8 ounce bottle of dry dog shampoo gets a 4.6 out of 5 star rating on amazon.com. It has ingredients that keep your dog clean, offers a fresh scent, safety, portability, easy to use and a money back guarantee. It has a price tag of about sixteen dollars. Used by dog owners who travel in hotels to pet shelters, this waterless dog shampoo is ready for even the dirtiest fur coat.
---
Bodhi Bog Waterless Shampoo
Grade: A
This product is a waterless shampoo that is made with a natural extract and is non toxic. The rinse actually works well for both dog and cat fur. It has a 4.7 out of 5 star rating from over two hundred reviewers and has a price tag of less than f20ifteen dollars. It offers ingredients that offer a fast, effective wash and works with sensitive skin. It is recommended by veterinarians and groomers, has a fresh lavender scent and a family commitment for an excellent product.
---
Paw Choice Dry Dog Shampoo No Rise Foam Mousse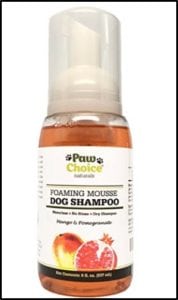 Grade: B+
This dry dog shampoo offers a natural coconut formula, no harsh detergents, is economically and environmentally friendly and has a fresh mango and pomegranite scent. With a price tag of fifteen dollars, this dry dog shampoo has a 4.4 out of 5 star rating with over three hundred sixty reviewers. Consumers say that it does not stain, particularly with dogs that have white fur and it can be used on any fur type.
---
Hartz Groomers 3 in 1 Solution Waterless Shampoo for Dogs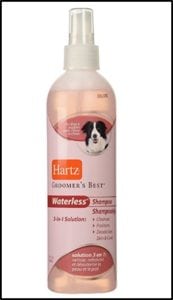 Grade: B
Created by one of the most well known brands in pet care, this twelve fluid ounce dry dog shampoo has a 3.7 out of 5 star rating. It has the lowest pricing on this list, costing just $4 making it an excellent affordable choice. While consumers say that the product works, they also say that the smell is not natural and does not smell like anything that you would find in nature so is worth considering for any pet owners who favor organic products.
---
Bio- Groom Waterless Dog Shampoo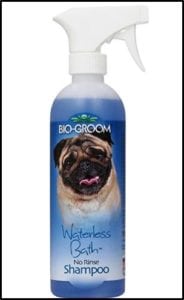 Grade: B+
This is the larger sixteen ounce size of a dry dog shampoo which can actually be used on either dogs or cats. It has a 4.3 out of 5 star rating and sells for less than fifteen dollars on amazon.com. This waterless dog shampoo is a ph-balanced, non-alcoholic, tear-less formula that guarantees a gentle clean while removing stains. Customers are impressed with this product, saying that it does not have a strong smell and that it is easy to use.