Any pet owner with a white dog will know the problems of trying to maintain a clean and healthy coat and that was our main motivation for wanting to put together this guide.



The Best Dog Whitening Shampoo
Just through everyday activities your white dog can become dirty, with their coat beginning to look stained if not regularly washed.
This is only made worse when taken on a particularly muddy trip or if walked on a rainy day.
However, when appropriately groomed there is nothing more beautiful than a pristine looking white coat on a lovely pup. It just takes a little bit of work and to help you achieve a stunning look for your pet; and this is where a whitening shampoo for dogs can do wonders.
---
Compare the Best Whitening Shampoo for Your Dog
ProductPerfect Coat White Pearl ShampooBio-Groom Super White Pet ShampooE-Z Groom – Crystal White Enzyme ShampooPrime DeliveryRatingKey BenefitNatural pearlescent whitenersExcellent valueGreat for restoring coatsLong LastingShine FinishEasy RinseFragranceCoconutFloralFragrance free.
---
Finding the Right Shampoo for White Dogs
Even if your aim is not to create a celebrity show dog, as a pet owner, you will no doubt want to ensure the upkeep of your dog's appearance just as you do your own. With a white dog, the best way to do this is with a dog whitening shampoo.
A dog also has their crowning glory, which requires maintenance and protection.
With so many products claiming to be the best dog whitening shampoo on the market, it is easier to fall for their false ads than prevent your dog's hair from falling out.
White Dogs: Hair Maintenance Challenges
Keeping your dog's hair well-maintained, especially if its white, is often a daunting task, and although you may want to, you can't simply bathe your dog continually.
As a dog owner, you already know the problems at hand, dog saliva, tears, food and all types of dirt can easily stick to your pet's coat and leave permanent stains. However, you still need to be selective as to when you bathe your dog. You don't want to get them in the habit of relying on you to be cleaned. Dogs are extremely sensitive as well.
Therefore, the use of bleaching shampoos and chemically-induced products may cause them more harm than good.
Tip: Brush Your Dog's Coat Daily
As your dog can't take being bathed as much as us humans can it is a good idea to brush your dog's hair at least once a day.
This will remove sticky substances and untangle affected hair without the need for a shower.
If you have a short-haired dog, use a curry comb made of rubber. You can use a smooth brush for a long-haired dog.
Best Shampoo Products for White Dogs with Natural Ingredients
Choose your dog's whitening shampoo carefully.
The best whitening shampoo for dogs are made with natural ingredients.
Apart from not hurting their sensitive skin and eyes, natural shampoo ingredients like Aloe Vera and coconut oil polish the hair and work from the roots to ensure long-lasting effects.
To ensure you choose the best product for your pet you need to take many factors into consideration.
With so much choice when it comes to picking a whitening shampoo for your dog this section will look to help you cut through the types of shampoo available so you can make a choice perfect for your dog.
The Different Types of Whitening Shampoo for Dogs:
Bluing Shampoo – Add enhances to your dog's coat helping it to stand out and appear brighter.
Bleaching Shampoo – This type of whitening shampoo should be used with caution and is not necessarily recommended by us at Pet Search. It can remove color from darker coats so should be used sparingly if at all.
Clarifying Shampoo – Adding brightness and removing stains at the same time, clarifying shampoos can be a great choice for white coats.
Dye-Based Shampoo – This whitening shampoo for dogs is another kind we don't recommend at Pet Search, but we wanted to include in this list to give you the full picture available.As the name suggests, it covers stains with dye rather than effectively removing them.
---
How to Achieve a Whiter Coat for Your Dog
Now you have a good idea of the different kinds of dog whitening shampoos available it is now time to look at how to apply them.
Our most prominent tip when it comes to whitening your dog's coat is not to dilute the whitening shampoo; this only makes it less effective in combating stains and instead you should use the shampoo directly, leaving it to soak into your dog's coat thoroughly before rinsing.
Another tip that many dog groomers will give is to use baking soda to remove stains.
Although we don't deny that it is useful in removing stains from a white coat, we do believe that the high quality dog shampoos available on the market are now more than good enough without the use of baking soda. You've probably already heard of the likes of White on White by Chris Chistensen, and below we're going to review the best dog whitening shampoos for your pet.
Another recommendation not directly related to dog whitening shampoos but that can help your pet's white coat is to use a conditioner.
A conditioner can make a difference between a bright white coat and one that looks only half groomed.
Although not one of the most glamorous jobs of owning a dog but urine stains should be washed straight away. This does occur from time to time, and they are much more noticeable in whiter dogs meaning you should bathe your dog regularly to prevent any embarrassing moments for both you and your pet.
Trimming your dog's hair, especially around the eyes, feet, and mouth can go a long way to prevent staining as well.
If kept short enough the hair will be tough to stain even for messy pups. This means your dog will stay cleaner and you won't have to worry about bathing so much.
Now you have an excellent understanding of the types of whitening dog shampoos available and some tips on how to keep your dog's white coat dirt free it is now time for our roundup reviews of the best dog whitening shampoos available.
---
Top 5 Best Dog Whitening Shampoo's
To help you make a decision, the following is a run-down of the best whitening shampoo for dogs.
Among the five shampoos we have picked out, the Perfect Coat White Shampoo for Dogs is probably the most popular.
Even if you don' want to just take our word for it you can head over to a number of reputable sources online and see for your self the sheer number of positive reviews.
The shampoo comes in 16 oz. and 32 oz. bottles and we have found the product to be extremely long-lasting.
The natural pearlescent cleansers in the product are responsible for its bleaching property, and this dog whitening shampoo also contains Aloe Vera and Awapuhi extracts that can soften and shine hair.
Not only will this shampoo leave your dog's coat beautifully white but it also finishes the job with a refreshing coconut scent.
We found this smell to be very long lasting and will make snuggle time with your dog even more enjoyable.
---
This whitening dog shampoo may only come in a 12-ounce bottle, but its concentration allows users to dilute it with water (4:1) and use it for more dog bath times.
The shampoo contains coconut oil and hydrolyzed protein to enhance its cleansing property.
Bio-Groom's Super White shampoo is floral scented which we found dog's seemed to love. The tearless formula was also a real winner.
Perhaps our favorite aspect of this product was its moisturizing properties which allowed the dog's we reviewed it with to be brushed effortlessly afterward.
This shampoo will leave your dog's coat silky smooth and pristine white. Whats not to like about that!
---
Angels' Eyes Whitening Dog Shampoo (Arctic Blue)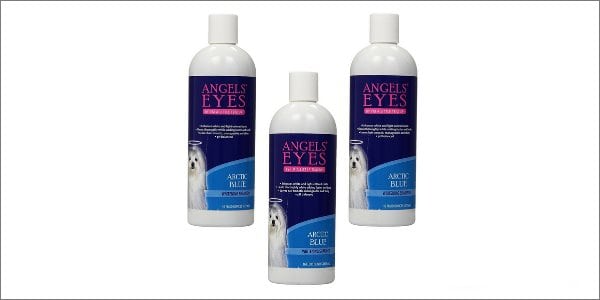 We had nothing but pleasant experiences when reviewing this product.
Angels Eyes have created an excellent and highly effective shampoo for white dogs that we're sure you will love just as much as we did.
If you're a bit, put off slightly by the Arctic Blue label than you shouldn't be. The coloring will leave no harmful effects on your dog's skin and coat.
The scented fragrance of this shampoo is gentle on the senses but not too overpowering which means your dog won't be put off by a chemically enhanced product.
---
Groom Professional Bright White Shampoo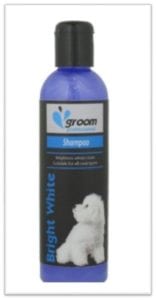 Similar to Perfect Coat's, this whitening shampoo also features a coconut scent and contains coconut oil which was one of the first reasons we fell in love with this shampoo.
However, the positives didn't stop there.
The natural oils at works in this product condition dry skin and scalp which will leave your pet noticeably revitalized after bath time.
We thoroughly reviewed this shampoo in search of drawbacks, but if we're honest, we just couldn't find any.
For maximum effect, leave this shampoo to thoroughly soak into your dog's coat for a good two to three minutes before rinsing.
---
Healthy Clean Pet Whitening Shampoo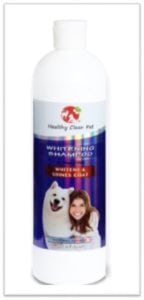 The manufacturer of this product is probably one of the most transparent regarding its ingredients. We loved that Healthy Clean Pet are brave enough to enumerate its ingredients online and when we reviewed the product for ourselves we were left with no doubt that this is one of the best dog whitening shampoos around.
Its natural ingredients are orange blossom and coconut extracts which both combine for a beautifully balanced scent.
Taking care of your dog's beautiful white coat may be difficult at times (especially after long walks) but knowing what you can use for their regular hair care should be enough to keep your dog clean and healthy!
Read More: