---
To all dog lovers, your furry friend is someone you want to care for and protect at all costs.
A way of showing this is to ensure that your pet is well-groomed and always looked after. One way of caring for your dog in this way is to give them regular baths to keep them smelling fresh and to make sure their fur is silky soft.
However, accomplishing a silky smooth coat is not always as easy as it sounds.Some pets may not look upon bath time favorably and may do everything in their power to avoid being groomed. There can be many reasons for this, from fear or water, or simply because their sensitive skin is irritated further by a medicated shampoo.
However strong your dog opposes being bathed, there are certain techniques you can adopt and products you can add to your grooming kit to make the whole process far more straightforward.
One of these products is an oatmeal shampoo for dogs. If your dog does suffer from dry, itchy or irritated skin, then this may well be the item that can make all the difference when it comes to cleaning your pet successfully.
Recommended Choice by experts – Earthbath All Natural Pet Shampoo
---
---
What is Oatmeal and Why is it in Shampoo?
Before diving into the benefits of an oatmeal shampoo for your dog and the product reviews below, we wanted to start answering a very common question, and that is: why use an oatmeal shampoo?
This may sound like a simple question to many, and if that is the case for you, please do jump ahead to the following sections however if you know what oatmeal is and are still wondering why its used in some dog shampoos then read on.
If you aren't aware, Oatmeal is a hulled oat grain, which has been ground down to either thick or thin oat that we usually see on the shelves of our local store.
Often eaten, oatmeal can be used to make porridge or if uncooked eaten as muesli and this is likely how you are most familiar with it.
Oatmeal has many benefits, but you still might be asked why exactly it is used in dog shampoo products, surely other ingredients can be used instead?
 Oatmeal Dog Shampoo for Sensitive Skin
The next section of this article will take a much more in-depth look at the many benefits of oatmeal dog shampoos so we won't repeat that here.
Instead, we just want to answer the question – why is oatmeal used in dog shampoos?
Usually eaten, this isn't such a silly question, but oatmeal does have many benefits when applied to your dog's skin which is the main reason many brands and manufacturers now produce oatmeal dog shampoo products.
Although we are used to eating oatmeal, as a cultivated crop, it has been used for hundreds of years to protect and enhance skin cells, both of humans and our pets.
The main reason for this is because it relieves itchiness and can sooth skin, perfect for any irritations or lasting skin issues.
By moisturizing the skin, it helps avoid dry skin issues and offers many lasting benefits that will be explored further now.
Benefits of an Oatmeal Dog Shampoo
Bathing your dog with an oatmeal-based shampoo is perfect if you want to prevent allergies and itchiness that can sometimes plague your furry friend.
By helping to keep your dog healthy, your pooch will begin to enjoy bath time as much as you enjoy having a clean and fresh smelling pooch around the house.
Here are three main reasons why you should use an oatmeal shampoo on your dog:
Moisturizes Your Dog's Skin

Oatmeal has an excellent moisturizing capability, preventing skin dryness and flakiness.
Once the skin is aptly moisturized, the skin heals quickly and becomes less sore and itchy. This means your dog will no longer have to lay around scratching their stomach or struggling to get to those hard to reach places and instead can spend more time playing in the yard.
On top of its soothing ability, oatmeal can also remove strong odors from your dog's fur.
This deodorizing feature is evident when you use an oatmeal dog shampoo after returning from a long, messy walk with your pup. You will notice just our fresh and natural they smell afterward.
Most dog shampoos that contain oatmeal primarily use colloidal oatmeal in their formulation.
The fact oatmeal is entirely natural assures you that nothing toxic and harmful is used in the product and you can have complete confidence in the organic nature of the ingredients at work.
This isn't always the case with modern pet shampoos which can tend to substitute natural ingredients for medicated alternatives to cut costs.
Top 5 Best Oatmeal Shampoos for Dogs
Grade: A+
The Earthbath All Natural Pet Shampoo with oatmeal and aloe is the top rated product of its kind with more than one thousand reviews on Amazon.
Most of those verified reviews were lauding the product's effectiveness in fighting off dog smells, eliminating skin problems and maintaining great fur and we ultimately agreed with all of the above points when we trialed it ourselves.
It is a particularly excellent oatmeal shampoo for dogs with allergies.
Earthbath has different formulations for their dog shampoos, but be sure to get the Oatmeal & Aloe or Oatmeal & Aloe Fragrance-Free ones if you want the same results.
A 16-ounce bottle is very cost-effective, and we found the shampoo to be long lasting purely because we didn't have to use so much of it to treat our dog's irritated skin.
---
Grade: A
On its label, PetPleasant's Oatmeal Pet Shampoo is touted as both a shampoo and conditioner for dogs and puppies.
It contains a colloidal oatmeal formulation while being all-natural and of medicated strength, a bonus for owners who want an organic product while not comprising on quality.
Not only that but this pet shampoo is proven to be tear-free, paraben free, sulfate free and cruelty-free, so a perfect combination to make your dog's bath time as hassle-free as possible.
Most pet owners who use PetPleasant's Oatmeal Pet Shampoo on their dog's reported that it is gentle for both puppies and fully grown dogs and we found this to be the case as well.
Dog's of all ages come out smelling great and less scratchy after a bath with this shampoo.
This product is relatively new but is growing in popularity fast.  Another great thing about the PetPleasant oatmeal shampoo is that every purchase of the product is backed by a 100% money-back customer guarantee.
---
Wahl 100% Natural Pet Shampoo Concentrate (Oatmeal Formula)
Grade: A
A 24-ounce bottle of Wahl shampoo is an extremely cost-effective choice and one of this reasons we ranked it so highly in this roundup.
To soothe irritated skin, Wahl 100% Natural Pet Shampoo contains a combination of oatmeal, lemon verbena, lime, aloe vera and coconut.
This formulation also leaves your pet with a healthy coat and a coconut-y lime smell that we found can last for weeks.
Wahl's also creates various all-natural pet grooming products like sprays and wipes. They can differ from their scent, formula and corresponding use depending on your pet's needs.
However, if you want an oatmeal shampoo for dogs that are shedding, the Wahl's Oatmeal Formula Shampoo is not recommended.
You will need to get Wahl's Shed Control Formula Shampoo instead. Sadly, we found no one product can address both issues at once.
---
Bubba's Rowdy Friends Ultra Oatmeal Pet Shampoo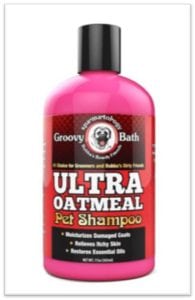 Grade: B+
One of the great things about this oatmeal dog shampoo is that it leaves your pet smelling like cherries (seriously!), in fact, we were so impressed by the smell we gave it several trials runs just to make sure the aroma wasn't a one-off.
Bubba's Rowdy Friends Ultra Oatmeal Pet Shampoo works like any oatmeal-based dog shampoo. However, this one has the added benefits of essential oils and vitamins and also has a soap-free formulation.
Most users of Bubba's Ultra Oatmeal Pet Shampoo were pet groomers themselves and had seen the effect of the shampoo on their dogs.
Note also that this dog shampoo is both a shampoo and conditioner, so it not only prevents your dog from scratching but will also leave your dog's coat shiny smooth.
---
Pet MD's Oatmeal Dog Shampoo with Aloe Vera and Coconut Oil
Grade: A-
Pet MD's Oatmeal Dog Shampoo is one of the best oatmeal shampoos available.
A 16-ounce bottle retails for a very affordable price, and it is formulated with colloidal oatmeal, Aloe vera extract, and coconut oil.
Among its primary functions is that it eases pet itching and minimizes pet odors which we can confirm, reviewing it on a particularly messy pup.
In addition, this dog shampoo is free of soap and alcohol. It also leaves your dog with soft fur and gives off a sweet, pineapple-like smell.
One tip we would add is to remember to wait 5 minutes or so before rinsing off the shampoo lather during bath time as this will allow the beneficial properties of the shampoo to penetrate into your dog's coat more thoroughly and give your dog a real noticeably cleansing bath. 
So those are the best oatmeal shampoos available for dogs  Now it's time for you to show more love to your pets by bathing them using oatmeal-based shampoos.