Only dog owners know the experience of having clumps of hair spread all over their home thanks to the constant shedding of fur that some breeds of dog specialize at.
At times it feels like all you're doing is cleaning dog hair from your couch, carpet, and even from your car seats. So how can you combat this?
If you also let your pet sleep beside you in bed, then it's more than likely your bedroom will be harboring clumps of hair as well, and the fact you're here probably means you are ready to find a fix to these troubles.
Top Shampoo to Stop Your Dog From Shedding
FURminator deShedding Ultra-Premium Shampoo – Recommended by professionals.
Before diving into more individual product reviews, we will guide you through exactly why dogs shed, how you can manage this shedding hair as well as looking at alternative de-shedding treatments such as the use of olive oil to reduce the amount of fur your pet sheds.
If you're short on time, however, feel free to jump to our in-depth product reviews of the best dog shampoos for shedding below.
 Why Does My Dog Shed So Much?
The simple answer is that dogs naturally shed old or damaged hair to keep their coat fresh and healthy.
This natural process differs in the amount of shedded hair and frequency of hair loss depending on the health, age, and breed of your dog.
Many dogs also have seasonal shedding patterns meaning some breeds develop thick coats for the winter. This preparation for the colder months is similar to how we wrap up warm with large winter coats which are then shed when spring rolls around.
---
How Do You Stop a Dog From Shedding?
There is more than one solution to significantly reduce the chances of shedding, both natural and artificial. However, the best and most efficient way to get rid of all those pesky hair clumps lodged everywhere in your home is to use an active Deshedding dog shampoo that specifically reduces hair loss in dogs.
There are a number of brands now producing shampoo's to fight shedding so choosing the right product for your breed dog is essential.
If you are looking for other methods of trying to stop your dog from shedding there are also a number of ways you can go about doing this, the most effective of which we will explore now.
Top Tip to Reduce Shedding: Brush Your Dog's Hair Regularly
One of the simplest ways to stop your dog from shedding is to help out a little bit.
You can do this by regularly combing and brushing your pet's coat, particularly when seasonal changes will mean your dog is more likely to be shedding their fur.
By brushing your dog's fur, you will be able to collect the old hair which is likely to be shed all over your home in one go and in a place that it can be collected easily and disposed of quickly.
Some breeds will likely need to be brushed once a day, and you can check out our guide to the best dog brushes here.
There many benefits to regularly brushing your dog's hair and reducing significant shedding is just one of these benefits.
Olive Oil Can Also Help
Another method to stop your dog from shedding is to try adding a tablespoon of olive oil to your pet's food.
This can be done daily and is an effective treatment for shedding fur as the omega-3 fatty acids contained in olive oil help to condition your dog's skin, contributing to a healthy, silky coat.
Being almost without taste your dog should not even notice the addition of olive oil in their meals.
---
When to Use an Anti Shedding Dog Shampoo
Whether you've tried the available alternatives or not there are many reasons to buy a DeShedding shampoo for dogs.
The main reason for this is because the cleaning agents contained in these shampoo products provide the necessary vitamins and minerals that your dog needs to keep their hair healthy, and as much as possible, lessen the chances of shedding.
As always we recommend products that have been specially designed for the use on dogs.
This means shampoos designed for humans should be used as a last resort, particularly if you are looking to reduce shedding. Human shampoo products will likely cause more irritation then they help to ease.
So now you have an idea of the type of products to avoid, what ingredients should you be on the lookout for?
Many of the best dog shampoos for shedding contain natural ingredients such as aloe vera, tea tree oil, and vegetable glycerine. In fact four the five products we review in detail below include all natural ingredients and we are a huge fan of organic products at Pet Search.
Most deshedding shampoos are equipped with Vitamin E, among other vitamins. These natural ingredients do an excellent job of soothing your pet's coat and helping to reduce any further shedding.
Comparison of the Best Dog Shampoos for Shedding 2020
Below you will find a review of the top 5 best dog shampoos to reduce shedding.
We've looked at each product in relation to how effective they were able to stop a dog from shedding as well as considering other factors such as cost and scent gave off by each product.
If you've tried an ever better product than those reviewed, please do get in touch!
The great thing about this product is the fact that it is 100% natural, and uses only the most effective vitamins and minerals in its ingredients composition.
The shampoo specifically takes care of your dog's skin and hair to prevent massive hair loss over time.
FURminator is considered as one of the leading brands when it comes to products related to shedding and the rave reviews that they are getting from consumers only further prove this point.
The FURminator deShedding Ultra Premium Shampoo comes with Omega 3 and six fatty acids, which reduce shedding, improves skin condition, and create grooming results like a pro.
In addition, the shampoo also comes with sufficient amounts of Vitamin E to promote healthy hair follicles and strands that do not easily shed.
Not only is it beneficial, but the shampoo also smells fantastic, and the fur coat of dogs appear shinier after use.
If you are unable to buy the FURminator deShedding Ultra Premium Shampoo, you can also resort to purchasing the Oster Oatmeal Naturals Shed Control Shampoo.
Although this is not as strong as the FURminator deShedding Ultra Premium Shampoo, this shampoo also boasts of being completely natural and has anti shedding properties.
An interesting thing about this shampoo for shedding dogs is the fact that it manages to clean deeply, and uses 100% oatmeal to get the job done. Oatmeal is growing in popularity and now contained within many pet products to relieve itchy skin.
The Oster Oatmeal Natural shampoo for dog shedding comes with a refreshing coconut scent that we're sure you will be a fan of.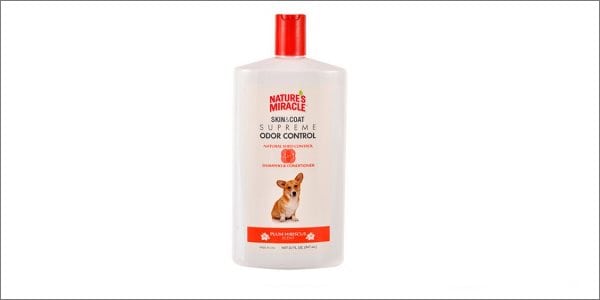 If you are still on the lookout for the best dog shampoo for shedding than Nature's Miracle might be the brand for you. Their Odor & Shed Control product was highly effective when we trialed it and also rinsed extremely easily.
The goal of Nature's Miracle Supreme Odor and Shed Control Shampoo is to maintain your dog's fur's cleanliness for days while also helping to strengthen the overall quality of your dog's coat.
What is interesting about this shampoo is the fact that it is soap free and we found it would particularly well in unison with products designed to prevent flea and tick infestations.
Nature's Miracle understands that shedding is a natural part of a dog's life, and so what it tries to do is to keep it to a minimum.
If you are looking for a shampoo that can help your dog stay clean for a long time while also working as a DeShedding agent you can count on this one to do the job.
DERMagic Peppermint & Tea Tree Oil Shampoo
This product boasts of the most natural ingredients that not only work in keeping shedding at a minimum but also works as a way to help alleviate skin conditions such as inflammation and itching.
DERMagic Peppermint & Tea Tree Oil Shampoo/Conditioner contains powerful and natural ingredients such as melaleuca or tea tree oil, peppermint, chamomile, lavender, rosehip seed oils, oat extract, vegetable glycerine, and wheat proteins.
This is the perfect product for you if what you are aiming for is to heal your dog's skin if your furry friend is also suffering from any skin related issues, including excessive shedding.
The shampoo also comes with its conditioner that you should use to the get the maximum benefits out of the product. DERMagic Peppermint & Tea Tree Oil Shampoo/Conditioner's formula is strong enough for you to only have to bathe your pet twice a month if needed.
Top Performance Shed Patrol De-Shedding Pet Shampoo
Not only does this product help in reducing hair loss, but it also declogs your dog's fur of tangled loose hair.
Dogs constantly shed, whether owners like it or not, and it does not help if the loose hair remains stuck in the fur since it only leads to further complications.
No other type of shampoo gets rid of these clogged hair strands as well as Top Performance Shed Patrol De-Shedding Pet Shampoo, which contains important nutrients needed by the skin such as vitamins A, D, and E, as well as proteins from oat and wheat.
The use of this product gives your dog's fur a very smooth feel and look.
The shampoo is recommended for regular use to eliminate the chances of dander and shedding. It has even been proven to be safe for puppies, and even kittens over six weeks old.
If you are considering buying the best deshedding shampoo for dogs, try one of these products and see for yourself how these will help your pooch get that smooth and healthy fur coat with little shedding.