Pet Search is a mother-daughter run blog. Together we have over 40+ years of professional pet grooming experience and we hope to pass some of that on to our readers throughout our in-depth and non-bias reviews and buyers guides.
We do not accept sponsored posts however we do include affiliate links throughout our posts and we receive a share of the revenue generated from your purchase which contributes to the running of CleanerPaws.com.
This review guide was updated in February 2019.
---
When it comes to the care and attention you give your dog, all pet owners will know that you can't be too careful when looking after young puppies.
Just like babies they need to be raised in a safe environment and nurtured that little bit more than fully grown dogs.
The following guide lays out exactly how you can do that when it comes to bath time.
Keeping them safe means keeping them healthy and the best way to do this is to bathe your puppy regularly.
Obviously, that makes perfect sense, but with your puppy's sensitive skin it is also essential to find the right balance between keeping your puppy's coat smooth and clean and going too far by washing your puppy too often, which can cause more harm than good.
How often can I bathe my puppy?
The simple answer is, not too often but still enough to help fight off fleas and other diseases.
Although you should help keep your puppy clean, something they may still be learning to do themselves, you shouldn't wash your puppy if they don't need to be bathed.
The main reason for this is that unlike fully grown dogs, puppies still have trouble regulating their own body temperature.
This means if you bath your puppy too frequently they can have trouble adapting to the change from bath water to room temperature, leading to damaging effects on their immune system.
This doesn't mean you shouldn't bathe your puppy at all. You can read more about when you can begin to bathe your puppy here, and it is considered safe to do so once your puppy is at least three months old.
After this, a regular bath routine is more than acceptable, particularly if you have a young pup who is adept at finding the messiest of puddles.
Although daily may be slightly extreme, a bi-weekly 2-week bathing schedule is more than fine.
Although your puppy's skin is more sensitive now than it will be in a years' time, this doesn't mean it can't handle a thorough wash, especially when you use shampoo designed explicitly with puppies in mind.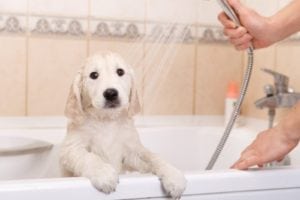 Washing your puppy from a young age is also an excellent practice for getting them used to bath time. This will save you time and hassle when they are fully grown and quite comfortable hopping in and out of the tub.
Many misconceptions about dog grooming are that they naturally hate being bathed but this isn't necessarily true, and if you introduce your pet to the grooming process slowly you should have no worries at all.
The time between baths will also vary on the breed of your puppy.
Dogs with longer coats need more maintenance, and so a slightly more frequent bath schedule is more than acceptable while smaller breeds with shorter coats may quickly learn to look after themselves without any extra help.
There are many factors that go into the next question we answer in this guide…
How will I know when to bathe my puppy?
As a new pet owner you may be worried that you are washing your puppy at the wrong time or that you will be unaware that your puppy is in desperate need of a clean.
However, when the time comes to bathing your furry friend, you will know.
Whether your puppy has come back extra messy from a walk or is beginning to kick up a stench from merely playing outside too much the signs will be clear to see..or smell!
If it is a case of the first example and you have returned from a long walk with an extra messy pup then don't be afraid to lead them straight to the bathroom.
In fact, they will also be glad to get clean themselves as a fresh, smooth coat helps keep them as healthy as possible as well.
Wrapping Up
So to wrap things up you, if you have got your puppy into a routine of weekly, to fortnightly baths you shouldn't be too worried at all.
This sort of bath time frequency is just fine if you are using the right products and will lead to a happy and healthy pet.
If you are washing your puppy daily, or every few days you may want to cut down slightly.
Your puppy needs to learn how to groom itself as well, and this sort of bath routine may be unnecessary for how dirty your pet can get in that time.
Finding the right routine for your pet really will be a matter of preference for both you and your young puppy.
If this is your first time as a dog owner you have a right to be nervous and looking after your pet correctly should be of paramount concern, so we are glad you arrived at Pet Search and hope the information laid out above is useful.
You will soon settle into a routine that suits you and your puppy so don't fret when it comes to how often you should be bathing your young pooch, instead its probably right to use your owner instinct and wash your puppy when the time feels right.