Pet Search is a mother-daughter run blog. Together we have over 40+ years of professional pet grooming experience and we hope to pass some of that on to our readers throughout our in-depth and non-bias reviews and buyers guides.
We do not accept sponsored posts however we do include affiliate links throughout our posts and we receive a share of the revenue generated from your purchase which contributes to the running of CleanerPaws.com.
This review guide was updated in February 2019.
---
Contents
How to Dry Your Dog's Coat Properly
Benefits of a Dog Hair Dryer
Different Types of Dog Hair Dryers
Features to Consider
Top 5 Best Dog Hair Dryers – Product Reviews
As all dog owners know, at certain times (if not all), your adorable four-legged companions are like babies, and they have needs that you just have to provide for.
One of these is regular grooming, with your grooming schedule likely depending on the type of dog breed you own.
The main reason for this is the variations in coat between different breeds of dog, for example, if you have a long-haired breed you're likely to have to groom your pet more regularly, then say a short-haired Jack Russel.
The frequency of grooming also depends on how naturally messy your pup is and the environment they interact with most.
It may just be the case that you have an incredibly messy pup that does its best to find the deepest of puddles even when you only go for a short walk – I'm sure this is something many of you reading this can relate to!
This also means some dogs tend to get dirtier than others due to their frequent exposure to the outside environment while others are kept mostly inside the house.
In most cases, dogs should be groomed every 10 to 12 weeks although this is a ball park figure and the different types of grooming activities will differ, for example brushing your dog's coat can take place more often while trimming their nails may only need to be done once a month.
Ideally, your first grooming session should be done while your dog is still in the puppy stage to train them to get used to staying put while being groomed. Accamilsiing your dog to the strange sights and sounds of grooming while they are young will be a massive advantage when they're fully grown.
Drying your dog's hair is one aspect of grooming that you will benefit from introducing your dog to while they're still a pup.
This is because getting your dog used to the noise and hot air of the hair dryer is something that can take time, and if it is something that your pet has never experienced before may be likely to spook them.
How to Dry Your Dog's Coat Properly
Grooming your dog thoroughly involves several steps including bathing, brushing, cutting their coat and nails, as well cleaning their ears.
If you're new to this process you're in the right place, hopefully, some of our first-hand advice, and guidance from over 30+ years as professional pet groomers will rub off and you will be perfecting your grooming style in no time.
This guide will focus on how to dry your dog efficiently, particularly with the help of modern day hair dryers designed specifically to be used on your dog.
Grooming dogs effectively require mastering the right techniques and skills to deliver the results you want for your pet.
Ideally, it should be done by someone who knows how to deal with animals. However, if you're a new pet parent, there is no better time to start learning.
Home grooming has exploded in popularity in recent years and there now are professional standard equipment available at affordable prices ready for you to use in the comfort of your own home.
A typical grooming session will look something like this;
As a real quick once over during a bath, your dog's coat is cleansed using a shampoo.
They are then dried and brushed until shiny.
Their nails and ears are cleaned after the bath, depending on how regularly you check them.
Although they may sound straightforward, these stages all have their difficulties, and for now, we will concentrate on step 2 and helping you easily dry your dog's coat.
---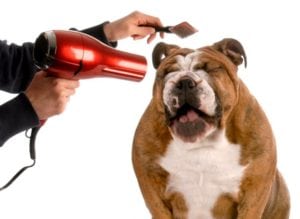 ---
What Are the Benefits of a Dog Hair Dryer?
Aside from aesthetic reasons, dogs should regularly be groomed to maintain a high level of overall health.
Groomed dogs are clean and seldom get infections. This is often because grooming keeps their coat free from fleas and other parasites.
Regular brushing will also keep your dog's coat shiny and free of dry bald spots.
Drying your dog's coat after grooming fits in to this process as it is a great way to keep your dog looking great as well as to carry out frequent health checkups.
Early signs of illness manifested on the dogs' coat, and over-all outside appearance is easily detected when a dog is regularly groomed.
It is also notable that a dog's disposition improves after being groomed. Just like people who just finished spa treatments, dogs somehow feel rejuvenated and happier.
Another benefit is that drying your dog's hair is particularly crucial for young pup's who may struggle with regulating their body temperature after being groomed.
If left alone, a dog with soaking wet fur is susceptible to common illnesses, which could otherwise be easily avoided.
How to Use a Dog Hair Dryer
After you have bathed your dog and before you brush their coat it is vital to dry their hair properly.
Just like human hair, your dog's coat is prone to breakage when brushed while still wet meaning you should avoid this at all costs.
It is therefore vital to dry your pet's coat immediately and quickly after bath time because dogs tend to be restless when confined for a long time.
Using the right type of dog hair dryer, this process is a breeze and quite frankly should be your favorite part of grooming your dog just because of how easy it is.
The best hair dryers can make the life of a dog groomer so much more relaxed and anyone looking to groom their dog at home should not do so without one.
Different Types of Dog Hair Dryers
To choose the best hair dryer for your dog, it is first vital to consider the various types available.
Although you may think there is just one kind of hair dryer that most dog groomer's use this isn't, in fact, the case.
With many manufactures and brands having their own views and styles for what a dog hair should do and look like there many different styles to choose from.
Below we compare the three most popular types of hair dryers for canines, looking at why they are the leading designs and the benefits they offer home groomers.
Hand Held – Perhaps the most popular style of dog hair dryer this type of machinery is operated in very much the same way as you would use a hair dryer intended for human use.
Hand held dog dryers are extremely easy to use and come in two main styles, 'force' dryers similar to typical hair dryers and a more vacuum cleaner design with both making the job of drying your dog's coat quite straightforward.
Stand – Standing dog hair dryers are perhaps the most convenient type available.
Unlike hand held dryers they sit in a stand which can then be directed at your pet to dry them quickly.
Great for accuracy, this type of dog dryer does depend on how well your pet sits during grooming.
Cage Dryers – Although the name sounds a little scary there is one core benefit to this type of dog hair dryer. Being mounted on a cage, this kind of dryer allows for impatient or unsettled dogs to be groomed by sitting them inside the mesh/ wire cage.
There is still a good amount of space between your pet and the dryer so it isn't painful at all and this type of dryer should be considered if you have real trouble getting your dog to sit still during grooming.
Features to Consider
Now you have an idea of the most popular types of dog hair dryers it is now time consider the features that separate the best dog hair dryers from the budget and basic products.
Although the models above are designed with different needs in mind dog hair dryers also come with a range of various specifications and finding the best dryer for your dog will depend on many factors.
What to consider when buying a hair dryer for your dog:
Air Temperature
Because dogs naturally have high body temperatures, unlike typical hair dryers that you and I use, instead dog dryers use cool air to dry your dog's coat.
This should be a factor when browsing different dryers as some models still warm the air slightly, and this can be tailored to your needs depending on the length of your dog's hair.
Speed
Dog hair dryers usually offer you the choice been one-speed settings or variable speed.
If you are a pet owner with only one dog or one type of breed, then a single speed dryer should be fine. If however you care for many dogs's than variable speed may be the way to go.
Noise Cancellation
How loud your hair dryer is can have a significant impact on how calm and comfortable your dog is while being groomed.
Although they can become used to different sounds, if the dryer is too loud it is likely to lead to more issues in the future when you could have trouble drying your dog successfully.
Although this is tricky to know when buying online, you should read reviews from other buyers (or ours below) to find out how loud a particular dryer is.
Durability
As with any piece of grooming equipment you intend to use regularly, it is essential that the dryer you choose is durable enough to withstand grooming sessions at home or elsewhere.
This may be the case if you need to transport your dryer, but it is also vital as you will need to store the dryer away safely when it is not in use.
Top 5 Best Dog Hair Dryer Reviews
We hope you now have a more significant understanding not only of the different types of dog hair dryers but also what sets them apart as individual products.
As with anything to do with your precious pup, we do recommend investing in a high-quality product. Not only will this allow you to keep your dog safe but it will also mean you're getting a product that lasts and will be used for a long time.
The considerations outlined above should be applied to the individual needs of your pet, and we hope one of the top 5 dog hair dryers below is just what you're looking for.
We considered many factors when putting together these reviews including the style and price of each dryer to ensure you find a product that fits your budget and will do a great job drying your dog's coat.
1. Oster Hi-velocity Adjustable Table and Cage Dryer

Grade: A+
This dryer has a stand and can be easily placed on a flat surface while you use both hands to groom your dog.
Made of high-quality plastic and other materials it is incredibly durable and is the hair dryer we have been using in our grooming salon for the past two and half years so we can testify to how long-lasting the product is.
It has adjustable heat control and ideal for grooming different breeds of dogs.
The easy to use nature of this dryer is one of it's most significant advantages while it is also very quiet, meaning it won't unnerve or unsettle your dog.
---
2. Metro Portable Dog Hair Dryer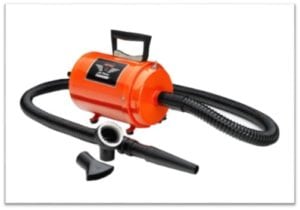 Grade: A
Made of steel, this dryer is exceptionally sturdy and durable.
It has dual mounted legs so can easily stand on its own while its hose air filter is easy to use in any direction, much like a traditional vacuum cleaner.
Airflow control is one of its highlighted features, and we found it very easy to change the speed of the dryer depending on the thickness of the dog's coat we were grooming.
The air filter is also easy to change if needed, which we did do during our review just to see how straightforward the process was.
We do advise you test the temperature of the air given out by the dryer before aiming it at your dog as on a couple of occasions it did start off rather hot.
The one thing we really like about this product is that it is a portable dryer that and can be used anywhere, which is great if you don't always groom your pet in the same place.
---
3. HPD Portable Dog Grooming Blow Hair Dryer
Grade: A
This is ideal for noise-sensitive pets as we found it to be the quiestest of all dryers on this list.
Its freestanding style leaves the groomer's hands-free to continue grooming, which is not the case with handheld alternatives.
It comes with a flexible 2.5 meters long hose and three nozzles in varying sizes that enable easy drying of all parts of a dog, even those hard to reach places like their stomach and behind their ears.
This dryer is small in size but dries quickly through its powerful airflow. It has a convenient handle for easy portability which we loved.
---
4. Ridgeyard Portable Dog Cat Hair Dryer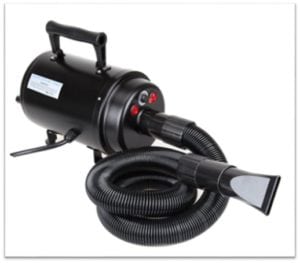 Grade: A-
Durability and noiseless grooming are this product's main features, and at an excellent price point, it was hard to rank this 4th out of 5 as it could have been much higher on this list.
Its hose is puncture-resistant, and we found this product can be used to dry varying sizes of cats and dogs with its two-nozzle options.
It gives out 45-60 degrees Celsius of air. However, this range is less adjustable than other dog dryers available. We also found this can be consideredly hot for some dogs and should be used at a distance and in a rotating manner.
The Ridgeyard hair dryer comes with an air concentrator and air flare which aids in speedy hair drying.
The weight of this product is 6 kilograms, making it very portable and easy to use on the move.
---
5. Comfort Dry Dryer Professional Animal Grooming ST-6
Grade: A-
This product resembles a human hair dryer and is the only handheld option to make our list of the best dog hair dryers.
It uses ionic and ceramic technology and dries pet hair quickly with 1875 watts of power.
It has a sturdy stand which can be adjusted to 5 different positions, which means if you want to use both hands to groom and secure your dog you can.
There are three different heat settings and two for airspeed.
Although this dog hair dryer looks modern and stylish, its lack of hose may limit its functionality when it comes to drying certain parts of your dog.
---
Wrap Up
As you will hopefully have discovered throughout this article, there are several types of hair dryers designed especially for dogs.
To summarise you need to take many features and factors into consideration in order to make the right choice for your pet.
Firstly, the dryer should have the option to blow out cool air. Unlike human hair dryers, the one you use for your dog doesn't have to deliver hot air as this could hurt your dogs' sensitive skin if delivered at too high a temperature or if used too close to their coat.
Secondly, you should consider the sturdiness and quality of the product to ensure you're buying a dryer that will stand the test of time.
Ideally, the hair dryer you choose should also have adjustable drying speeds because some dogs have thicker coats than others. This means you don't want to select a dryer with only one speed if your dog has an extra thick coat that the dryer will take an age to dry.
Lastly, we also recommend purchasing a dryer with its own stand; this will mean you can stand the dryer up on its own while still grooming your dog with both hands.
More Grooming Resources