In general, small breed dogs have a lifespan of fifteen to twenty years while large breed dogs have a lifespan of twelve to fifteen years. Thus, you can say that a large breed dog is already an adult when it reaches six years of age while a small breed dog only reaches adulthood once it turns eight or nine.
If your dog is old and is regarded as a senior, you should change its diet.
You should start researching on the best dog food for older dogs because senior dogs have special nutritional requirements. They typically need a diet that is low in calorie content to prevent obesity.
They also need a diet that is high in fiber content to improve gastrointestinal health.

Recommended senior dog food – Nulo Grain Free Senior Dog Food
Finding the Right Dog Food for Older Dogs
The energy requirements of dogs gets lower as they age. So, they become more prone to obesity and becoming overweight. Unlike younger dogs, their metabolic rate is slower. Because of this, dog food manufacturers have started producing products that are age-appropriate for senior pets.
As a dog owner, you should buy dog foods that are suitable for the needs of your pet. If you have more than one senior dog, you may need to buy more than one type of dog food. After all, you need to cater to the different needs of your senior pets. Nevertheless, you may also consider purchasing multi-stage dog foods, which are suitable for puppies, adult dogs, and senior dogs.
If you choose to use these multi-stage dog foods, your dog might not get all the required nutrients since multi-stage dog food isn't specifically formulated for him. So, you should go to the veterinarian to ask for recommendations. Oftentimes, older dogs develop health problems such as diabetes, liver disease, and kidney failure. Thus, they need to have a special diet to treat their condition.
A dog with heart disease, for example, needs dog foods that are low sodium and calorie to help keep its weight down. A dog with diabetes, on the other hand, needs dog foods that can help it delay food absorption. This is because blood sugar rises more slowly when the food is absorbed slowly. Also, dogs with diabetes need more fiber and less fat.
---
More Dog Food Guides:
---
What to Consider When it Comes to Senior Dog Food
When it comes to treats and snacks, senior dogs should only be given food items that are low in sodium and fat. Also, instead of milk biscuits and bones, you can give your senior pet some vegetables and fruits. You can give it apple slices and carrot sticks. However, you should not give your dog raisins and grapes because they can be harmful for its health and safety.
See to it that your senior dog also drinks plenty of water. Keep in mind that the older a dog gets, the more water it needs. The ability of its body to retain water balance decreases as the years go by. When searching for the ideal dog food for your senior pet, make sure that you consider the ingredients.
Senior Dog Food Product Reviews
The following are considered as the best senior dog food brands on the market today.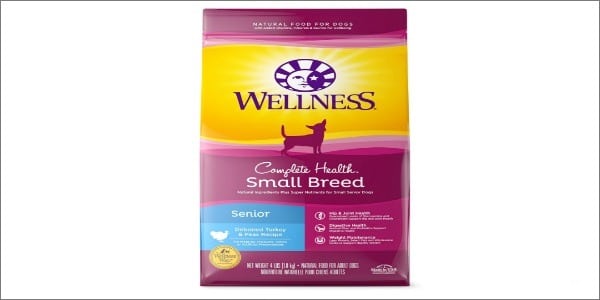 This dog food is natural, healthy, and ideal for senior small breed dogs. It contains a good balance of vitamins, minerals, and protein to cater to the needs of small breed dogs in their later years. It comes in small kibble form and is formulated with tasty deboned turkey. It also contains chondroitin and glucosamine for healthier hips and joints. It only contains the finest ingredients, without any wheat, soy, corn, meat by-products, artificial colors, artificial flavors, and artificial preservatives. It helps dogs maintain their ideal weight and body mass. It also promotes vitality, nutrient absorption, digestive health, hip and joint health, coat and skin health, and overall health.
---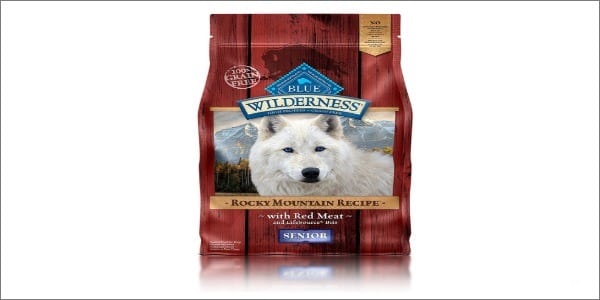 This dog food is inspired by the actual diet of wolves, which are omnivores and active. It is rich in protein and does not contain any grains. Its primary ingredient is chicken, which every dog loves. It has tasty deboned chicken, turkey meal, chicken meal, and egg for stronger muscles and better muscle growth. It contains a blend of vitamins, calcium, and phosphorus for healthy bone growth. It is especially formulated to promote vision and brain development, as well as retinal function. It contains omega-3 and omega-6 fatty acids for healthier skin and shinier coat. Moreover, its small size is perfect for small jaws and is helpful in tartar removal.
---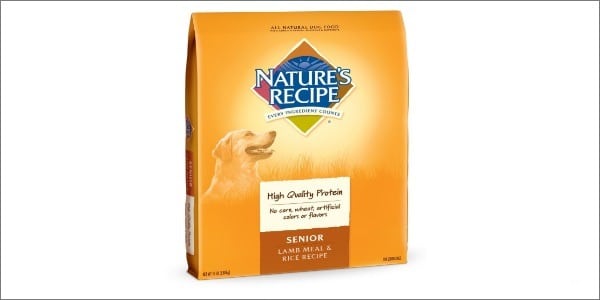 This dog food contains lamb meal as its primary ingredient. It is delicious, nutritious, and recommended for senior dogs. It is specifically made for senior dogs so that they can maintain their ideal weight and avoid obesity, which can lead to problems with their tendons and joints. It also contains rice as a source of carbohydrates to maintain energy levels. It has oatmeal supply fiber and wholesome barley that promotes immune function and digestive health. It is easy to eat and digest, and easy to absorb nutrients so your dog will reap the benefits sooner.
---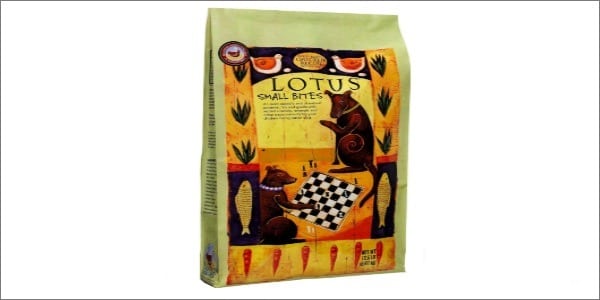 This dog food contains natural ingredients, salmon oils, and brown rice. It actually tastes like cookies that were freshly baked in the oven. It is delicious and nutritious, perfect for your beloved pet. It contains chicken, fruits, vegetables, and omega-3 and omega-6 fatty acids. It is a great source of protein and other nutrients. Unlike the other dog foods commercially sold on the market today, this dog food is slowly baked in the oven to retain its natural flavors and aromas. It does not have any sprayed on flavors and fats.
---
This dog food has a grain-free formulation and includes chondroitin and glucosamine for hip and joint health. It also has l-carnitine that improves fat metabolism so that senior dogs can be more active once again. It also contains BC30 probiotic to promote better digestion. It contains natural fiber and animal-based proteins so that your dog can feel fuller without consuming too many carbohydrates. It is complete with the nutrients every senior dog needs. It also helps them maintain their ideal weight to take off burden from their tired joints. It does not have any corn, soy, wheat, artificial colors, preservatives, flavorings, and carrageenan.