Pet Search is a mother-daughter run blog. Together we have over 40+ years of professional pet grooming experience and we hope to pass some of that on to our readers throughout our in-depth and non-bias reviews and buyers guides. 
We do not accept sponsored posts however we do include affiliate links throughout our posts and we receive a share of the revenue generated from your purchase which contributes to the running of CleanerPaws.com.
This review guide was updated in February 2019.
---
Portable dog kennels are a necessity when it comes to an active lifestyle. However, choosing the optimal size and material of the portable dog kennel can be a little tricky. Fortunately (we hope) we're here to help.
Portable dog kennels allow a dog owner an easy and safe way to transport their lovable pooch. When traveling with us our dogs are also at risk of injury due to accidents. A portable dog kennel can act as an airbag and in the unfortunate event of an accident, they can save your dog's life! A portable dog kennel also helps eliminate distractions. During a long car ride a dog can become anxious and in many cases their anxiousness can cause the driver to be distracted. By safely confining the pooch in a portable dog kennel the driver eliminates distractions and makes it easy to give the dog treats, chew toys and affection.
When it comes to choosing the size of a portable dog kennel for a new dog owner, the most important factor to consider is the size of the kennel.  The portable dog kennel must be large enough to allow your dog enough space to move about freely without offering so much space that the dog becomes excited. Making sure that the portable dog kennel is large enough is pretty simple, if your dog can sit up straight without hitting her head on the ceiling, is able to turn around without trouble and lay down flat with her paws stretched out, the portable dog kennel you have chosen is the perfect size!
The biggest mistake new dog owners make when selecting a portable dog kennel is buying a portable dog kennel that is too large thinking that the dog needs plenty of room to move about. A portable dog kennel that is too large will make your dog feel like they're banging around in a big empty cage which makes them feel scared and anxious. If the portable dog kennel is too large it will cause the dog to use one end of the portable dog kennel as a bathroom and the other side of the portable dog kennel as a bedroom, nobody wants that.
So, how does a new dog owner choose the right size portable kennel for their dog? There are really two ways to choose. A new dog owner can purchase a crate that fits their puppy immediately and upgrade the size of the portable dog kennel as their dog grows, or a new dog owner can purchase an adult size portable dog kennel and re-size it for their dog. We recommend purchasing an adult size portable kennel and resizing it as your dog grows using wooden or metal dividers as purchasing a new portable dog kennel so often can get pretty expensive.
Dividers are temporary and completely removable panels you insert into the portable dog kennel to manually adjust the size and space available for your dog.  By doing this you only need to buy a single portable dog kennel and gradually increase the size of the portable dog kennel as your dog grows.
Portable Dog Kennel Reviews 2019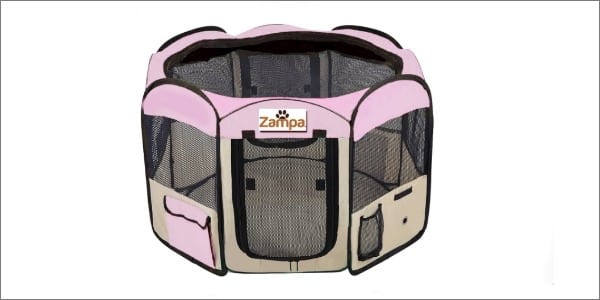 1. Zampa Portable Exercise Kennel
Grade: A+
Is my dog supposed to like this better than it's dog house? Every time I set this thing up my dog sits in there for hours and won't leave! This is one of the best investments I've made for my dog. I love to take long road trips and in the past I would have to put my dog in a cramped and uncomfortable dog prison. I looked everywhere and found the Zampa and I've gotten so much use out of it.
The material is super comfortable and my dog loves laying on it. The build of the Zampa is very sturdy and it stays up when it's windy outside. I've noticed my dog bounce into the sides when he gets excited and the Zampa is sturdy enough to stay upright. I am considering buying another one of these as a playpen for when he is home and we have guests visiting. If you want a portable kennel that your dog actually likes being inside of don't hesitate to purchase the Zampa. This thing is awesome! A++++
---
2. OxGord Soft Sided Portable Dog Kennel
Grade: A+
I recently made a family trip to New York city and needed a carrier for my small dog as she gets really scared in big crowds. I wanted something comfortable and with enough space for my dog to feel at ease as we walk around the city. I already had a dog carrier but she always looked so scared when she was inside. I decided to purchase the OxGord and hoped it wasn't uncomfortable or hard to set up.
The OxGord really blew me away for the price I paid. It took me 10 seconds to set up and my dog didn't hesitate to get in. The material is soft and the kennel itself is very light and easy to carry. The straps are comfortable so if you're walking a long distance it should not be an issue.  If you would like to use this kennel as a standalone doggy home I think that would work because frankly my dog loves being inside of it. I have gotten a ton of use from this dog kennel and I plan on continuing to use it as I explore the city with my pup!
---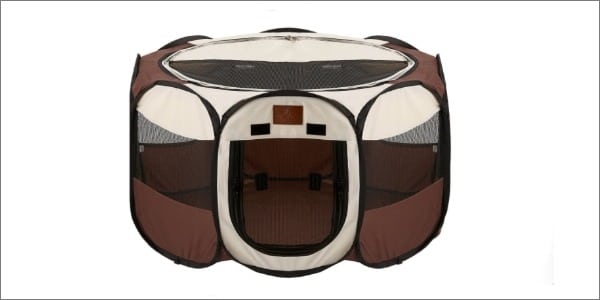 3. Parkland Pet Foldable Exercise Kennel
Grade: A
This portable play kennel is perfect if you like camping, fishing or any kind of outdoor activities. By now I have tried various different portable kennels and they are always made with really low quality materials and our dogs have no trouble chewing through or knocking the kennel over. We decided to give the Parkland Kennel a try and it worked wonders on our recent camping trip.
Our dogs had the perfect space to hang out and we did not have to worry whether or not we would find the dogs running around when we woke up. In terms of the design, I like it a lot. You can actually zip the top off if you want to give your dogs a quick snack or even play with them while they hang out in the kennel. My dogs have no trouble getting outside through the large front door either. The set-up is pretty straightforward as well, it took us less than a few minutes to assemble on our first try and we usually can't put anything together! If you need a sturdy, high-quality dog kennel, give this a try!
---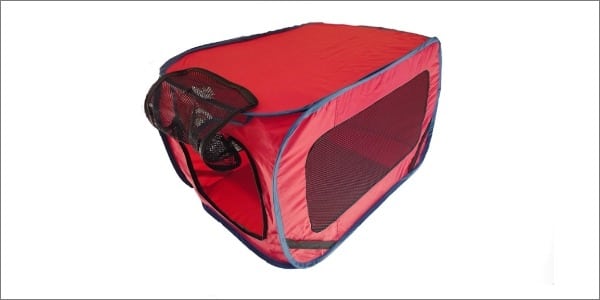 4. Pet Home Dog Kennel Carrier 
Grade: A-
I usually avoid giving recommendations even for the best products but this portable Kennel Carrier is amazing! This portable kennel carrier easily fits in the back seat of a tiny car and gives my dog plenty of space while not looking confining him in any way.
It was always so difficult getting my dog to get inside his kennel. When I finally did get him in he would whine and bark and make the car ride uncomfortable for everyone. I have no trouble getting him inside this kennel, he usually walks in on his own and when he gets inside he falls straight asleep.
The material is very sturdy and it feels like the kennel will last a long time. The zippers are all high quality and the set-up process is a breeze. I would recommend this kennel to any dog owner that is having trouble moving their dog around via automobile, this is seriously such a time saver.
---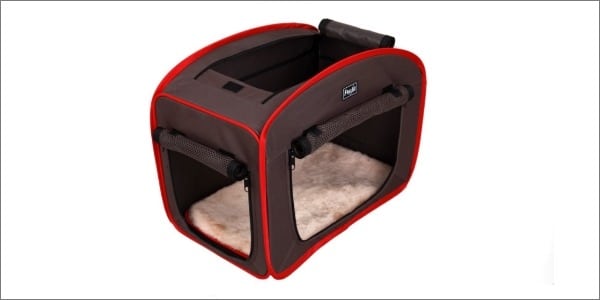 5. Petsfit Portable Dog Kennel
Grade: B+
This is the Mercedes Benz of portable dog kennels at a Hyundai price. My dog seriously LOVES this thing.  When I bought it I hoped it would not be difficult to set up as the pervious dog kennel I had was a nightmare in that regard.
The Petsfit Kennel is very easy to set up, it's foolproof, so for those that hate the idea of having to figure out directions, there is good news, you don't need any. It is not a carrier and does not have straps so I use it as a space for my dog to hang out at home or when I take him camping.
This is also a great product if your dog is scared of car rides. My dog has no trouble jumping in and pretending this is his new home until the car ride ends. The entire kennel is made of high quality materials and is very sturdy. I have been using this kennel for over six months and it shows no signs of wear. Great purchase!