This review guide was updated in February 2019.
---
Contents
How a Book can Help You Train Your Dog
Training a Dog Yourself vs Classes
Best Dog Training Books Reviews
Pet owners often ask at what age they should start training their dogs and the answer we always give is the same – if you can, start straight away.
We now live even closer to our pets, sharing our most intimate spaces and as a result, it has become a necessity to give them an excellent canine education.
There are many reasons for training your pet, and one of the most important is that doing so can keep a lot of dogs from being surrendered to shelters because of behavioral issues that could easily have been prevented.
Investing time to teach your dog basic obedience techniques will make living with them more comfortable, and benefit both you as an owner and your pet.
How a Book can Help You Train Your Dog
Dogs are domestic animals, but some have been breed to play very important roles in our society.
Differentiate training exercises and learn the different types of training and when to apply each and you are well on your way to a well-behaved pup.
Four major types of dog training are:
Behavioral – This is probably the most basic of the four.This type of training teaches dogs to act appropriately around people, as well as other animals.It involves a few basic commands, but mostly addresses issues such as housebreaking and potty training, inappropriate chewing, and excessive barking. The goal is to make them a 'good dog.'
Obedience –  Many consider this to be the most commonly used form of training and one that is often taught to the dog at an early age.This particular type of training puts emphasis on making dogs obedient to their owners with the use of basic commands like come, sit, lie down, stay and quiet. It also includes exercises to stop behavioral issues before they even start.
Agility-  This is a more advanced type of training that should only be applied if a dog already knows and has mastered most, if not all, of the basic commands.This training is for dogs who are specifically being groomed by their owners for participating in different activities such as sports, like hunting, obstacle courses, or racing. Every dog can be taught through this training, but some breeds are more suited to it than others.
Vocational –  This type of training is for dogs destined for more than just a walk around the street and playing on the living room floor.This training is for dogs that will have a career helping people in some way. These programs are strict and demanding, as they teach dogs specific techniques to optimize their abilities and communicate with people.Certain breeds are more suited for this training.
All four methods of dog training laid out above can be learned and taught with the help of instructions laid out in a book or manual.
---
---
Training Your Dog Yourself
To make one thing clear – There are no bad dogs, just bad owners.
To be a good dog owner, you have to train your dog to be a well-disciplined, socialized pooch that knows how to act and listen.
Your dog doesn't need to be as talented as those winners of a dog show, but they still need to learn when to sit or stay and how to behave correctly when around other people.
However, professional dog training can be expensive.
If you don't have a large budget, training your pet yourself is a wise alternative.
To help you along your way there are many dog training books you can purchase and we are confident in no time your dog will enjoy learning from his pack leader.
The bond you will create during training is priceless and just remember, you are the center of your dog's universe and the effort you put into grooming them to become a behaved part of your family is certainly worth it.
If you're starting your journey of dog ownership, check out the list below for more help.
Top 10 Best Dog Training Books
How to Be Your Dog's Best Friend
For almost three decades now, How to Be Your Dog's Best Friend has been the manual all other dog-training books are compared to.
With a fresh new design, this new expanded edition maintains the best features of the original classic while delivering a fully up-to-date training guide.
This offers even better training material for a new generation of pet owners and their canine best pals.
Internationally renowned, the Monks of New Skete believe in the philosophy that the key to understanding your beloved pet lies in compassion and communication.
They have prepared this guide to understand your dog better – whether an old companion or a new puppy – and strengthen your bond with your pet.
How to Be Your Dog's Best Friend tackles practically every detail of living with and caring for your pooch.
It's a guide from start to finish, which includes selecting a dog based on your lifestyle, reading a pedigree, training – when, where, and how. It also covers feeding, grooming, recognizing and correcting behavioral problems, and caring of your pet at every stage of their life.
This is just about the only book you will need to raise a well behaved, fun loving dog.
---
The Art of Raising a Puppy
A second book coming from the internationally renowned trainers, The Monks of New Skete, this manual lays out a puppy's critical first months.
Just about everything you could want to know about a puppy is covered, from deciding to adopt a pup and choosing the best breed for you, preparing your home, caring for your new pal, and practicing basic exercises, the Monks of New Skete provides clear guidelines.
The book is based on the Monk's experiences as long-time trainers, and it offers essential advice and information that all dog owners need.
The Monks use a training program based on understanding dog behavior and enhancing the bond between the owner and their loved pet.
Poor training, improper care, or lack of attention during puppyhood can result in behavioral problems that become increasingly harder to change as your dog ages. Learn how to maintain your dominance from the beginning and build a loving relationship with your dog.
This complete guide explains stages of puppy development, how to communicate, how to start a training program, and how to manage common problems like jumping, chewing, and paper-training.
This book is a vital source of information, wisdom, and inspiration for anyone who has care and love for a puppy.
---
Dog Training
The fun and easy tips contained in this book turn the potentially dreaded task of dog training into an enjoyable hobby.
You'll be proud to show off your dog's new tricks and good behavior whenever family or friends visit.
This dog training book is for owners having trouble controlling their pet and those tired of the frustration that comes from living with a misbehaving dog.
This book breaks down training into understandable modules. Beginning from the very start of dog training so that you can get impressive results even as a beginner!
An excellent manual for dogs with troubles, it offers a perfect guide to training a dog in all of the essential aspects of how you want your pooch to behave.
This book is ideal for someone with a new puppy, and even an old one.
It offers simple and straightforward techniques that can be applied easily, making it enjoyable to train dogs of any age.
However, remember, age does not matter when it comes to training or teaching new tricks so even if you have a slightly older dog you shouldn't be put off.
Overall it's a great read, it doesn't hang around and gets straight to the point, perfect if you want to train your dog fast.
---
Cesar's Way: The Natural, Everyday Guide to Understanding & Correcting Common Dog Problems
Cesar's Way author Cesar Millan is a nationally renowned dog expert and a star of NatGeo's hit show "Dog Whisperer with Cesar Millan."
This book seeks to make a dog owner see the world through the eyes of their canine in order to resolve behavioral problems easily.
Cesar is not your traditional trainer; his expertise depends on his rare ability to understand dog psychology. In Cesar's Way, he shares this knowledge, giving you the basics of having a stronger and more satisfying relationship with your dog.
His formula seems impossibly simple: exercise, discipline, and affection. He takes readers to the basics of dog behavior and psychology.
He shares details of some of his most interesting cases and uses them to explain how behavior problems develop and how they can be corrected.
With the book you'll learn a lot of things like choosing the right dog for you, relating to your dog, difference between discipline and punishment and more.
This is the only guide you'll ever need to build a stronger, more satisfying connection with your dog.
---
The Other End of the Leash
Dr. Patricia McConell has more than twenty years experience as an applied animal behaviorist and dog trainer and uses The Other End of the Leash to share a new view on our relationship with dogs.
She sees humans as another fascinating species and muses about how humans behave when around dogs and how our pets might interpret it.
After all, though humans and dogs share an incredible connection unique to the animal world, we still are two different species.
The book illustrates how changes in our voice and movement can help dogs understand what we want. Once you begin to think about the way you act from your dog's perspective, you will understand why much of dog disobedience can merely be a case of miscommunication.
In the book you will learn how to use your voice so your dog will more likely obey you, why dominating your dog is a terrible notion, how to play with your dogs in fun ways and keep them out of trouble, how humans and dogs share types of personality, and more.
This book aims to help you make the most of your life with your canine best friend.
---
101 Dog Tricks
With half a million copies printed in 18  different languages, this worldwide bestseller is a well-curated book that provides its readers with step-by-step dog tricks, complete with easy to follow colored photos for each.
Tricks come with a level of difficulty rating and prerequisites to get you started quickly.
There are tips and trouble-shooting boxes to tackle problems, while 'build-on idea' recommends more complex tricks that build on every new skill.
Tricks range from basic simple ones like sit, fetch, roll over, to complicated maneuvers like getting a soda from the fridge.
A lot of dog owners have found success with the step-by-step process from Kyra Sundance, and we're sure you can too.
Training tricks will be your bonding time with your dog, and it will unite him with your family.
Not only that but tricks will keep him challenge mentally and physically, and it will help set up ways of communication between you both.
A lot of the tricks included also create skills used during dog dancing, sports, and therapy work.
101 Dog Tricks will motivate you to do more with your beloved pet.
Great photos, descriptions, and sense of humor make reading this book a pleasure.
---
Before and After Getting Your Puppy
Dr. Ian Dunbar's dog-friendly philosophy has influenced almost every dog trainer out there.
During the 1970's, Dr. Dunbar caused a dramatic change in dog training – away from leash corrections towards a positive method using treats, toys, and games, as rewards for learning basic obedience.
Before Dr. Dunbar, there weren't organized classes for puppies, and dog training wasn' much of fun. His positive technique in training changed that.
In this book, Dr, Dunbar incorporates two of his popular puppy-training manuals into one edition.
Steps are explained clearly with the help of photos and easy-to-understand training deadlines; he offers organized but humorous and playful programs for nurturing a well-behaved dog.
Dr. Dunbar's guide is taken from key developmental deadlines:
Completing education and preparation
Analyzing a puppy's existing socialization and education
Teaching error-free house training and chew toy-training
Completing a socialization program of meeting strange people and other animals, etc.
Dr. Dunbar's techniques are strongly rooted in animal behavior science, and you will be surprised just how much you pick up from this book.
---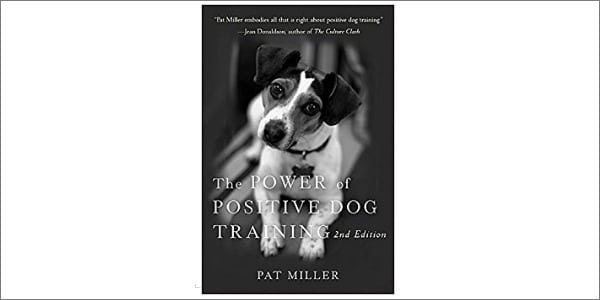 The Power of Positive Dog Training
In this book Pat Miller, a renowned dog trainer, presents you with positive tools for training that you'll need to experience companionship, a lifetime of enjoyment, and respect for your dog.
No only that but this manual offers a number of other insights when it comes to training your dog. These include:
Knowledge on the essence of noting
Comprehending, and reacting correctly to the body language of your dog;
Procedures on how to eliminate the use of a treats and clicker to bring up more advanced concepts of training
Using a diary for progress tracking
Treats suggestions that your dog will respond to
Training terms glossary.
If you aren't sure already this book will convince you that positive dog training is the best method to use.
It offers a detailed look at the effectiveness and reasoning of positive training. This is very helpful for someone who wants to know a proper method of training as well as why they should do what they are asked  in the instructions.
Inside, you'll encounter an easy to read discussion of the philosophy of positive training followed by tips and exercises for training your dog.
This book fits dog owners who want to have a connection with their pet based on positive reinforcement and friendship, not punishment and fear.
---
Culture Clash
This training guide received the Maxwell Award for Best Dog Training Book (1997) and voted as the #1 BEST BOOK (2000 & 2001) by the Association of Pet Dog Trainers. Culture Clash has shaped modern dog ownership and training with its scientifically sound recognition of the cultural difference between humans and dogs.
Dogs can not read, so you have to learn how to connect with your pet, and this book is excellent for that.
The Culture Clash is utterly unique, interesting and provides plenty of great information—challenging the art of dog training.
Culture Clash interprets dogs as they really are. The author displays her own love for dogs throughout as well as offering her great insights into the way they think.
Jean Donaldson champions seeing things from the point of view of dogs, always displaying care for their well-being and education.
The book is for people who are looking for ways to increase their knowledge of canine behavior, and who consider their beloved pets as similar to people—they, too, have values and morals.
This book will enable you to better understand your dog as a dog, and not as small child—for it is only too often that we tend to attribute human-like characteristics to our pets.
---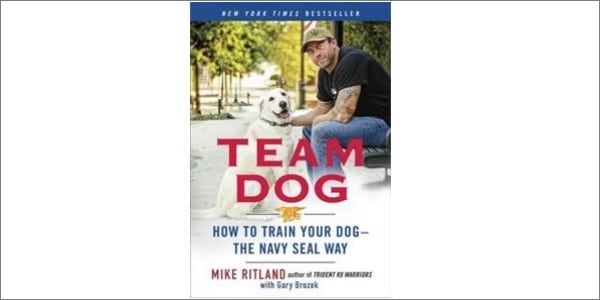 Team Dog
Mike Ritland, a New York Times—bestselling author and former Navy SEAL, teaches all dog owners how to achieve a close relationship and exceptional training of combat dogs in this guide.
In Team Dog, Mike uses his fifteen years experience, explaining simply and directly, the science behind earning a dog's trust and presenting important steps to gain a level of obedience.
His unique way of teaching dogs uses fun examples and anecdotes from his clients with dogs on and off the battlefield and direct tips from the Navy SEAL guidebook.
This covers everything from choosing the perfect dog for your family home, how to build yourself as the team leader through to how to master commands and apply situational awareness.
In this book, Ritland draws a clear and visible line between caring for our dogs and the vital training needed for them to become a trusting canine friend.
Team Dog introduces dog owners to the new and extraordinary authority on training dogs the SEAL way.
Some more Pet Search buyers guides that will help train your pup: