Pet Search is a mother-daughter run blog. Together we have over 40+ years of professional pet grooming experience and we hope to pass some of that on to our readers throughout our in-depth and non-bias reviews and buyers guides.
We do not accept sponsored posts however we do include affiliate links throughout our posts and we receive a share of the revenue generated from your purchase which contributes to the running of CleanerPaws.com.
This review guide was updated in February 2019.
---
The needs of a puppy are different from the needs of an adult dog. Their bodies are smaller and their body systems are not yet fully developed. They are also highly prone to diseases, which is why their owners should feed them well and give them everything they need.
Do Puppies Need a Different Type of Dog Food?
Just like human babies, they need a lot of nutrients to grow up healthy and strong. They need to eat the kind of dog food that is most suitable for their body type, breed, age, and size among other factors. Although all puppies are different, all of them are mainly carnivores, so you should choose a dog food that contains adequate amounts of good protein and not just cheap fillers.
When you search for the best food for puppies, be sure to check out puppy food reviews to learn the opinions of experts and dog owners. Make sure that the reviews you read are biased and not merely written by the manufacturers themselves. You can also check out forums and communicate with other dog owners to acquire first-hand advice and recommendations.
The best dog food for puppies is balanced and contains healthy ingredients. It also has a high nutrient density so that puppies do not have to eat so much food just to get their total protein requirement. The best large breed puppy food and best small breed puppy food both contain whole animal products, healthy grains, natural fats and oils, and vitamins and minerals as their primary ingredients.
Ideal whole animal products include lamb, salmon, and chicken. Puppies need good quality protein. They also need carbohydrates. Wheat and corn are not ideal sources of carbohydrates. You should look for dog food that contains grains such as rice, buckwheat, oats, or maize.
Your puppy also needs to take natural fats and oils for increased energy levels, stronger muscles, and shiny coat. Vitamins A, C, E, and B-complex, as well as phosphorus, calcium, Omega 6, and Omega 3 fatty acids are also necessary.
---
More Puppy Stuff:
---
Ingredients to Look out for
Keep an eye out for bad ingredients such as vegetable and meat by-products, cheap grain fillers, corn syrup, and chemicals. These ingredients are not good for your puppy. Vegetable and meat by-products include old meat that came from disabled or sick animals. Cheap grain fillers include wheat and corn. Corn syrup is a type of sugar that many manufacturers use to sweeten dog food, and it can cause obesity, hyperactivity, and diabetes.
Chemicals, in this case, include growth hormones and pesticides, as well as BHT, BHA, propylene glycol, ethoxyquin, synthetic vitamin K, hydrochloric acid, preservatives, artificial flavors, and artificial colors. You should also avoid dog food that contains excessive amounts of sugar, cellulose, grain hulls, and bone meal.
Since you only want the best for your puppy, you might want to consider the following brands. These dog foods are balanced and they contain all the nutrients a growing puppy needs. Then again, see to it that you also consult a veterinarian to learn about the specific dietary requirements of your beloved pet.
Puppy Food Product Reviews
Purina Pro Plan Focus Puppy
This dog food contains real meat as well as dry formulation that will provide your dog with an ideal protein to fat ratio. It is especially made to promote overall health. It also contains DHA for vision and brain development, as well as antioxidants for the immune system. For over eighty-five years, Purina has proven itself to be one of the best manufacturers of dog food. It is well-known all over the country and different parts of the world. More than four hundred scientists including behaviorists, nutritionists, and veterinarians, work together to come up with the best dog foods.
---
AMS Proactive Health Puppy Dry Dog Food
Large breed puppies require a special diet for play and growth. This dog food is specifically formulated for large breed puppies between one and twenty-four months of age. Unlike other kibble, it is balanced and complete. It does not have any cheap fillers that do nothing for your puppy's health. It contains omega-3 DHA for vision and brain development. It also contains calcium for joint health. It has savory poultry flavors, which your puppy is surely going to love. Real chicken is the primary ingredient, which helps build lean muscles. It also contains minerals for stronger bones and antioxidants for a healthier immune system.
---
Purina One Smart Blend Healthy Puppy Formula Dry Dog Food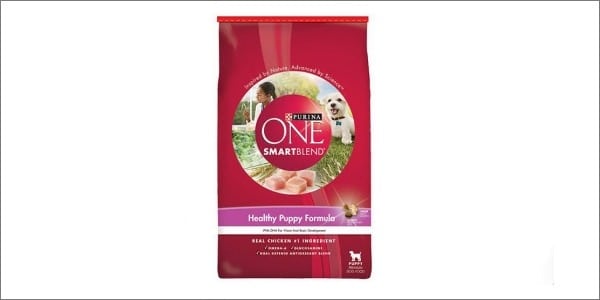 This dog food has real chicken as its primary ingredient. It also contains rice and oatmeal. It is an excellent source of protein. Take note that puppies require more protein than adult dogs because they are still in the growing stages. In addition, this blend of dry dog food contains DHA for vision and brain development. On the first day of eating this, your puppy will get hooked on the taste. Within one week, your dog will noticeably become more energetic. In two weeks, it will have less waste; and in three weeks, its coat will be shinier and its skin will be healthier.
---
Blue Buffalo Wilderness High Protein Dry Puppy Food
This dog food contains chicken, and took inspiration from the diet of wild wolves. It is rich in protein, which is necessary for your dog's overall health. It also contains DHA that promotes cognitive development. It has a unique formula that meets the needs of growing puppies. Do not worry because it is also grain-free. It only contains the finest ingredients, such as chicken meal, turkey meal, and deboned chicken. However, that's not all there is. It also contains healthy carbohydrates such as sweet potatoes, potatoes, and peas. It also has carrots, blueberries, and cranberries that are rich in antioxidants.
---
Hill's Science Diet Large Breed Dry Puppy Food
The needs of large breed puppies are different from the needs of small breed puppies. Since their bodies are bigger and they are more active, they need a kind of dog food that would provide them with the nutrients they need so that they can remain energetic and healthy. This dog food contains calcium for bone growth. It also contains chondroitin and glucosamine, which are the building blocks of healthy cartilage and joints. It also contains antioxidants, and vitamin C and E for a healthy immune system. Plus, it has omega-6 fatty acids for a shinier coat and healthier skin. It does not have any artificial flavors, colors, and preservatives.